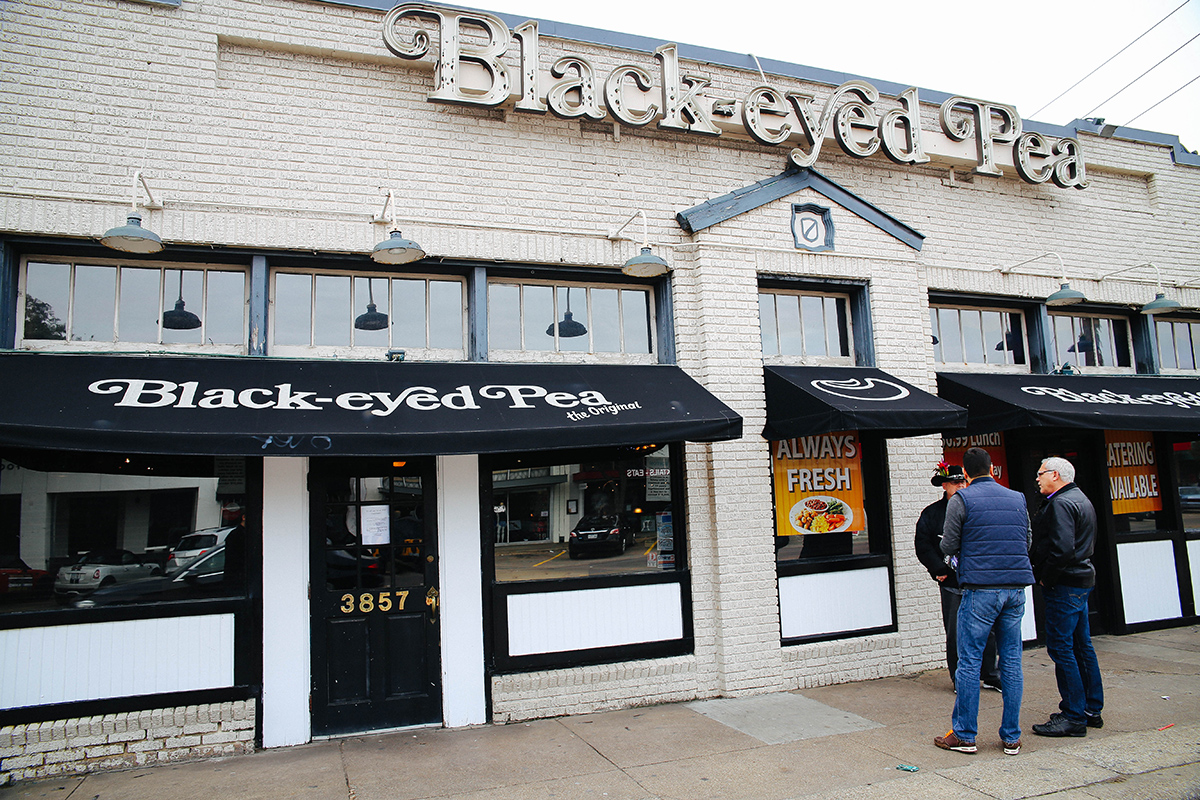 Scenes From the Last Day of Service at the Original Black-eyed Pea
The restaurant opened on Cedar Springs in 1975.
"Hey, Larry! You coming in?" a hostess shouts across the crowded entrance of the original Black-eyed Pea on Cedar Springs. It's just after noon on Saturday, and there's a line so long that it's spilling out the door and onto the sidewalk. A man approaches the hostess stand and mutters. I can't hear what he says, but it's presumably something about the size of the crowd. The hostess replies: "Yeah, we had no idea it was going to be this busy. We called two or three more people in."
News broke early that morning that Saturday was Black-eyed Pea's last day of business at 3857 Cedar Springs Road. The restaurant opened in 1975.
The crowd is standing shoulder to shoulder near the bar, flipping though menus, scrolling on cellphones, and chatting with each other.
"This was the first restaurant I came to when I moved to Dallas," Franco Rodriguez explains while patiently waiting to be seated. "I've been coming here since 1986. I'd eat here after church."
He's standing next to Alex Chapa who chimes in: "I'd eat here every time I traveled to Dallas before I moved here. It was a tradition."
I step outside for some fresh air as I wait for my name to be called. Two men clutching picture frames are standing near the entrance.
"They've kept it very gay," explains Mike Harrell, one of the men. "This place is part of the fabric of the community. While assimilation into society is a good thing, this is the end of a queer-a." Harrell met his husband, Larry Turner (who is standing next to him) at Black-eyed Pea. Turner was a bartender at the restaurant for 13 years. The two came to eat one final meal, bask in the memories, and take memorabilia off the walls.
Inside, people are hugging and shouting from table to table like old friends. While the vibe is upbeat (could have something to do with the $2 draft beers and $5 you-call-its), there are some outwardly less-than-happy patrons. Perhaps the most disheartening example is a middle-aged man sitting alone at a table in the corner. He's facing outward and staring into the dining room. His uneaten plate of mashed potatoes is getting colder by the minute as the ice in his glass melts.
"They told us we were closing, but we didn't know that it was going to be so soon," my server explains. He's frazzled and a little misty-eyed.
If you find it hard to imagine the closure of a casual, run-of-the-mill restaurant that specializes in chicken-fried steak having such a profound effect on people, then you should consider this: The Cedar Springs Black-eyed Pea has been a pillar for the Oak Lawn LGBT community for decades. A home away from home for some people.
"It's a sad day," says regular Bill Wells. He's munching on a club sandwich — one of his favorite menu items. "Being alone, coming here is like being a part of a family. I've been coming here for 10 years. The people who work here are wonderful, the food is good, it's consistent. It's going to be a loss for the neighborhood."
Street's Fine Chicken, an upscale Southern-inspired restaurant, will open in the space at the corner of Cedar Springs and Reagan. Construction began yesterday, and the new restaurant from the Streets (the same family who launched Black-eyed Pea in the '70s) is slated to open in April.
"Before my dad opened the first Black-eyed Pea, he almost did a chicken concept," Marco Street, son of restaurateur Gene Street explains. "And about two years ago, he started calling me late at night going on and on that 'chicken is the future.' We started talking chicken seven days a week. We even bought some French Bresse chicks, the most prestigious chicken alive, and raised them on a friend's chicken ranch out in West Texas. So the concept started there, we started cooking chicken everyday, looking for the golden egg."
The upscale restaurant will feature three types of chicken. "The first two are our signature French fried chicken and our herb-roasted chicken that is finished under a an oven that singes the skin to crispy perfection every time," says Street. "Both are brined 24 hours in lemon, sea salt, and herbs. We will also have a peri peri version cooked over fire that we are calling the 'Sin Killer.' Some other offerings will be deviled eggs—big ones, and chicken lollipops that are smoked and rolled in cracked pepper molasses. There will be six sides, and one or two desserts."
Street plans to bring Black-eyed Pea staff on board, including chef Martin "Arthur" Almaguer, who's been with the company since 1975.
"Almaguer has been there since the very first day. He is family to us," Street says. "He was there with me all day yesterday helping me clean the restaurant. He can out work the best of them, still. We really hope to be able to hire any staff that was left without a job."
As for the return of neighborhood regulars? Only time will tell.