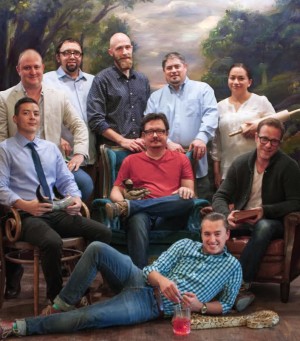 Turn The Tables Hospitality (the folks behind Smoke, Bolsa, Bolsa Mercado, Chicken Scratch, The Foundry, and Spork) has announced that they're opening The Theodore at NorthPark Center this fall. Previously we explained the restaurant as one "offering reimagined American classics inspired by the spirit of the iconic Teddy Roosevelt and an era of American history full of wonder and discovery."
This morning Chef Tim "Teddy" Byres sends word he's assembled his cabinet who will speak softly and carry big sticks. It's an impressive group. Besides c0-presidents Chris Jeffers and Chris Zielke
Tim Byres – Chef/Owner As an admirer of the eatery's namesake, Byres takes a lot of Teddy Roosevelt's ideals and beliefs to heart and applies them to every aspect of his life, including his role as culinary leader. Byres introduces adventure and anticipation with The Theodore; he is the bridge between all areas of the restaurant, including day-to-day, and brings the culinary vision and know how that will make The Theodore stand a cut above.
Scott Romano – Executive Chef An 18-year veteran of the industry, Scott Romano is no stranger to the food scene. He has worked under the guidance of famed chefs such as Charlie Palmer and Wolfgang Puck, in New York City, Los Angeles and Dallas. He brings his ability to create contemporary, straightforward dishes while still maintaining his east coast passion. Guillermo "GMO" Tristan – Sous Chef He has been cooking for many key players in the Dallas culinary scene for years. From the Joule, to Boulevardier, to FT33 and Remedy, Tristan has taken a little something from each restaurant and made it his own. At The Theodore, he plans to take what he learned from each and help maintain the eatery's sense of community by putting out delicious meals that bring families of all sorts to the table.
Brooks Cameron – Sous Chef With the east coast culinary experience he gained during five years of cooking his way around New York City, mixed with his North Texas roots, Brooks Cameron brings a unique perspective to his cuisine. Under the tutelage of David Burke, Charlie Palmer, Mario Carbone, Rich Torrisi and Dallas' own Matt McAllister, Cameron has learned just what it takes that makes a kitchen, and subsequently a restaurant, successful. Marlene Duke – Pastry Chef Born and raised in Los Angeles, Duke developed her passion for breads and pastries under the guidance of many notable juggernauts like Tristan Simon, Wolfgang Puck, and Stephan Pyles, as well as pastry chefs Corey Thomson, Jill Bates, and Keith Cedotal. For the past five years, Duke has been creating delectable desserts at the Ritz Carlton, and like her biggest culinary influence, Sherry Yard, Duke plans to bring her personality to her baking and desserts at The Theodore. Not only will Duke be supplying the perfect finish to every meal, she will also be creating delicious morning bites that will be offered to mall patrons and employees alike.
Jonathan Knecht – General Manager As the leading driver of delivering a dynamic experience at The Theodore, Knecht is the behind-the-scenes orchestrator of the customer journey. His focus is primarily on maintaining an easygoing atmosphere with a sense of sophistication that doesn't exclude any guest. For the past five years, Knecht has been curating the customer experience at Bolsa, and looks forward to taking what he has learned and applying it at The Theodore.
Kyle Hilla – Bar Manager Hilla brings to The Theodore his knack for creating multi-layered mixed drinks using the simplest ingredients – a skill he honed during his five-year tenure as bar manager of Oak Cliff foodie haven, Bolsa. Hilla is a "liquid architect," creating well-balanced cocktails that change with the seasons. At The Theodore, he will serve straightforward beverages inspired by timeless American classics. Above all, Kyle's bar will be a place where strangers become friends.
Gotta love this: "Jeffers drew inspiration from the films, The Royal Tenenbaums and The Grand Budapest Hotel directed by Wes Anderson, and longtime beloved song "Glad and Sorry" by English rock band The Faces. Jeffers creates an atmosphere and experience that will completely change what it is to be a restaurant in a mall.
The Theodore, located in the vacated Luna de Noche space, will open in mid-November.
Get the SideDish Newsletter
Dallas' hottest dining news, recipes, and reviews served up fresh to your inbox each week.