Given the number of quality restaurants at which I've had the privilege of dining at over the past few years, I have unfortunately developed some pet peeves. Some are inconsequential, others I maintain are quite justified. Towards the top of said list is restaurateurs' casual, and oft inappropriate, overuse of the word "Wagyu." The suggestion of "Wagyu" is that the beef being served — that of which commands a premium price — derives from cows raised in Japan by way of exact measures proven to deliver the quintessential umami flavor experience.
Executive Chef Yutaka Yamato, proprietor of Yutaka Sushi Bistro recently offered a look behind the curtain as he partnered with JA ZEN-NOH Meats, a Japanese co-operative dedicated to the preservation and awareness of authentic Japanese Wagyu cattle that are deemed to be the highest quality in the world. Invited were some of Dallas' most respected restaurant owners and chefs from establishments such as The Mansion at Turtle Creek, The Mercury, Pappas Bros. Steakhouse, Lucia, Nick & Sam's, Dish, and The Second Floor, all of whom were able to experience a hand-selected array of Grade 9 traditional Japanese Wagyu beef. The presentation was half education, half sales pitch, and 100% flavor.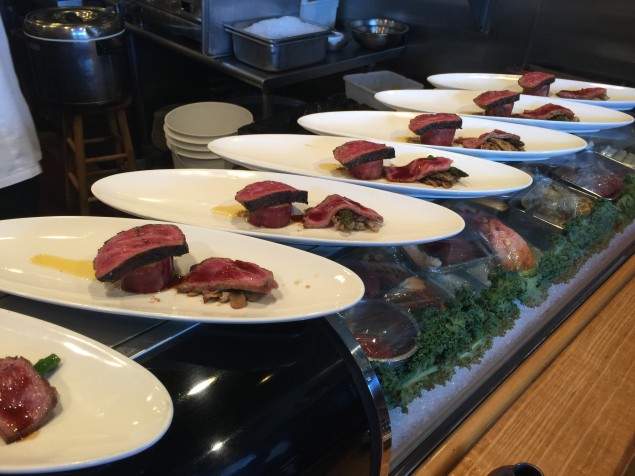 To briefly summarize, genuine Japanese Wagyu beef must be raised in Japan, just as scotch must come from Scotland, and champagne must come from the Champagne region of France. In fact, the word "Wagyu" literally translates into "Wa" (Japanese) and "Gyu" (cattle). The beef may only originate from four specific breeds of cattle: Japanese Black, Japanese Brown, Japanese Shorthorn and Japanese Polled. Regardless of lineage, all receive loving care from birth, both physical and emotional (and some would argue spiritual). Regardless of where it may be found in the world, true Japanese Wagyu can be traced back by a ten digit "Traceability System", which essentially ties the cattle's ancestry back to its Japanese roots.
The Japanese Black Cattle, which is the smallest of the four breeds and produces 95% of all Wagyu beef, is held in the highest esteem. This particular breed is the source from which we receive Matsuzaka, Kobe and Ōmi beef, the names of which are indicative of the geographic region where the beef originated. Irrespective of the territory, the cattle are fed a diet of rice straw, grass, barley, corn and soybeans for over twenty months. They are exercised and massaged on a daily basis and, yes, even nurtured with beer. This stress-free existence prevents muscle constriction which creates an undesired toughness for cows held in such high esteem.
Japanese Wagyu beef exhibits a superior richness, tenderness, aroma and a distinct flavor that is unattainable by other breeding practices. The quality of the beef is determined by two distinct marks: "Yield Grade" ("A", "B", and "C") and "Meat Quality Grade" ("1" through "5"), with a marbling score between 8 and 12 (although cuts ranked 11 and 12 rarely make it out of Japan). The most pristine cuts are graded "A5" and are served at some of Dallas's finest restaurants, including those aforementioned.
The team of chefs, which included Executive Chef Yamato himself, put together an expose that was as exquisite as one can achieve so far from The Land of the Rising Sun. We were presented a total of six bites that showed not only the superiority of authentic Wagyu beef, but also its versatility. Sequentially, we were offered Wagyu sushi with white truffle ponzu, BBQ-seared Wagyu with Boston Bibb Lettuce and Steamed Rice, and seared Wagyu topped with fresh uni and sea salt. The second trio consisted of shaved Wagyu with daikon & ponzu, Wagyu atop a purple potato with foie gras butter, and a shaved maitake mushroom accompanied by Wagyu. I'm eager to learn which chefs will bring this exquisite cut of beef in-house, as it is truly a life altering experience for the connoisseur.
I've always been a proponent of the philosophy that food can be both an art form and a science. And the process of achieving true Japanese Wagyu is both. I am not, by any means, calling for a revolt against Texas-raised Wagyu Beef (and, yes, I have braced myself for comments calling me to task by Texas ranchers and local advocates). My point is simply that "the cost should match the cut;" and a distinction should be made between what is sourced from Japan and raised in adherence to the strict requirements, and what is not. Provided you find authentic Japanese Wagyu a the menu in Dallas, I highly recommend that you go ahead a splurge so long as you do so in a responsible fiscal manner.
Get the SideDish Newsletter
Dallas' hottest dining news, recipes, and reviews served up fresh to your inbox each week.