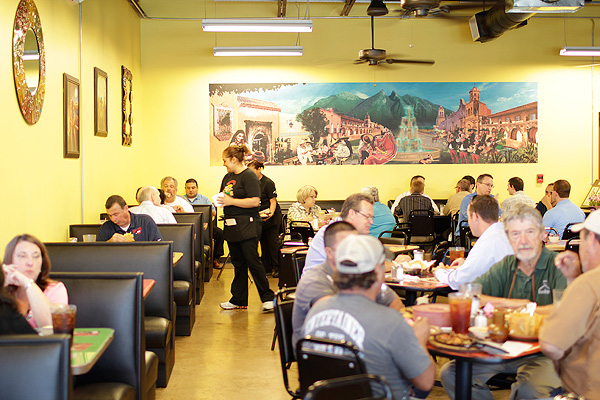 Deal for New Herrera's Location on Maple Avenue Falls Through
Oh, holy horrors. Herrera's Cafe has backed out of a deal for a new location on Maple Avenue. They can't afford to stay. Crow Holdings? Are you listening? We don't like this.
Oh, holy horrors. I heard a rumor yesterday that the Herrera family had backed out of the deal they considered for a new location of Herrera's Cafe on Maple Avenue. This morning, Timmy links to Karen Robinson-Jacobs' DMN story that confirms the reality. After 40 years on Maple, the family can't afford to stay there. The area near the Old Parkland Hospital is under construction that included a 4,500-square-foot restaurant with a patio for a new Herrera's. Their current location (4024 Maple Ave.) across the street from the new site is scheduled to be demolished.  Jacobs quotes Nora Ontiveros, whose family owns the restaurant: "We're not owned by investors," said Ontiveros. "We're just a mom and pop. We can't afford to stay here." They are looking for another location.
I'm all for progress. I love the fact that the Old Parkland Hospital has been restored, however, I am horrified that Crow Holdings would scrub culinary history off Maple Avenue. Escondido's, Rosita's, Herrera's gone from Maple Avenue? It's a dark day. Raise your Menudo for Breakfast flags.