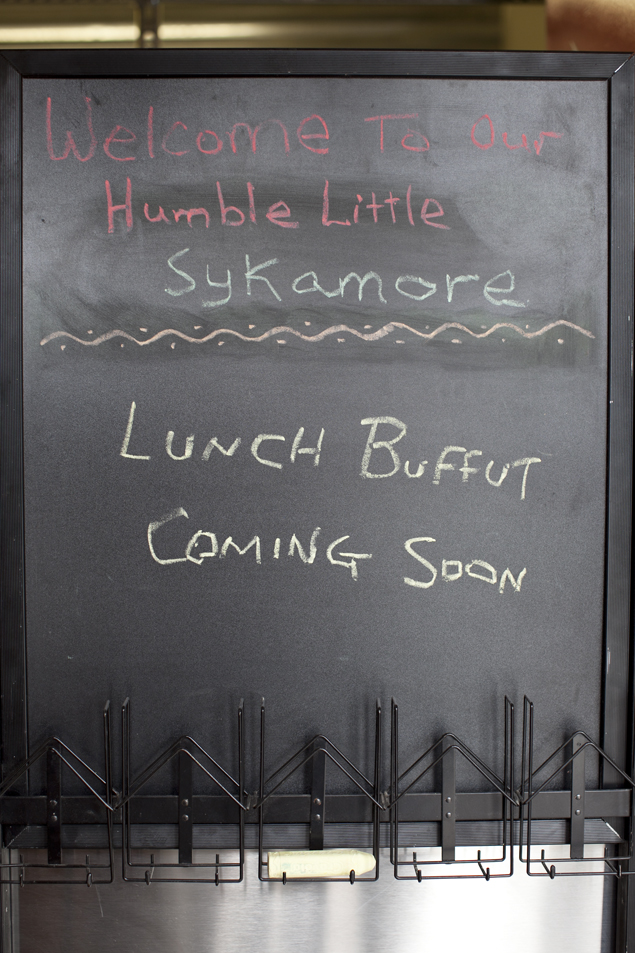 Let it be known that Sykamore Café will cure your long-standing, vegan-Asian cuisine cravings, and a meal here will not break the bank. It's located just off of Haskell in East Dallas and nestled between the Baylor University Medical Hospital cluster of buildings. This family owned-spot is warm and welcoming; their menu selections are down to earth and outrageously affordable.  Breakfast and lunch specials are around $7 while dinner plates range from $8 – $12.
Keep your eyes peeled for the impossibly small building and parking lot. You may begin having second thoughts upon approaching the front doors, but take a deep breath and pull. Let your worries fade away.
The teeny-tiny café seats only a handful of customers at a time. But again, don't let its size fool you. Just let your taste buds be the judge. The breakfast and lunch menus offer everything from a morning burrito to fresh smoothies with natural sweeteners and salads. I like the dinner options best. Expect crave-worthy plates of Asian American favorites such as crispy golden orange soy "chicken,'" sweet and sour soy "chicken," and coconut fried rice, all of which are large enough to share. Food is served on white Dixie plates with plastic utensils. Drinks are bottled, but the chatty owner, Sean Chen, pours chilled mint-lime infused water and greets each customer. "We only want to serve the freshest foods we would serve to our own family here," he says. Sykamore Cafe  fun and laid back and  certainly worth a trip. If you arrive and find the café packed, they will prepare  to-go orders.
Get the SideDish Newsletter
Dallas' hottest dining news, recipes, and reviews served up fresh to your inbox each week.