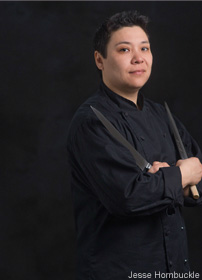 Two years ago, I wrote Canary By Gorji was one of the most underrated restaurants in Dallas. Today I add Zen Sushi to the list. Both of these restaurants are owner operated and loved by the people who live close by. The other disappointing common denominator is people in North Dallas don't drive to Zen Sushi for a festive night out, and the stubborn, gloaters in the OC (yes, I'm talking to you!) refuse to drive over the Trinity River to experience an exceptional eating experience.
Michelle Carpenter has been in the modern Japanese food/sushi business in Dallas for a long time. Many of you know her from her 12 years at Yamaguchi's on Inwood. (I believe Shinsei now operates out of part of the former Yamaguchi space. Way before that, it was a two-story Italian restaurant. Anyone remember the homemade orecchiette?)
Carpenter, perhaps the only female Itamae (sushi chef) in Dallas, opened Zen about seven years ago and has done some cool things. She invented the Caterpillar Roll, an off-the-menu item with the fish covering the outside of the roll, when she worked at Mr. Sushi in 1989. (Dallas had five sushi restaurants!) She has a devoted group of Sushi Warriors in her Secret Sushi Society. They used to meet and feast on Carpenter's custom, and expensive, seven-to-ten course dinners.
You can also call in advance and request the Carpenter's ten-course omakase. She hosts sakes samplings on Wednesdays and all bottles are half-off. And the menu is vegan and vegetarian friendly.
Today, Michelle sends us the answer to every burgeoning Japanese food convert.  How do I choose the right sake for my meal?Michelle says:
Pairing sake is like pairing wine.  The possibilities are endless, and it depends on your preferences.  Here is a general guideline:

– Sake doesn't have the tannic qualities that red wines have, so it is generally more subtle.  It's easier to pair sake with white meats and seafood than it is with steaks or heavier meats.

– Our menu lists the SVM (Sake Value Meter) of each sake we serve.  Remember, higher is drier, and lower is sweeter.  Water is considered +/- 0 on the SVM.

– Many people like Nigori (unfiltered or cloudy) sake as an after dinner treat, but Nigori is also known to pair very well with salmon and other creamy dishes.

– Drier sakes go great with salty, briney, strong flavored foods like mackeral sashimi, bacon-wrapped asparagus, gyoza, or our nouvelle-styled yellowtail sashimi.  Sweeter sakes are best with spicy and acidic foods.  Try nigori or Tyku Black with our jalapeno roll or ceviche.
Get the SideDish Newsletter
Dallas' hottest dining news, recipes, and reviews served up fresh to your inbox each week.