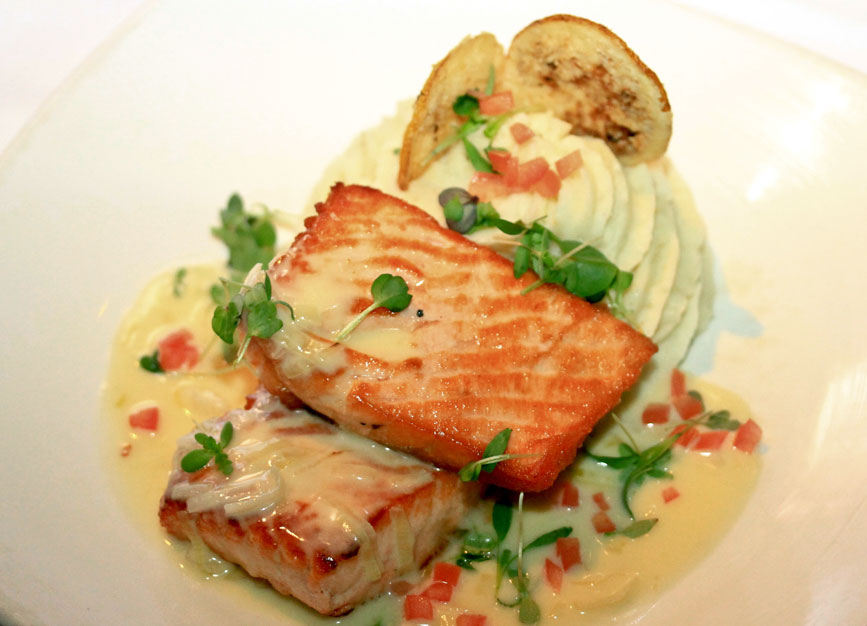 Jasper's Revamps Classic Menu After 11 Years
After all these years, Kent Rathbun is still hitting the ball out of the park.
One of the most recognizable, genuine and approachable celebrity chefs in all of Texas, Kent Rathbun, recently decided to revamp his legendary menu at Jasper's into one that satisfies loyal patrons, but exemplifies maturation, much in the way the restaurant has since its debut over a decade ago.
While many items on the new menu pay homage to the familiar, each offering is one that will drive every classicist forward, into a place that carefully allows for experimentation while opening the mind and expanding the palate.
During last night's media dinner, we were able to sample stalwarts, such as a creamy ricotta flatbread with peppery arugula, toasted Serrano ham, and lemon infused olive oil. Authentic Thai mussels were tender and moist, bathed in a blend of coconut milk, fresh lime, and green curry. Grade-1 tuna was prepared two ways: n Asian-inspired tartare complete with white and black sesame seeds, wasabi, and ginger; and a raw, Hawaiian-based tuna poke. Exquisite.
Blistered Shishito peppers followed, adorned with lime and Falksalt. Said peppers demonstrated emphatic flavor without unnecessary heat, aside from a capsaicin burst here and there by way of a rampant seed.
The crispy five-spice calamari with sweet chili vinaigrette was a group favorite. Of note was the decision to abandon traditional (and frankly, boring) rings for tentacles and vertical dissections. I sincerely appreciated this unique culinary technique, as should anyone that has dined on overcooked squid. Lightly battered with finely sifted flour, the calamari was perfectly cooked, properly breaded, and amply spiced.
Our first entrée featured a pan-seared skin-on bronzini, with Parma ham and charred tomato hollandaise, served with a side of charred Brussels sprouts. Paired with a 2011 Freemark Abbey Chardonnay, the fish was visually enticing, light, and flavorful. The sheen derived from the skin from the fish allowed for a visceral experience and, when paired with the Napa Valley Chardonnay, made for one of the most pleasant bites of the evening.
Admittedly, I have yet to be overwhelmed by a (non-fried) chicken presentation in Dallas. However, Chef Rathbun brought out one of the most flavorful salt, lemon, thyme, and rosemary-brined birds in existence, complete with semi-crackling skin, a complex toasted Israeli couscous mixture, garden vegetables, and a chicken stock jus.
The star of the evening was an inventive black soy glazed pork brisket with stir-fry Chinese vegetables. Flavorful in isolation, the Asian preparation was an intelligent choice—one that displayed the subtle flavor of the medium-rare pork, alongside sauces and textures that ensured that it peaked. One unique component on the plate was a fried purple Hawaiian sweet potato, personifying Chef Rathbun's exemplary culinary vision.
Jasper's, alongside the rest of the Rathbun empire, is not in need of change. Regardless, Chef Kent Rathbun, alongside veteran chef Jeff Moschetti, continues to deliver innovative, yet familiar cuisine, particularly to those seeking inspiring twists on traditional backyard American fare.