Sunday game day requires fun cocktails even if all you are watching during the game are the commercials. Here are a few ideas to mix up this weekend while entertaining for the big game, a few spirit selections were sent for editorial consideration.
Touchdown Paloma
1.5 oz  Patrón Silver Tequila
1 oz Elderflower Liqueur
3 oz Pink grapefruit juice
2 oz Club soda
Preparation: Pour ingredients in a Collins glass filled with ice, then stir well and serve. Garnish with a wheel of grapefruit
The Blitz
2 oz Ultimat Vodka
4 oz Fresh Lemonade
2 oz  Fresh Orange juice
Splash of soda
Preparation: Build in a tall glass filled with ice. Garnish with orange & lemon wedge.
Bronco on the Rocks
50 ml Belvedere Vodka/ Unfiltered
1 large black olive
Preparation: Pour Belvedere Unfiltered over ice into a rocks glass. Garnish with a large black olive.
Seahawks Sour
50 ml Belvedere Vodka / Unfiltered
20 ml lemon juice
15 ml simple syrup
Dash egg white
Preparation: Combine all ingredients and dry shake to emulsify egg white. Add ice and shake vigorously. Fine strain over fresh ice into a rocks glass. Garnish with a lemon twist and discard.
In honor of the teams, sip their team colors –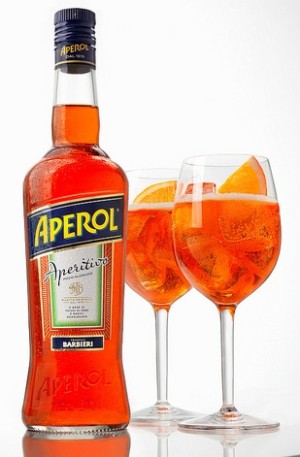 For Denver, an orange Aperol Spritz
Aperol Spritz
3 parts Prosecco, like LaMarca Prosecco
2 parts Aperol
1 splash of soda
A slice of orange
Preparation: Add ice in a tall flute then pour in the Prosecco, the Aperol and add a splash of soda, top with a slice of orange.
For the Seahawks, go green with a classic Margarita
The Original Margarita
2 oz. Avion Blanco tequila
1 oz. Cointreau
1 oz. Lime juice
Preparation: Combine all ingredients in a mixing glass and add ice. Shake and strain into a Margarita glass. Garnish with a lime wheel and salt.
Sunday also marks National Pisco Sour Day, the tangy and sweet drink made from the grape based spirit that Peru and Chile both claim as their own. Either way, the potent spirit makes great game day cocktails.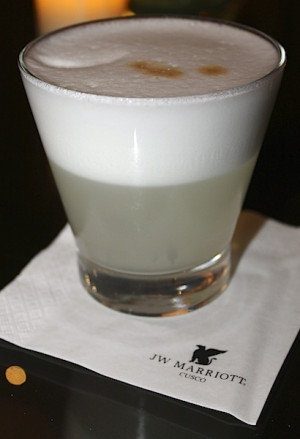 Classic Pisco Sour
Recipe courtesy of Qespi Bar at JW Marriott Cusco
3 ounces Peruvian pisco, like Pisco Porton
1 ounce lime juice
1 ounce simple syrup
1/2 egg white
Preparation: Combine all ingredients in a shaker with a handful of ice cubes, and shake for at least 30 seconds to one minute. Strain into a short glass and garnish with two drops of bitters.
A punch is always a fun and festive way to serve a crowd. This one from Martin Miller's Gin combines herbal gin flavors with pomegranate and orange for a seasonal, delicious game day treat. Add in the bitter ice cubes and your party is complete.
Martin Miller's Gin Party Punch
Recipe courtesy of Kathy Casey, Liquid Kitchen
Makes about 16 – 20 servings.
3 cups water
3 Orange Pekoe Tea bags
1 1/2 cups sugar
1/4 teaspoon ground nutmeg
———————————-
1 bottle (750 ml) Martin Miller's Gin
1 cup pomegranate juice
3/4 cups fresh orange juice
1 cup fresh lemon juice
2 tsp. Angostura or Peychaud's bitters
Garnish: sliced mandarin or oranges and/or lemons
Preparation: Bring water and tea bags to a boil. Add the sugar, stirring to dissolve. Remove from heat, let steep 10 minutes, then strain and cool.
To the tea, add Martin Miller's Gin, pomegranate, orange, pineapple and lemon juices, and bitters. Stir together and chill until ready to serve. Add sliced mandarins or oranges and pomegranate seeds to punch before serving if desired. Serve in ice-filled glasses grated with fresh nutmeg.
———————————-
Bitter Ice Balls
Makes about 20 Ice Balls.
10 cups water
2 Tbsp. Angostora or Peychaud's bitters
Preparation: In a pitcher, measure out water and stir in bitters. Place water evenly in ice ball molds. (This will have to be done in batches depending on the size of your ice mold containers.) Put ice molds to freezer. Check in 12 – 24 hours. Remove ice from molds, and transfer to a container. Keep frozen until ready to use.
Beer may be the typical go to for game days, but you prefer the wine based bubbles, pick up a four pack of MARTINI sparkling wine minis (187ml) available in MARTINI Prosecco, Sparkling Rosé, and Asti. Everything is a bit more fun with a bubble. And anything you might enjoy a beer with – burgers, Mexican food, Asian food, even barbecue tastes fantastic with bubbly.
Get the SideDish Newsletter
Dallas' hottest dining news, recipes, and reviews served up fresh to your inbox each week.