With Halloween just around the corner and cooler temperatures filling our days, here are a few more wines to warm you up this fall to celebrate the change in seasons.  A few selections were sent for editorial consideration.
Cooler temps also brings the desire for warm, comforting dishes, like big bowls of pasta with rich Bolognese sauce. A classic Chianti is ideal with this. I recently tried two that were incredible, one from a well known and loved producer, 26th generation Marchesi Antinori, another from a lesser known winery but one with great history, Fattoria Selvapiana.
From Marchesi Antinori, one of the most respected and loved wineries in Tuscany, I had a chance to try their 100% Sangiovese Badia A Passignano. The historic Badia (abbey) is known for their incredible Sangiovese vineyards, creating a wine filled with licorice, leather, caramel, sweet cinnamon spice, red cherry and raspberry, and balanced but bold tannin structure giving this wine the ability to age for many years. Pogo's has the 2007 and 2008 vintages now, retailing for around $50 each.
Selvapiana has been owned by the Giuntini family since 1826. A winery with pride and legacy, and a dedication to preserving the family heritage found itself withough an heir in the late 1990's. Then owner Francesco Giuntini Antinori did not have children but wanted to leave the winery in his family name to someone who loved the property. The children of his estate manager, Frederico and Silvia, were born on the estate and grew up amongst its vines. When their father passed Francesco legally adopted them giving him the Giuntini name. Today the two successful run the Tuscan winery, working beside Francesco, to produce terroir driven, Sangiovese based wines. Their 2010 Chianti Rufina DOCG is everything you expect from the variety balancing old world earthy, leathery Italian wine notes with ripe cherry and dried blackberry notes. The wine is available for around $18 a bottle and available via wine.com.
Traveling over to France to one of my favorite regions, the Rhone Valley is known for their layered, refined wines made from Syrah, Grenache, Mourvedre and dozens more, with Châteauneuf du Pape boasting 13 different varieties allowed in each bottle.  If all Blanc, Gris and Noir variants (Grenache Blanc, Grenache Noir, etc.) are considered, there are actually 22 authorized.

From the southern Rhone Valley in the Ventoux AOC 2011 Marrenon Ventoux Orca Vieilles Vignes blends 90% Grenache Noir, from vines an average of 60 years old, with 10% Syrah grown in gravel and clay filled soils creating an earthy, wet stone and herb filled wine with smoky tobacco and black cherry aromas with touch of cherry, espresso and chocolate on the palate. A great wine to enjoy with roasted leg of lamb or pork belly. Orca retails for around $20 a bottle, available here.
Some people think Beaujolais is just for drinking on Thanksgiving, and granted the Nouveau is ideal for pairing with the rich flavors of the Thanksgiving feast as it is very light, food friendly and incredibly easy drinking. Beaujolais doesn't stop there though, in fact there are incredible Gamay based wines from throughout the region that are delicious any time of year, particularly with poultry, pork or autumn root veggie dishes, like polenta with wild mushrooms or butternut squash and sage risotto.  Daniel Bouland, one of the prominent producers in the region, has an approachable Chiroubles with grapes benefiting from what has been referred to as almost perfect growing conditions of the village on the northwestern edge of the Morgon appellation with a longer growing season than in other parts of Beaujolais, higher altitudes that in other parts of the region, with grapes grown in mineral rich sandy Gore soil.  The result, a wine filled with a mix of both juicy fruit and earthiness with notes of purple flowers, white pepper, wild cherry, dried herbs and spice. Retailing for around $22 a bottle the 2011 is a wonderful wine to drink throughout the season, but can also age well a few more years, displaying richer, earthier notes as it ages.  Wine is available for purchase here.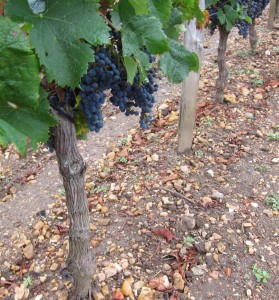 I had a chance to visit Bordeaux for the launch of harvest this year as a guest of the regions of Saint Emilion, Pomerol and Fronsac.  The Right Bank of Bordeaux specializes in earthy, tannic, dried fruit, wild flower and herb filled Merlot and Cabernet Franc blends planted in limestone, clay and gravel filled soils, that pair well with rich sauces and hearty meats.  Expressive wines that are made in the vineyard instead of the winery, though wineries throughout the area employ some of the most state of the art techniques while abiding by old school, and still highly regulated, traditions.  Though you can enjoy these wines early on shortly after their annual release, even the most inexpensive bottle has the ability to age beautifully for 10+ years, and benefit from decanting anytime before that.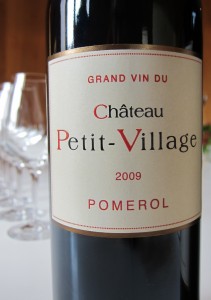 Chateau Petit-Village lies on the eastern side of Pomerol with the great Chateau of the region, Le Pin and Petrus within eye sight. Their Merlot based wine with both touch of Cab Fran and Cab Sauv is grown in the mineral rich, well draining gravel soils the region is known for, producing wines that highlight their sense of place in every sip.  I liked the wines of Petit-Village quite a bit as there is a delicate elegance to the wines, balancing richness and complexity with impeccable finesse.  Though tannins were still firm and bold and the style is still very Old World, there is freshness in the red and black fruit, wet stone, toasted spice and violet filled wine, even on the very youngest vintages.  Goody-Goody stores throughout Dallas currently have a few vintages of Chateau Petit-Village retailing between $75 and $90 a bottle.
Earlier in the summer I had a chance to meet with Pablo Cúneo, Winery Director and Winemaker for Bodega Ruca Malen, one of the most well known wineries of Argentina based at the foot of the Andes Mountains in Mendoza.  It was about 102 degrees the day I met with him to taste his robust, dried fruit, leather and spice filled Malbec and Cabernet Sauvignon, but even though my palate wasn't in the mood for his hearty reds I continued to sip and enjoy them as they are something special.  Since their first release in 1999 the winery has become known for their high quality, hand-crafted wines made in an Old World style with the best use of modern technology possible. Ruca Malen Reserva Malbec opens with notes of black plum and black cherry, the traditional flavors of hearty Argentine Malbec, here intertwined with rustic notes of tobacco, leather and chocolate creating a concentrated wine with weight, character and balance.
The longest winery in operation in Sonoma Valley recently got new owners and a major face-lift to how they produce their Sonoma County wines.  Valley of the Moon, the Indian name for Sonoma County given to the region by the Miwok, Pomo and Wintun people, lies at the base of the Macaymus Mountains in the southeast part of Sonoma County.  The winery has been operating since 1863, surviving during prohibition making sacramental wine.  Last year the winery was purchased by Northern California native Dan Zepponi (whose father co-founded ZD Winery in Napa) and his partner, Canadian Tony Stewart, CEO and Proprietor of Quails Gate in the Okanagan.  After successfully launching Plume in Napa in 2011 the duo purchased Valley of the Moon in 2012 and immediately started making changes to the wine and winery improving the quality of the wine and the requests they put on their growers throughout the valley, for instance paying for grapes by the piece of land instead of the weight of the fruit, thus allowing growers to remove unnecessary fruit growing on a vine that will just take away from the flavor and concentration of the prime fruit in a vineyard. Now Dan and Tony may buy less fruit, but they are pleased with the quality. And the wines show this. Their first vintage under their ownership is the 2010 for reds (which they just blended to their specifications) and the 2012 whites. Their 2010 Old Vine Zinfandel, with some fruit from vines planted in the 1930's on their estate, is lush, well rounded and concentrated. A wine that is both easy to drink and interesting, filled with flavors of stewed berries, baking spice and toasted vanilla. The wine is arriving on Dallas wine store shelves now for $30 or is available via their website.
Get the SideDish Newsletter
Dallas' hottest dining news, recipes, and reviews served up fresh to your inbox each week.