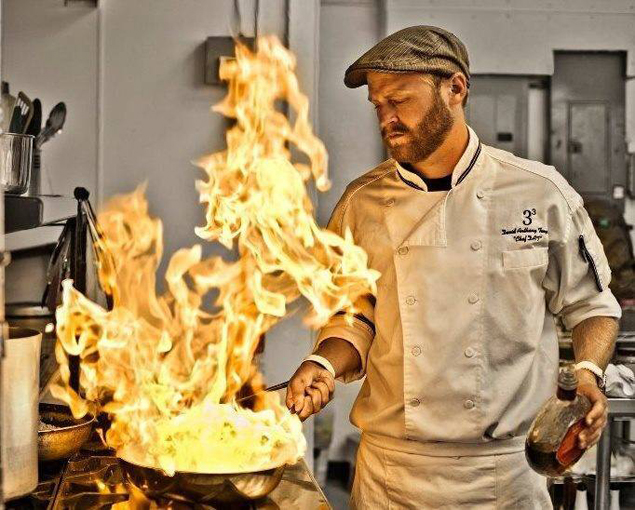 You've heard of Chef DAT. He's the mysterious fella who sends out equally mysterious emails every Tuesday about underground dinners in weird, secretive places. Sometimes they rhyme, sometimes they make absolutely no sense at all. But more often than not, they're entertaining, and people always have a ball-of-a-good-time at his dinners. This good 'ole Southern boy sat down to talk to us about his underwear of choice, his stint as a rap artist, and the big plans he has to open a Louisiana po' boy restaurant in Lakewood. Hit it, Daddy DAT.
Carol Shih: These are random questions, so don't judge me for them. Boxers or briefs?
David Anthony Temple: None. Commando.
CS: Commando right now??
DAT: Every time. I wear really comfortable shorts. Why would I ruin it with boxers or briefs?
CS: What kind of shorts do you wear?
DAT: Usually linen. [Laughs] That was a Nancy question, wasn't it?
CS: Yeah, I can't claim ownership over that one. One ingredient you have to have? Pretend the earth is going to destroy in 10 seconds and you can only hold onto one ingredient before we move to Mars.
DAT: I'd say pepper. I use different colored peppers. I do black, green, white, and red. All in a blend. Fresh ground. There's no replacement for good, amazing, fresh ground pepper.
CS: Which restaurant do you most frequent in Dallas?
DAT: Central 214, Graham Dodds. All the food's very great, very fresh. If it was my last day on earth, I'd probably eat at Tei-An. Go see Teach. I love Teach.
CS: Name of your first pet?
DAT: One of my favorite words in the whole dictionary: Dahlin.
CS: What the? Huh?
DAT: Hey, Dahlin, how you doin'. D-A-H-L-I-N. That dog was awesome. We had another dog like that named Babe. So our names were always very Southern, very terms-of-endearment names. People always think I'm always hitting on somebody 'cause I'm always like, "Hey, Dahlin. Hey, Babe. Hey, Honey. Hey Sugar." I grew up saying those words all my life. My family was raised that way. Very Southern-hospitality, deep New Orleans-Baton Rouge-kind of family.
CS: That's really how you talk to…
DAT: Complete strangers, yes. I say "babe" to dudes. A dude's a babe. "Hey, babe. What's goin' on, babe?" Totally normal to me. Totally weird here. Whatever.
CS: What are your hidden talents?
DAT: Between 16 and 20, I was a rap artist. I had music in clubs. I did rap music for a while.
CS: Can you rap for me?
DAT: No, ma'am, I cannot. No, I'm too embarrassed; I'm too shy to do it. If I'm drinking and having a good time, I'll just start doing it.
CS: What does a normal DAT day look like for you?
DAT: My normal day is book meetings, book conference calls, all day, all night long… That's why I'm lucky to have Catherine to help me take some of the load off. I'm trying to open up a restaurant right now. We're in a lot of the pre-stages right now.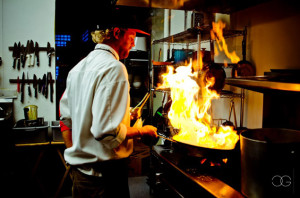 CS: So you're going to open a restaurant… in Lakewood? What's it going to be called?
DAT: Geaux.
CS: What does it mean?
 DAT: It means go. It means, "Hello, goodbye, go." It means "get it to go." Fast-casual.  More fast than casual. I want to open somewhere where I can eat lunch. So I'm opening my favorite lunch spot. Where you can have po' boys and gumbo every day of the week, and you can have amazing bread and amazing ingredients all in a sandwich, all fresh, all delicious. You have a whole one, like 7 inches or so, and a half one with a cup of gumbo for a special deal. Then have a daiquiri as well. A cold frozen drink to have with a hot sandwich… just the perfect lunch.
CS: Are you going to do traditional po' boys?
DAT: 100% traditional. True, authentic, Louisiana-style.
CS: Explain to Dallas people who've never been to New Orleans what traditional po' boys are.
DAT: Well, you have your different options: your shrimp, catfish, chicken, roast beef. The go-to for me is always roast beef. Sloppier, the better. The gravy falling off on your hand, bread just flaking everywhere 'cause it's so crispy and made perfectly. Unfortunately, for Dallas, I think it's the water. The water in New Orleans has this chemical property, I think, in it –
CS: Did you just say, "Whatta?"
DAT: See, it comes out! The chemical properties, I think, has something to do with the way it reacts to the yeast. I'm going to get the best bakery out of New Orleans, called Leidenheimer Bakery, and I'm going to start shipping their bread up here. I'm gonna get them to ship it up to me.
CS: What's your favorite place to get po' boys in Louisiana?
DAT: It's in Bucktown. It's a little area right by Lake Pontchartrain. It's the BEST po' boy in the entire city of New Orleans. That's my favorite place to go. No doubt. Usually the line's so long, you order to-go. It's a restaurant. You walk in, sit down, eat. It's called R & O's Pizza Place. They're known for their pizza.
CS: And you're close to signing a lease?
DAT: We like the building we're looking at right now. We're close to signing a lease on it, yes. I've been wanting to open up a restaurant for a while now. It just has to be the perfect fit. We'll be poppin' bottles if we sign the lease. It'd be a fun celebration day. I'll celebrate for one day, and then I'll work my a** off for the next 800 days straight.
CS: I think that's it. Those are all the questions that I have. Anything you want to add?
DAT: Just make sure people want to sign up for the newsletters and get involved. Come to the [underground] dinners. Email us to get on the list. [email protected]. Make sure they get the RSVP emails that come out every Tuesday. They just need to RSVP quickly to get a seat, 'cause they sell out quickly.
Get the D CEO Newsletter
Stay up to speed on DFW's fast-moving business community with weekly news reports, interviews, and insights.