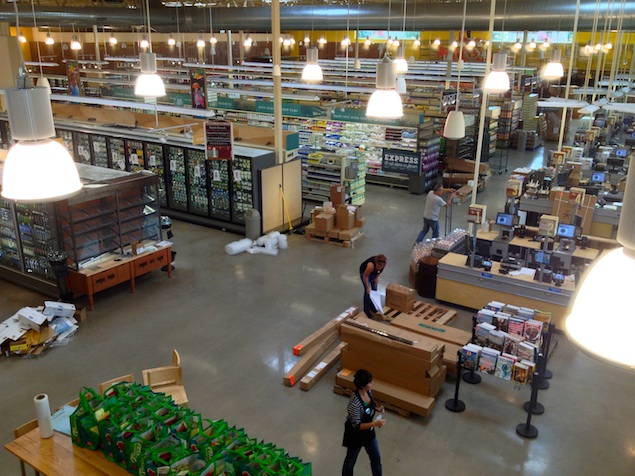 Yesterday morning, I joined two other media members and a group of Whole Foods representatives on a media sneak peek of the new store in Addison. It's not quite ready for opening day, but things are coming along. It's smaller than the landmark store on Park Lane, clocking in at 40,000 square feet. Shoppers will find all the usual suspects—the salad bar, the hot bar, fresh produce and meat—plus a few unique treats.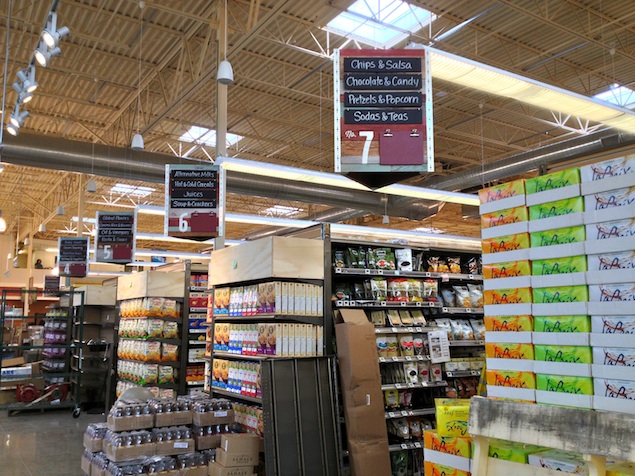 Decorations reflect the city of Addison, so you'll see airplanes (the Cavanaugh Flight Museum and the Addison Airport) and fireworks (an homage to Kaboom Town). You can also find colorful hand-chalked drawings throughout the building, including pictures of team members next to their favorite products. There's also something that looks like a mini jungle-gym, but it's not for tiny humans. It's called the "flying banana display," and it allows all the bananas to ripen evenly as they are hung around the structure. No other store has one.
The store will also feature new products, such as marinated cheese curds, individual panna cottas, and what Lukin calls "buffins," or a savory bread-like muffin. This Whole Foods Market has 350 organic items, 44 feet of bulk products (nut butters, honey, and sprouted products), and 550 varieties of cheese. All products exclusive to Addison will have specific tags on them. Other store-specific characteristics include a "wine geek" program that invites chefs and other experts to give their input on certain wines, the first upstairs dining area in North Texas, and skin care lines for men.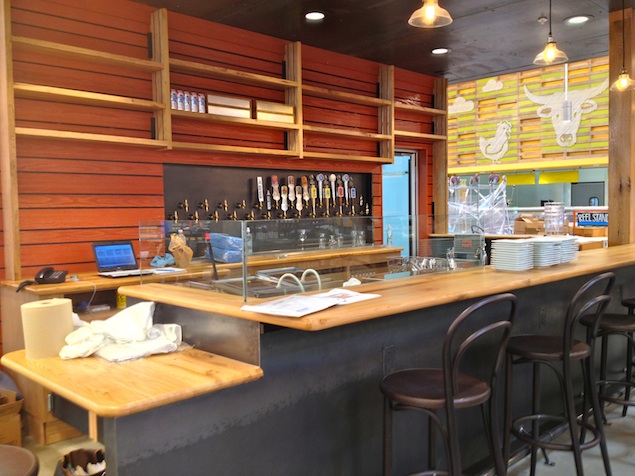 The bar is called the Spirit of '76, as in 1976–the year that the city of Addison became wet. There, you can enjoy any of the 17 beers, six wines, a draft root beer, or a cold-brewed coffee. You can even buy a bottle of wine at the bar register and enjoy a couple glasses in the store. There's also a feature called "Buy a Buddy a Beer," in which you can purchase a beer ahead of time for a friend. The bartender will write the friend's name on the chalkboard, and your friend can enjoy that beer from you during his or her next visit. The bar also offered wine and cheese flights, gourmet grilled cheeses, and a drink that incorporates beer and coffee.
The store, located at 5100 Belt Line Road, officially opens next Tuesday, July 16, at 8 a.m., but there is a special sneak peek to taste and tour the market today from 4 p.m. to 7 p.m. It's open to the public, so you can get a behind-the-scenes look at the store before the finishing touches are made. You won't be able to purchase anything yet, but there will be live music, food, drinks, and prizes.
If you decide to brave it on opening day, get there early. The store is giving out gift cards (ranging from $5 to $250) to the first 100 guests. You'll also get one of the special edition Dallas-themed reusable bags. Meanwhile, each day of opening week will feature a different Community Giving Day partner, such as the Jewish Family Service of Greater Dallas and the WaterTower Theatre in Addison.
Marley Dablo will be an online journalism senior at the University of Oklahoma in the fall. She plans to attend culinary school upon graduation in hopes of combining her writing and culinary skills to ultimately have her own cooking show one day.
Get the SideDish Newsletter
Dallas' hottest dining news, recipes, and reviews served up fresh to your inbox each week.