I like having an entire weekend to celebrate with Derby Day and Cinco de Mayo back to back..having them on the same day last year just about did me in, so this Saturday/Sunday combo allows for a little spacing out of your tequila and whiskey cocktails.  If you need a little inspiration consider one of these for toasting this weekend.  A few spirit samples and recipes were sent for editorial consideration.
Blood Orange Margarita
1½ parts Tequila Avión
¾ part Cointreau
1 part Blood Orange Juice
½ part Fresh Sour Mix
Directions: In a cocktail shaker add all ingredients with ice.  Shake and strain; best served over fresh ice and garnish with an orange twist.
Pepino Diablo
I love this jalapeno infused tequila bringing a touch of spice to the clean, 100% pure agave tequila.  The combo with the cucumber and lime makes it fresh, spicy and delicious.
2 ounces Tanteo Jalapeno Tequila
1/2 ounce fresh squeezed lime juice
3/4 ounce agave nectar
1 ounce cucumber puree (2 slices muddled cucumber)
Directions:  Combine all ingredients in a shaker, shake to combine, strain over ice. Garnish with a cucumber wheel.
Strawberry Fields
2 oz Camarena Reposado Tequila
1/2 cup Strawberry Simple Syrup*
2 oz Fresh Lime Juice
Splash of Orange Liqueur
2 tablespoons of Fresh Basil, Chopped Roughly
6 Sliced Strawberries
Directions:  Muddle basil and tequila in a cocktail shaker. Add *strawberry simple syrup, lime juice and orange liqueur. Fill with ice, shake and strain into a high ball glass over ice. Garnish with sliced strawberries on the rim and ribbons of basil mixed in the drink. *Strawberry Simple Syrup – combine 1 cup sugar, 1 cup water and 4-5 strawberries, sliced in a saucepan. Bring to a boil, then let simmer for 10-15 minutes. Cool the syrup, then strain.
Float
An interesting spin on a Kentucky Derby favorite Mint Julep from Anchor Distilling
2 ounces Glenrothels Alba Reserve Scotch, aged 100% in Kentucky Bourbon barrels
.5 oz Luxardo Maraschino
.25 oz Maurin Quina
Directions:  Stir and strain into champagne saucer. Add 1 scoop mint chocolate chip ice cream.  Garnish with mint sprig. Serve with a spoon.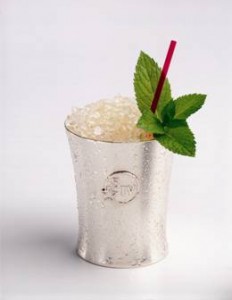 Mint Julep
Kentucky's favorite Bourbon is center stage at the Derby where Mint Juleps flow.
1-1/2 parts Maker's Mark Bourbon
Fresh mint
2 tablespoons simple syrup* muddled with mint
Splash of distilled water
Powdered sugar
Directions: Mix together simple syrup* muddled with mint, Maker's Mark Bourbon and distilled water. Fill glass with crushed ice and pour mixture over top. Sprinkle top of ice with powdered sugar. Garnish with a mint sprig.
*Simple syrup – Heat to dissolve 1 cup sugar, into 1 cup water, stirring constantly so the sugar does not burn. Set aside to cool.
Kentucky Bubbly
A truly southern take on a bubbly cocktail.
1 part Maker's Mark Bourbon
Chilled Martinelli's sparkling apple cider
Maraschino cherry
Directions: Add Maker's Mark® Bourbon to a champagne flute, then fill with chilled sparkling apple cider. Add a maraschino cherry.
The Kentucky Derby is all about southern style, and nothing says the south like sweet tea.  We love our Austin based Deep Eddy Sweet Tea Vodka, perfect mixed with anything from freshly squeezed lemonade to club soda.  But, if you tend to shy away from spirits, Woodbridge by Robert Mondavi created a festive take on peach sweet tea with their Pinot Grigio.
Pinot Grigio Sweet Tea
Courtesy of Krista Simmons
3 dashes Angostura Bitters
1 oz extra-strong black tea, brewed and brought to room temperature
1 oz peach simple syrup*
6 oz Woodbridge Pinot Grigio
½ oz freshly squeezed lemon juice
slices of fresh peaches for garish
Directions: Fill a rocks glass with ice, then top with three dashes Angostura Bitters. Then add strongly steeped tea (use two teabags for a cup instead of one when brewing), peach simple syrup, Woodbridge Pinot Grigio, and lemon juice. Stir with a cocktail spoon, and add slices of peaches to garnish.
*Peach simple syrup:  Place 2 sliced peaches, 2 cups sugar and 1 cup water in a medium saucepan. Cook over medium/low heat until all sugar is dissolved. Allow mixture to cool, with peaches still inside the pan. Once the syrup has cooled, about 30 minutes, remove the peaches with a slotted spoon. Transfer the syrup to a mason jar or a plastic squeeze bottle. You can use this mixture for naturally flavored sodas or other cocktails.

There is a new product that just hit Dallas shelves, created by a Dallasite, hoping to give us all flavor we love in a margarita without all the calories and a very simple preparation –  chill, twist and pour over ice.  The SmarteRita was created by Kelly Shuman, a Texan who loves a good margarita as much as all of us do, but didn't want all the calories each delightful sip of our state's favorite cocktail has.  She created the SmarteRita with just 100 calories per 4 ounce cocktail.  It is a tasty version of a margarita with lots of tart citrus and sweet agave.  It is just a bit too sweet for me (but I prefer something very dry) so I added 3 ounces of seltzer to mine, making a full size cocktail and still keeping it at just 100 calories.
If you aren't in the mood to mix something up yourself there are lots of parties going on around town, my favorite incorporating another fun event – the 12th Annual Polo on the Lawn benefiting Project Transformation on May 4th.  This year the family friendly event takes on a Derby theme around the polo match, flowing from afternoon into evening with a Champagne divot stop just in time to watch the Derby, food, wine and dancing, and awarding prizes for best hat, best dressed, best picnic…7 or 8 years ago I won best picnic at this event, I think it was because my picnic included 4 bottles of Veuve Clicquot.  Additional details and tickets here.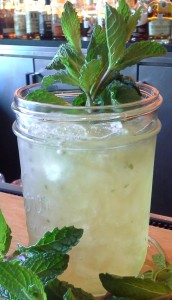 Central 214 Mixologist Amber West created her take on a Mint Julep for the event with $1 of every one sold benefiting Project Transformation through Saturday.
The Equestrian
Courtesy of Amber West, ­ Central 214
5 fresh mint leaves
2 oz. Bulleit Bourbon
3/4 oz. local honey
2 barspoons water
Directions: Add all ingredients into a shaker with ice.  Shake and strain into a martini glass.

Get the SideDish Newsletter
Dallas' hottest dining news, recipes, and reviews served up fresh to your inbox each week.