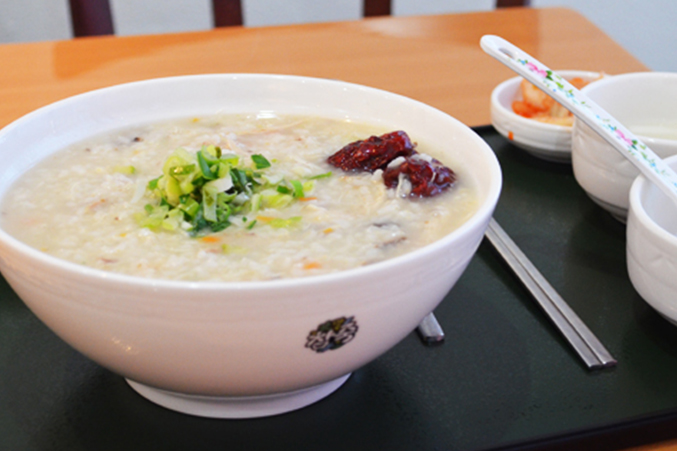 Good Asian Grub: Charm Juk's Rice Porridge
There's a certain charm to Charm Juk that's hard to place.
There's always that food you crave most when you're lying in bed with a fever. For me, it's rice porridge – a soupy bowl of fluffy white rice  topped with seaweed, pork sung, and green onions to fill the stomach and ease the throat. It makes me feel better every single time; I'll swear my life on it.
When I recently discovered Charm Juk, a restaurant entirely devoted to rice porridge and nestled between the H Mart and Yogurtland in Carrollton, I knew I was a goner. Sometimes you fall in love without even taking a first bite.
Kristin Lee, the owner of Charm Juk, used to make rice porridge for her family all the time. Her kids loved it. "One time, though, I was really tired and looked around for people selling it, but there wasn't a restaurant dedicated to making it," she said, a bit shocked because it's commonplace in Korea to see restaurants selling rice porridge.
She decided to take a risk and open a restaurant in Dallas (she was living in Austin at the time) that started off as a franchise in Korea. Charm Juk, which opened October 2011, is the only one of its kind in the United States, but the menu is exactly the same as those in the motherland.
The menu focuses on healthy ingredients and even has a whole section devoted to baby food made with organic rice. "As a cancer survivor," Lee says, "I'm into healthy food." And because her main ingredient is rice, Lee searched long and hard for the best possible kind she could find. She's happy with rice she buys wholesale from CJ Foods, Inc. right now. "It's nutritional rice with the rice germ intact. It's kind of like eating brown rice and getting all the nutrients of brown rice, but soft like white rice."
Lee's right. The rice is soft and pillow-y, but there is also an ever-so-slight toughness to the rice that I really enjoy. These small white poofs float inside a thick soup, easy to slurp down and easy to chew at the same time. My dinner partner kept murmuring, "Oh, this is good, this is good," to herself while she dove into a bowl of seafood combo rice porridge (with Chinese black mushrooms, carrots, oyster, squid, and shrimp), spoon first.
My bowl of samgae juk (chicken soup with ginseng) had carrots, mushrooms, and green onion in addition to small morsels of chicken. Though it wasn't as hearty as the seafood combo, it is still one of the more popular dishes people order at Charm Juk.
For dessert, you can select from pumpkin, red bean, mung bean, pine nut, and black sesame juk. I tried the pine nut, which was a bit too creamy for my taste, but my next trip will be sure to include a pumpkin and black sesame tasting.
Most items on the menu are below $10, and the wait doesn't take too long considering the staff makes the rice porridge after you order. Each order comes with traditional Korean side dishes like mushrooms soaked in a soy-sauced based dressing, pickled radish and carrots in a spicy sauce that adds an extra kick to your rice porridge, house made kimchi, and cold radish kimchi as well.
There's a certain charm to Charm Juk that's hard to place. Maybe it's the way Kristin Lee greets every customer with a cup of barley tea or the sweet plum tea that rounds off the dining experience. Perhaps it's the entire space decorated to feel like you're eating inside your own dining room. Whatever it is, I promise it's all in the rice porridge.