Hung above the fireplace at the Hilton Dallas Park Cities is a new piece of art. It's called The Stray. The painting is the first thing that catches my eye when I walk into the hotel. Real estate developer Dupree Scovell walking through the lobby in a bone white Stetson hat is the next.
The artwork is a commissioned piece by famed Texas artist Jon Flaming (pronounced 
Fleming
). With its block prints and a mixed bag of references that pull from primitive, folk, modern—and more—it is easy to identify the work as part of Flaming's Modern Cowboy series.
Recently hung, it's part of an 18-piece installment at the Preston Center hotel.
Woodbine Development Corporation's investment arm, Woodbine Legacy Investments, purchased the 224-room Hilton Dallas Park Cities back in 2017 as part of a $250 million fund to buy such assets across the nation. And, as Dupree puts it, most hotel brands have a specific formula when it comes to art, and one would typically be hard-pressed to get Hilton to stray from its tried and true footprint. "However, the previous owners had gone down this road of having a little Texas personality to it," Scovell says.
The reason? They were very much into roping. And so, that rodeo vibe was peppered throughout the property. "But it was very disconnected," Scovell says. "As you would walk around, you'd see a framed photo of a Texas landscape next to a black and white ranch next to a floral picture."
Woodbine—which has been affiliated with the Hunt family for nearly 50 years—has a rich history in the hospitality industry. The company built downtown Dallas' Hyatt Regency Dallas at Reunion in 1978 and operates more than 1,500 hotel rooms locally, and has projects across several states. With that experience, Scovell says they go into such projects to create an environment that allows guests to discover something new and exciting about the region.
"The easiest way to do that is through the art," he says. "But most of the time, you don't have a chance to do it with someone like Jon."
The new installation is the result of a longtime friendship forged between the two.
Scovell first met Flaming through his art-collector mother, Diane Scovell. She collected through David Dike, who at the time informally represented Flaming, and was drawn to some of the artist's quirky images of Big Tex. Scovell still laughs at the first time his dad saw the art and questioned, 'why are the boots pointing the same way?'
"When we bought this hotel, literally a week later, Jon was my first call. I said, 'Is there a way we can afford you?'

Dupree Scovell
That, though, is Flaming. His work, which the American West heavily influences, is unexpectedly playful.
"I always had it in the back of my mind that we needed a Texas project where we get Jon and tell him, 'you tell us what needs to be here,'" Scovell says. "When we bought this hotel, literally a week later, Jon was my first call. I said, 'Is there a way we can afford you?'"
When Scovell first reached out about the hotel project, Flaming bluntly says he did not think it would work because he had made a separation from graphic art into fine art several years ago. "At the time, what I was really wrestling with was associating my fine art brand with a commercial venture."
But at the end of the day, he says it came down to the fact that he loves the Scovell family and their mission and faith—which all resonate with The Stray.
Flaming, who was born in Kansas, says his aesthetic is influenced by early Texas artists but also the likes of Paul Cézanne, Paul Gauguin, and even Pablo Picasso.
About three years ago, he started his Modern Cowboy series looking to reimagine the Western art genre. "The whole mission goal was to create something truly that had never been done in that genre," Flaming says. "I really think we have come up with something that is outside the box for Western Art."
"I love (Frederic) Remington, (Charles M.) Russell, (Maynard) Dixon, and all of these great western artists who painted beautifully," he says. "But in my mind, that horse has already been ridden. It's a beautiful horse, but I wanted to grab a new horse—a fresh horse—and blaze a new trail."
The Stray, the last piece to be installed at the Hilton, is an homage to artist Otis Dozier's painting called the Maverick (like how Picasso was influenced by Velázquez).
"It is a very dynamic piece with lots of action; there is a narrative there," Flaming says. "Whether you like it or not, you have to focus on it."
The piece reflects the parable of the lost sheep. But Scovell says it also resonates with him as an entrepreneur.
"The risk we're called to take, especially after a two-year period like this, you can feel like that a lot," he says. "Anybody who has a sense of being on a ranch, it is a dangerous job. And especially in that situation where you're literally saving this cow from himself, and you're trying to steer him back to the herd, that's what we were doing during COVID."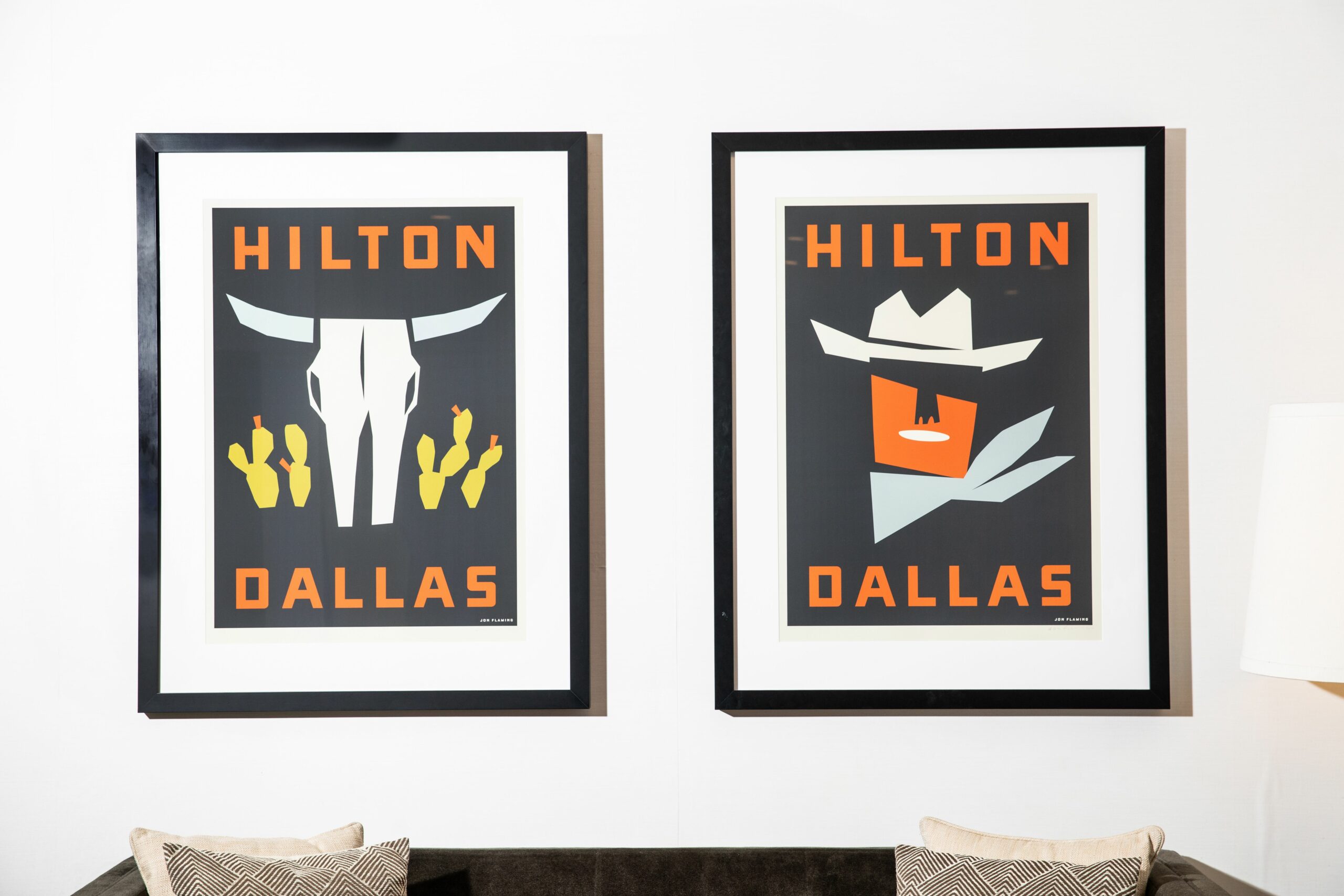 Some other art can be found in a seating area just outside the lobby and within the restaurant and bar space. There, Flaming used some carbon and brush sketches he'd been doing of iconic Western images such as a horseshoe and wagon wheel.
Next, Scovell hopes to fill some of the guest rooms with Flaming's art, and the two are also talking about a coffee table book.
"For me, it's much less about owning the art as you might normally see it as an art owner," Dupree says. "I think the reason we like it so much is that we want (guests) to learn about Jon. We want this to be a point of discovery."
Get the D CEO Newsletter
Stay up to speed on DFW's fast-moving business community with weekly news reports, interviews, and insights.