It is a question inevitably asked by companies, investors, and developers when facing site selection decisions in the popular far northwest Dallas corridor. Typically, the presence of a large transient student population contributes to mixed demographic signals, including higher unemployment and lower overall household incomes, arguably not ideal conditions for new development and investment outside of university-related housing and retail.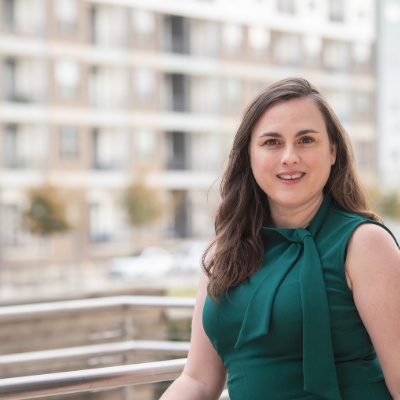 Added to these traditional caveats is a persistent funding problem afflicting the Denton Economic Development Partnership (EDP), which hinders efforts to attract major companies. Despite these challenges, many are still betting on Denton. The question remains, are they right?
Answering this question ultimately demands examining the factors that contribute to or detract from a well-diversified economy that can withstand systemic shocks and support in-place community growth. Recognizing this, Denton's city leadership has made great strides in recent years to review its systems, enhance the quality of life for its residents and undertake outside assistance in formulating economic growth strategies. Here is where things stand today.
Challenging Obstacles
Several articles in the Denton Record-Chronicle have indicated that Denton lacks access to a critical source of funding that most other economic development organizations possess–sales tax. The EDP is ineligible to receive these tax dollars, as it lacks the corporate structure that qualifies it to do so.
Additionally, as the article states, "the half-cent sales tax that state law allows to be used for economic development was appropriated by residents in 2004" to fund the Denton Transportation Authority (DTA). The DTA's claim on sales tax revenue consumes the total cap on expenditures under the funding category of which the DTA and EDP are both apart.
While the City council spent the better part of the late summer/fall in 2020 debating the merits of funding economic development through utility taxes, the majority of revenue currently available to the EDP still comes from business donations, which remains unpredictable. Many of the city's major stakeholders disagree on its effect, yet no major corporate relocations have been announced recently.
Another limiting factor, some of Denton's most critical demographic markers remain somewhat uninspiring. The overall median income for 2020 is $55,814, which is lower than the county, state, and nation, as shown in Figure 1. Five-year projections are modest but still expected to remain below medians in the previously mentioned geographies.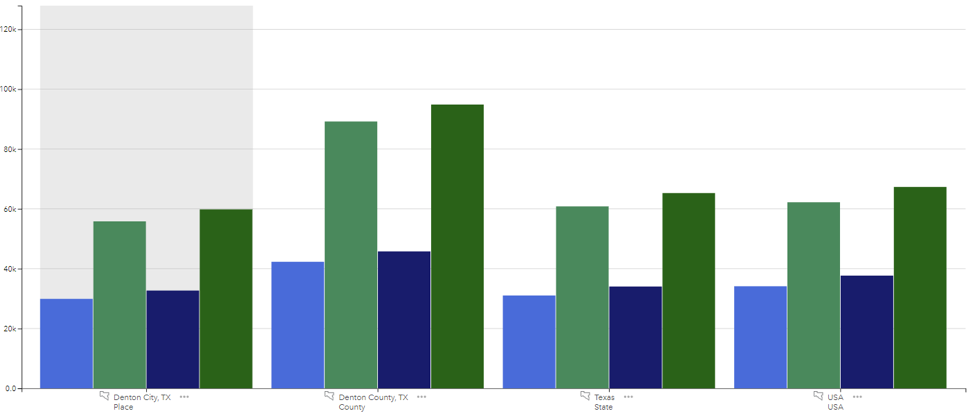 The allocation of household percentage by income further illustrates, in Figure 2, where Denton loses ground compared to the rest of the state. The city has a higher percentage of households under the $15,000 median income threshold, which is unsurprising given Denton's status as a college town.

Lastly, the city is experiencing significantly higher unemployment at 10.1 percent than the state's unemployment rate of 7.2 percent (Dallas Federal Reserve). As previously mentioned, most of the unemployment is concentrated in the youngest age cohort, 16-24, wherein most traditional college students fall. Table 1 below shows the employment for all ages.

Promising Indicators
Staying focused on the overall labor market picture, even though the city has seen a major pandemic-driven employment slump, Denton County's unemployment rate is 8.2 percent, lower than both Dallas County, at 9.4 percent, and Tarrant County, at 9.1 percent (Source: ESRI). Additionally, the unemployment picture improves as business confidence increases with continued improvement in Covid-19 vaccine distribution.
Further, and perhaps most importantly, Denton has weathered the pandemic with surprisingly healthy university enrollment numbers. When considering the University of North Texas alone, enrollment was up over 3.0 percent for 2019 and 2020, contributing to diversification in employment in the two-year period from 2018 to 2020. Table 2 below shows the change in concentration of educational services and supporting occupations such as entertainment and food services in the Denton area.

While increases in these types of employment alone are not enough to sufficiently diversify Denton's local economy, it is an important step in avoiding an overly concentrated industrial sector.
Denton has also experienced profound shifts in population over a relatively short time, as shown in Figure 3. Since 2010, the city of Denton has experienced a 24.6 percent increase in total population from 116,599 in 2010 to 145,231 in 2020. Over the last two-year period alone, the population increase has been 6.3 percent.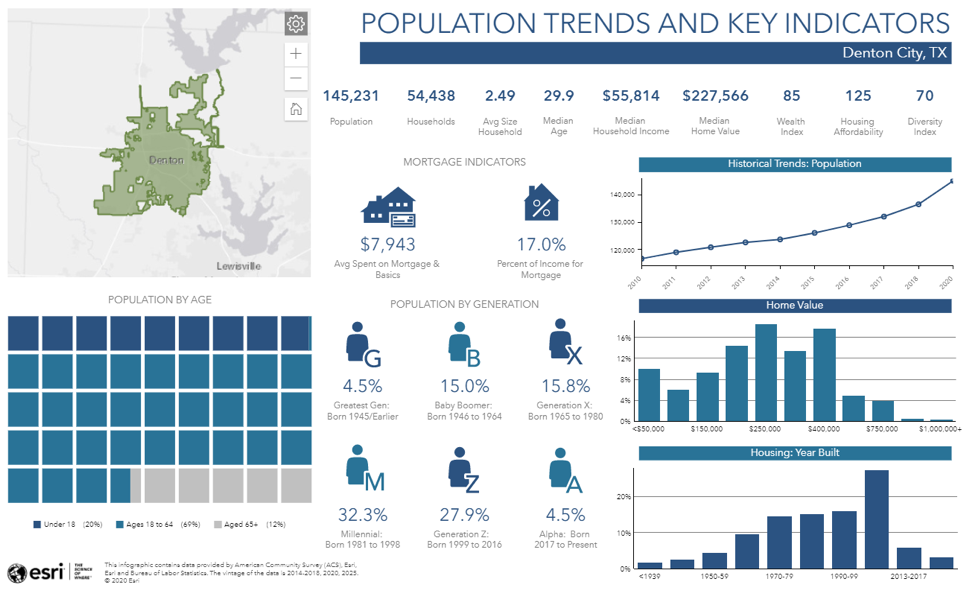 These population gains are attributable to overflow from rampant growth in the far northwest Dallas corridor in cities like Plano and Frisco and Denton's commitment to maintaining the quality of life for its residents.
As jobs continue to pour into areas further and further north of the Dallas Central Business District, people will persist in seeking communities with less density and reasonable commute times if and when they return to a physical office. The changes in acceptability of remote work will further support this trend.
Finally, Denton's natural geographic advantage, being situated at the confluence of Interstate Highway 35 East and IH-35 West, serves to attract industrial tenants naturally. Cory Lacy, vice president of Denton's EDP, intimated in a January 13 interview with local Denton podcaster Glen Farris that Denton's lower cost of land in comparison to the Fort Worth Alliance Airport submarket should give the town a leg up in appealing to logistics, transportation, e-commerce, and cold storage companies. However, he hinted that industrial land availability in the city's industrial park would be insufficient to meet demand and that new sites must be made available for Denton to capitalize on the DFW region's present industrial boom.
Ultimately, when considering all factors, the dynamics that make Denton a challenging market pale compared to those that hint at a bright future. The attraction of a major corporate tenant by Denton's own merits over the next several years would make its future unambiguously glowing. Still, the general inertia of nearby growth may well prove to be more than sufficient to support the more than 1,800 acres of single-family, multi-family, and commercial development currently in approval/planning process with the City.
For now, I will put my chips down in Denton's corner.
Tarisa Casper Tibbit is the director of Worldwide Commercial.
D CEO Real Estate Newsletter
Get weekly updates on breaking commercial real estate news and relevant industry reports.