Fort Worth's newest Class A office building, the 25-story Frost Tower, has leased two full floors to Texas accounting firm Whitley Penn after opening with a strong start earlier this year. This lease brings the building to 70 percent occupied.
Whitley Penn currently offers services such as audit, taxes, wealth management and business valuation at its Fort Worth office at 1400 West 7th St. in Fort Worth, about .5 miles away from Frost Tower. Per a statement, Whitley Penn's move to Frost Tower symbolizes its continued desire to be a major presence within the Fort Worth market and emphasizes the importance the firm places on quality of life for their employees.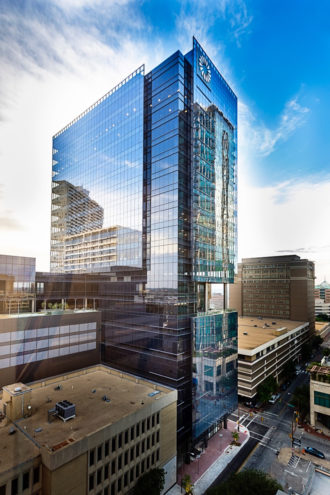 The firm will join namesake tenant Frost Bank, building owner Jetta Operating Co. Inc. and Anthracite Realty Partners in the 278,000-square-foot tower when it moves into its 45,872 square feet on the 21st and 22nd floors. Asking rent at Frost Tower is around $40 per square foot rents (plus electric costs), and most tenants are signing seven- to 15-year leases.
Balfour Beatty is finishing out Whitley Penn's space. The accounting firm could move in as early as the end of 2018. Balfour Beatty also constructed the building designed by Bennett Benner Partners.
Stream Realty Partners Managing Director Seth Koschak and Vice President Tyler Maner lease the building on behalf of owner Anthracite Realty. JLL's Cannon Camp and Todd Burnette represented Whitley Penn.
Get the D CEO Real Estate Newsletter
Get weekly updates on breaking commercial real estate news and relevant industry reports.