As frequent readers of this blog know, most of what is written here involves the commercial side of the business: the office, retail, industrial, multifamily and land sectors. Somewhat slighted, I have noticed, is the existing single-family residential market. When I take a close look at that sector in terms of the overall real estate market here in Dallas-Fort Worth, I can only respond by saying: Sweet.
Here are some quick stats that point to the importance of our local single-family market.
1. In the combined markets that make up what I will call "DFW" (Arlington, Collin County, Dallas, Fort Worth, Denton, Garland, Irving, and Northeast Tarrant County, per local MLS areas, as reported by the Texas A&M Real Estate Center), it is estimated that 2013 will break all records, with approximately $28.5 billion in sales of single-family homes, townhomes, and condominiums. That represents a total of almost 119,000 sales for an average price of $225,000. To put this figure in perspective, DFW sales represent 42 percent of the total estimate for the entire state.
2. This $28.5 billion in residential sales represent only those that were marketed through local MLS systems; or, essentially, by a licensed, member broker. If I assume the standard commission on each transaction of 6 percent (just for this exercise), DFW sales in 2013 will generate approximately $1.7 billion in commissions. (For all my residential broker friends, I hope my math is correct.)
3. If broad historical data are applicable, I can assume that maybe 70 percent of the $28.5 billion in sales is financed. Consequently, almost $20 billion in loans will be made (about 83,000 loans in all). That means 83,000 appraisals, inspections, attorneys, mortgage points, and title policies … oh my.
Although the preceding numbers highlight how big and important our housing market is, what is more important, in my mind, to our local economy is how affordable our housing market is relative to those "coastal" markets we always hear being touted. Shown below is a simple graph showing how DFW stacks up against some of our big-city coastal competitors.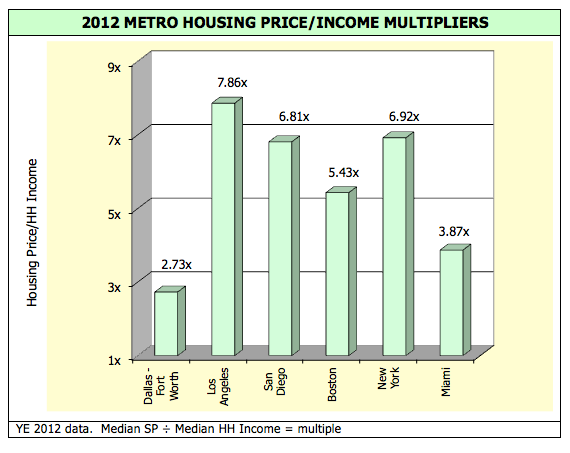 Most observers of the housing market pretty much agree housing is "affordable" as long as it falls in the range of 3-4 times the area's median household income. The DFW market is actually below that metric, as are most of the major cities in Texas. Now, of course, there are local exceptions, like the Park Cities, where the multiple approximated 5.7 times last year; but that is still much lower than what our friends pay in California, where there is no comparison between the Park Cities' outstanding level of municipal services/schools relative to those on the West coast.
Basically, what has made our housing affordable is the fact that household incomes have kept pace with increases in home prices. During the past 30 or so years, for which we have price trends, existing home prices have averaged an increase of about 3.5 percent to 4 percent per year; median household income increased at almost the identical rate.
The point of all this: Housing affordability will continue to be one of the many factors that attract companies—and their employees—to our region. When you combine the quality of life here that is so often written about in this column with our clear advantages in affordability, DFW is indeed home, sweet home.
Chuck Dannis is co-founder of Crosson Dannis Inc., which provides real estate appraisal and consultation services for many of the nation's largest real estate lenders and owners. Contact him at [email protected]
Get the D CEO Newsletter
Stay up to speed on DFW's fast-moving business community with weekly news reports, interviews, and insights.