Toyota Motor North America President and CEO Tetsuo "Ted" Ogawa guided the transportation giant to a record year in 2021 reporting $22.3 billion in profit and $245 billion in global sales.
In August, the automaker announced it is increasing its investment to approximately $5.6 billion to make batteries for electric vehicles with the aim of starting battery production between 2024 and 2026. In Ogawa's extended 2022 Dallas 500 Q&A, he opens up about the impact the pandemic had on Toyota's operations, his golf game, and more.
Education: Hitotsubashi University (BA-Commerce and Management)
Birthplace: Tokyo, Japan
Best Advice: "I've had the opportunity throughout my life to meet with some truly excellent people, both in my personal life and my professional life. I've received some great advice from many bosses and colleagues. A couple of my favorite include Akio Toyoda—president of Toyota Motor Corporation—who told me, 'Do something for someone else, not for yourself.' And Jim Lentz—former President and COO of Toyota Motor North America—who told me, 'Trust people and teamwork!'"
Destination of Choice: "San Francisco and the Bay Area in Northern California. It was the first place I traveled to in the United States when I was a student. It is also the first place I lived abroad when I worked for a Toyota manufacturing plant we had there."
Dream Car: "I am very interested in all the advanced technology, such as automated driving, fuel cell vehicles, even flying cars! My dream car, though, is a restored old Toyota Celica that I bought as my first car a long time ago. That car is full of memories from when I was young. It would be fantastic if I could drive that car again."
Proud Moment: "Like many companies, we went through several challenges at Toyota due to the pandemic. But, our team members did not skip a beat. Everyone worked together to quickly pivot to remote work and even helped us become a more efficient company. We also quickly incorporated new ways of working, thanks to our IT department. They made sure our teams had the necessary technology to do remote work. And our manufacturing teams had to shut down for a few weeks, but they quickly introduced new health and safety protocols at each of our plants to get our teams back on the line to assemble vehicles that our customers want. The list goes on and on. I'm so proud to be a part of this company. Team Toyota came together to work through this unprecedented time to continue producing happiness and mobility for all."
Future Forecast: "The future holds so much promise and opportunities. I'm excited to see Toyota's continued transformation into a mobility company. I'm also very curious and excited to see what the world will be like for my children's and my grandchildren's generations."
Hobby/Passion: "I love golf, but golf doesn't love me! My index is not good enough to say I am a golfer, but when I play, I can forget about everything else which refreshes me the most."
Local Fare: "One of my favorite restaurants is Ichigo Ramen in Dallas. When I go, I always get the Tokyo Modern ramen. It's delicious. I also love the steaks here in Texas. I don't have a favorite steak restaurant, but when I do go to one, I always enjoy a great steak with red wine."
Get the D CEO Newsletter
Stay up to speed on DFW's fast-moving business community with weekly news reports, interviews, and insights.
Author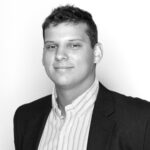 Ben Swanger is the managing editor for D CEO, the business title for D Magazine. Ben manages the Dallas 500, monthly…