One of the Perot Museum of Nature and Science's most popular and bustling halls, the Texas Instruments Engineering and Innovation Hall, has a brand new look, thanks to a $1.3 million donation from its namesake.
Texas Instruments has been a leading partner with the Perot Museum since it opened. The hall was first named after the technology company, following a $4.4 million gift as the decades-long volunteer and financial support provided by the TI Foundation and the corporation and its employees. It has long been a space where visitors of the museum could do innovative activities like program movements in a 3D animation lab, create music in a sound studio, and even design and build robots.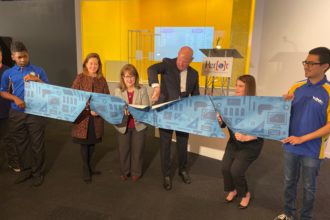 Today, the updated 4,500 square-foot space marks the museum's latest effort to inspire the future STEM workforce through fresh and innovative content. Outlined in bright yellow and teal blue, highlights of the reimagined hall include a new ChallENGe Lab, mechanical art, hands-on robot stations, giant music sequencer, and a floor-to-ceiling wind tube experience.
"I think it's probably no surprise to anyone here that we're just a little bit passionate about engineering and innovation at Texas Instrument," says Terri West, chair of the Texas Instruments Foundation. "Get a room full of TI engineers, and the would geek out over what's going on in this room today. Dallas, I think, is blessed to have a museum of this quality in our city. It is certainly our sincere hope that this inspires some young minds to chose engineering as a profession and innovation as a passion. This is a place that will inspire curiosity and a desire to help make our world just a little bit better through technologies."
West says having something that makes STEM fields accessible and relevant to anyone on the community is a big part of why Texas Instruments and the TI foundation are committed to the Perot Museum.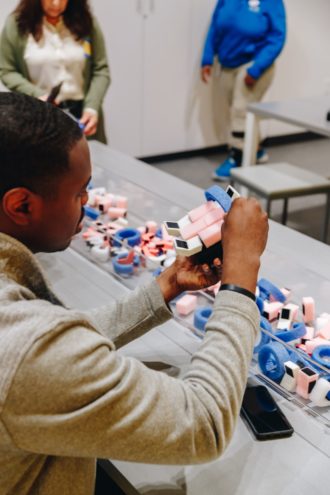 "I think it's really important, not just to the field they might choose, because, today, technology touches everything; every industry, every field, and having something like this that's accessible when you're young and helps explain it to you; I think it is really an important part of understanding our world today. I think that's the importance of it," she says.
Andy Smith, executive director of the TI Foundation, says that TI is proud to support the Perot Museum because it shares the same commitment to bringing STEM education to students in the North Texas community to encourage and develop future innovators.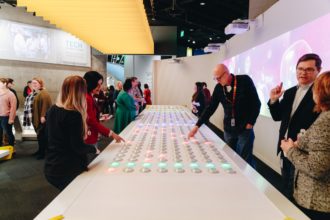 "The grant from the TI Foundation to renovate the TI Hall will bring engaging experiences to new and returning visitors, sparking a passion for STEM in the next generation," Smith says.
Linda Silver, the Eugene McDermott CEO of the Perot Museum of Nature and Science, says collaborating with STEM-focused companies to bolster informal science education is key to the museum's mission to inspire minds through nature and science.
"This extraordinary gift from the Texas Instruments Foundation bolsters the Perot Museum's efforts to fuel the STEM-capable workforce of tomorrow by igniting imaginations and encouraging exploration," Silver says. "Engineers make vital contributions to our current – and future – society by solving problems to improve our lives. We hope the cutting-edge technology and new learning adventures will spark curiosity in the wonders of engineering and propel the next generation of innovators, visionaries, and science leaders."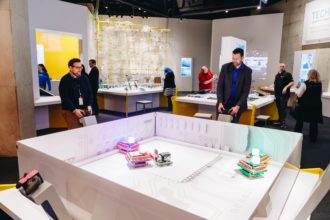 The all-new 1,400-square-foot ChallENGe Lab, made possible by support from The Hoglund Foundation, is a designated space designed to encourage innovators, young and old, to engage in cooperative and competitive interactive play. Guests will explore their inner engineers through 20-minute themed challenges, such as a high-tech "egg drop" or creating a lunar craft that can survive a moon landing.
Other highlights include a refreshed robotics table; a new 23-foot "Amazing Airways" wind-tube experience; a floor-to-ceiling mechanical sculpture is expected to evoke "oohs and ahhs" as guests turn a wheel to make the art move and groove; and a giant music sequencer that combines coding skills with colorful creativity as guests use light-up buttons to create uniquely designed songs that will also result in a vibrant melody visualization.
Get the D CEO Newsletter
Stay up to speed on DFW's fast-moving business community with weekly news reports, interviews, and insights.