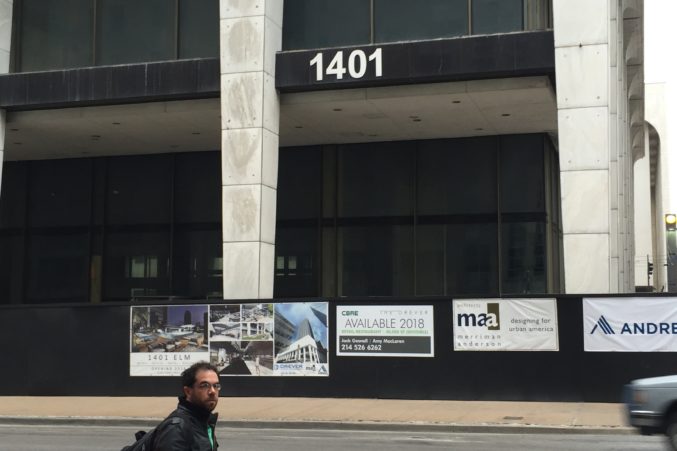 The Drever Project Promises Financing This Month
Drever Capital Management says its iconic downtown skyscraper, which secured a bridge loan in November to prevent foreclosure, will soon have construction financing.
The developer of the historic, $380 million redevelopment project now known as The Drever in downtown Dallas says it's days away from securing its construction financing. In a "Construction Finance Update" memo to investors that was not intended to be shared publicly, Drever Capital Management Chairman Maxwell Drever said a $150 million construction loan is expected to close as soon as June 22—but more likely on or before June 29.
In addition to providing a construction update on the renovation that's using more than $150 million in public money (both historic tax credits and tax increment financing dollars), the memo serves as a "final final call" for potential equity investors. "There is a limited amount of equity available," said the memo, which was signed by Drever and obtained by D CEO. "If you, or someone you know, is interested, please don't hesitate to contact me …"
A spokesperson for Tiburon, California-based Drever Capital Management confirmed the memo was not intended to be disclosed publicly and said a press release would be issued once the financing closes.
The former First National Bank tower, whose redo will include 324 apartment units, a 218-room Thompson Hotel, a spa, restaurants, and retail and office space, was posted for foreclosure in November. Drever Capital Management was in default for a $55 million loan and the 1401 Elm St. building was scheduled to be sold at auction on Dec. 5, 2017. Days after being posted for foreclosure, Drever got a six-month $66.7 million bridge loan from Greenwich, Conn.-based Starwood Property Trust, allowing the project to continue.
On March 15, S&K Plumbing of Fort Worth Inc. filed a lien on the project for $16,500 after completing work on the project in December 2017, according to public records. In other words, S&K's lien was for unpaid work that was completed one month after Drever Capital secured the Starwood loan. At the time, a spokesperson for the project told D CEO, "A small lien was filed and released the same week the project learned about it." The spokesperson added that additional capital was "moving through the closing process." S&K did not returns calls in March for comment.
The 52-story, 1.5-million-square-foot Drever project is scheduled to be completed in 2019. Dallas-based Merriman Anderson/Architects is the project architect and Dallas-based Andres Construction is the general contractor.