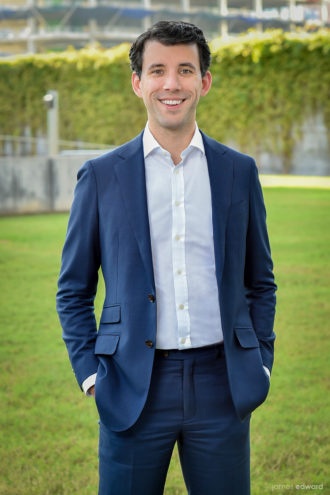 A Dallas startup that aims to ease the burden of buying and selling a home has raised $2.3 million from investors including real estate developer Phillip Huffines.
Door, founded in 2015 by CEO Alex Doubet, charges homeowners a flat rate of $5,000, compared to the traditional 6 percent commission fee, for its brokerage services. Last year, home sellers saved an average of $15,000 under Door's model.
The startup's Series A round of funding, which closed March 3, was led by Robert Smith, owner of Dallas-based Sold Out Sports, a sports event ticket seller. Investors in the round included Blair Baker, managing partner at Dallas-based Precept Capital Management, and Huffines, who'd previously invested in Door. The round did not include any institutional investors and follows an $800,000 seed round of funding the company secured last year.
"It's growing leaps and bounds," Huffines said about the reason for his follow-up investment. "Venture capital is risky, but this concept is sound."
Doubet, a Highland Park High School and Harvard University graduate, recognized a problem in the real estate industry when his mother sold her University Park home a few years ago. When she found a buyer, she paid 6 percent to close the deal, which amounted to $33,000.
"She didn't get a thank-you note or bottle of wine," Doubet said. "It was a very presumptuous, 'Thank you for the money and goodbye.'"
So Doubet, a former history major, started researching better ways to handle selling homes. He came up with a business plan in 2015 and, using $30,000 he'd collected from the sale of apartment buildings he'd previously bought in Oak Cliff and East Dallas, he launched Door. He hired a Dallas developer to build a search tool that connects to the MLS, then began cold-calling residences whose houses were for sale by owner. To his surprise, his first call in February 2016 landed him his first listing. Door has been generating revenue ever since.
The company now employs nine full-time agents and has a run rate of $1 million to $2 million for 2017, Doubet said. Door is only expected to grow, as Doubet launches new marketing campaigns, hires more agents, and rolls out new software features with the latest funding. New features will allow sellers to have access to the marketing data of their homes. This means they'll be able to see how many views it's received, how many showings it's had, and get feedback from the showings. Doubet also expects to start development on a mobile application.
But it's Door's business model that will do most of the work, Doubet said. The company not only aims to ease the burden of selling for the owner; it also helps the buyer with purchasing. Using Door's system, buyers can curate property listings, instantly request a showing with a Door agent, and also get quoted on a rebate. Buyers get about 1.3 percent back after their deal closes.
"When you look at industries disrupted by tech, it takes about five to 10 years" to take effect, Doubet said. "Old-fashioned agents have their collective heads in the sand. They don't think [disruption] is going to happen, but no one likes paying high fees."
And, with the new funds and plans in place, Doubet expects to overcome the biggest obstacle Door has: "Getting in front of a lot of people."
Get the D CEO Newsletter
Stay up to speed on DFW's fast-moving business community with weekly news reports, interviews, and insights.