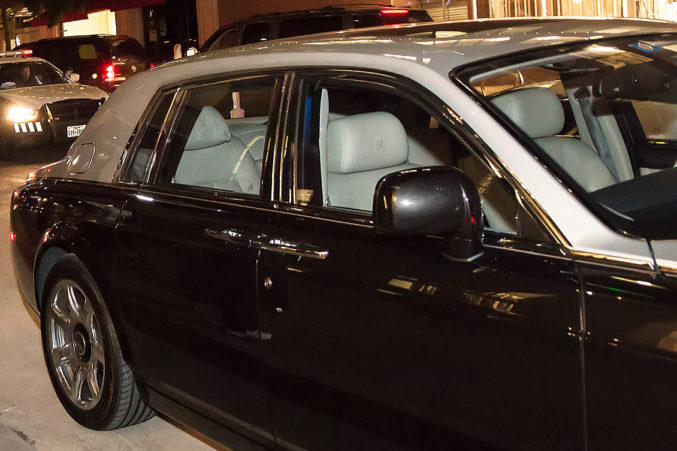 Scenes From A First Look At Downtown's Forty Five Ten Boutique
Concerns about an anti-Trump march at a glittering event at Brian Bolke's chic new store downtown.
The scene Thursday evening at Brian Bolke's brand-new Forty Five Ten boutique in downtown Dallas might have come straight from "The Great Gatsby" … or "The Bonfire of the Vanities." With Tony Tasset's 30-foot-tall "Eye" sculpture staring down at them like the billboard eyes of Dr. J.T. Ecklesburg in "Gatsby," about 160 well-heeled guests had gathered in a huge see-through tent hard by Bolke's chic store for a gala charity fundraiser. The event, called ReuNight 2016, benefited The Family Place, which helps victims of family violence.
A few minutes earlier, the guests had been wandering about Bolke's gleaming, four-level, 37,000-square-foot space, enjoying a first-ever look at its many luxurious offerings: the Nicholas Kirkwood women's flats ($625), a black, Marc Jacobs men's blazer ($1,585). The new store on Main Street—four times as large as Bolke's original emporium on McKinney Avenue—is owned by billionaire Tim Headington's Headington Cos., and has been much anticipated as a linchpin of the downtown renaissance. It complements Headington's neo-Gothic Joule hotel, the upscale Traffic LA-Men's and Traffic LA-Women's stores, and the original Neiman Marcus, all located just across the street.
Now, their tour completed, the fundraiser guests had assembled inside the transparent tent, all black tablecloths and towering glass candelabras, to enjoy a meal of scallops crudo, Wagyu beef short ribs, and hand-painted rose gold truffles, accompanied by five kinds of wine. After dinner, the famous clothing designer Donna Karan mounted a raised stage to chat with Kimberly Schlegel Whitman, a local socialite and "lifestyle expert," about Karan's pioneering fashion career.
Suddenly, though, as Karan was recounting stories about her friends Perry Ellis and Elizabeth Glaser and how she'd started the DKNY fashion house in New York, the candelabras on the tables began to vibrate. A whop-whop-whop-whop sound came from out of nowhere, and you could almost make out the helicopters swooping across the night sky. Then came the intermittent flashes of red light against the tent, as police car after police car sped by outside, headed somewhere west on Main.
Out on the street, where the valets had the Bentleys and Range Rovers parked and waiting for their owners, word passed quickly: anti-Trump protesters were on the march somewhere nearby, waving their signs and chanting their angry, anti-Establishment slogans. One of the fundraiser guests came out and looked up and down the street and then, a little panicked, rushed back inside, seemingly intent on retrieving his wife so they could leave, lest the demonstrators decided to head this way or to block off the downtown streets. Another couple left quickly as well, texting to friends left behind to take care and to let them know if, and what time, they arrived home safely.
When the night was over and all was said and done, though, none of the guests presumably met the fate of Myrtle Wilson in "Gatsby" … or of "Bonfire"'s Sherman McCoy and his mistress.