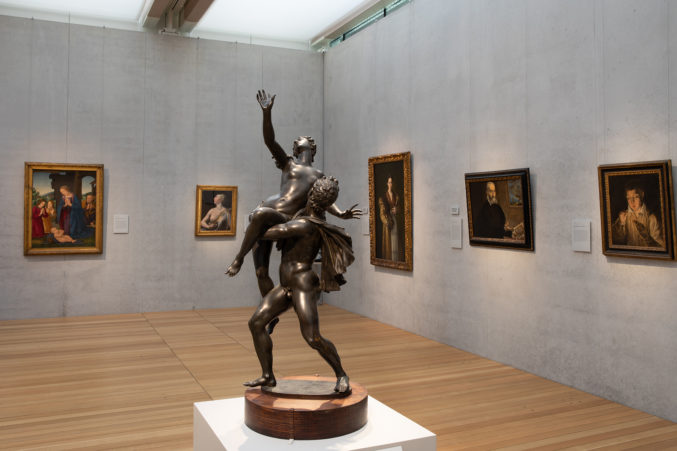 The Kimbell Brings the Italian Renaissance to Fort Worth with Flesh & Blood
See works by Raphael, Titian, El Greco, Caravaggio, and others on loan from the Capodimonte Museum in Naples.
Pulling from one of Italy's largest collections of Italian renaissance and baroque paintings, the Kimbell Art Museum has curated an exhibition that takes visitors through the major artistic achievements of the 16th– and 17th-century. Flesh and Blood: Italian Masterpieces from the Capodimonte Museum has brought the work of masters like Titian, Raphael, El Greco, Annibale Carracci, Caravaggio, Artemisia Gentileschi, Jusepe de Ribera, and Luca Giordano on a rare trip to Texas.
Focusing on the human form as it's depicted in scenes biblical, mythological, and historic, the exhibition communicates a meeting of the spiritual and physical existence. As the museum's accompanying literature puts it, artists of the time explore "the human body as a vehicle to demonstrate power or to express love and devotion, labor and violence, tragic suffering, and spiritual release."
Dramatic with refined execution, works such as Caravaggio's "The Flagellation of Christ" show a strong contrast between light and dark, further intensifying the drama with exaggerated gestures and lifelike texture. Categorized as a Baroque style painting, Caravaggio brought color to the realm of traditional Neapolitan tenebrism.
Northern Italian classicism is represented by Parmigianino's "Antea" and Titian's "Danaë," amongst others. "Drunken Silence" painted by Ribera and Giovanni Battista Caracciolo's "Virgin of the Purgatory" are examples of Neapolitan Caravaggism. Still life paintings were also popular, as Andrea Belvedere managed to depict "flowers blooming bravely against the tumultuous historical tapestry of patrons, painters and paintings woven in 17th-century Naples."
Eclectic and distinct, Flesh & Blood boasts a whole city's artistic genius, allowing for an unparalleled artistic venture. The exhibit is on view through June 14, 2020. General admission to the Kimbell Art Museum is always free, however the Flesh & Blood exhibit requires a special ticket. Visit on a Tuesday, or on a Friday after 5 p.m. to receive half-priced tickets.