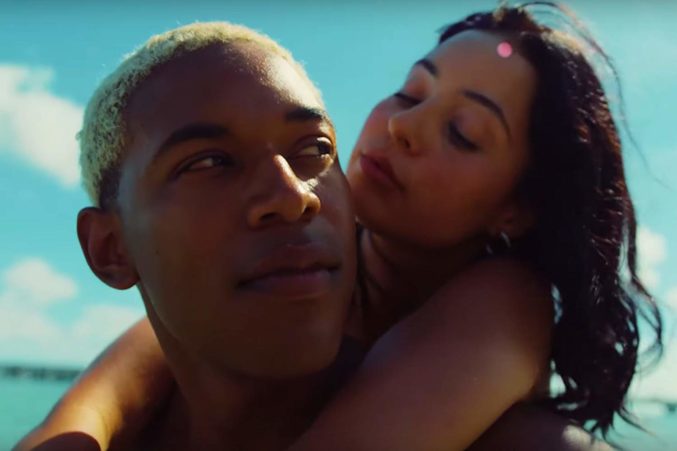 How an Outside Perspective Informed a Director's Personal Vision in Waves
Kelvin Harrison Jr. was involved in the creation of Trey Edward Shults' sprawling third feature long before he stepped in front of the camera.
It's been quite a breakout year for actor Kelvin Harrison Jr., whose starring performance in Luce and Waves have won acclaim that could carry over to awards season.
But his opportunity in the latter film might not have been possible had he not played a supporting role in It Comes at Night, the sophomore feature of director Trey Edward Shults. That's where the two formed "a vibe," according to Shults, and wanted to create something bigger.
The filmmaker told Harrison about Waves, a sprawling portrait of contemporary adolescence and fractured family dynamics that he'd hatched almost a decade earlier. But to get it finished, he needed a new perspective.
Harrison loved the idea, engaging Shults in "mini-therapy sessions" via phone or text during the writing process to discuss grief, relationships, and other emotional obstacles that shaped them growing up.
"We were just talking about that time in our lives — finding differences and commonalities in our experiences. That informed so much," Shults said during a recent stop in Dallas. "As I'm talking and getting his understanding and his perspective, and what he was feeling with certain things, then I could infuse that. The collaboration we had once I started writing really unlocked things."
Harrison plays Tyler, a high school wrestler in Miami whose severe injury causes a tragic downward spiral that affects his relationships with his girlfriend (Alexa Demie), his domineering father (Sterling K. Brown), and especially his precocious younger sister (Taylor Russell). The resulting family rift probes themes of toxic masculinity, opioid abuse, sibling bonds, and more.
Shults, 31, said he sent a finished first draft of the screenplay to Harrison, 25, about nine months before production started, so he could provide notes and offer feedback.
"I'm white, and this is a black family. Getting the specificity of that was all Kelvin. The heart and soul started with him," Shults said. "What they're going through is universal. Most families can connect with loss and grief and healing, and relationships between parent and child. It's about how these dichotomies that we live in our life come together and inform our perspective, and that's a really beautiful thing. You're drawing on real stuff and just trying to make it feel truthful."
The film employs a nonlinear narrative structure, with its shocking climax in the middle and equal time given to the buildup and fallout from varied perspectives. It's also technically ambitious, with changing aspect ratios, swirling camera movements, and nontraditional editing choices.
"The spirit of this movie was just going for it, and swinging for the fences in every regard — with the sprawling story, with the unorthodox narrative, with the filmmaking and style. It felt liberating," Shults said. "Everything had a purpose and a motivation for getting you closer to the characters and their experience."
Although it deals with some dark subject matter, Waves ultimately is a plea for compassion and healing that its director hopes will translate to a diverse audience.
"The film is designed to put you through the wringer, but then I hope it's cathartic and you earn some redemption and feel hope and empathy," Shults said. "The first half acts kind of as a cautionary tale and then the second half is trying to learn and heal within that. There's a lot people can take from it."