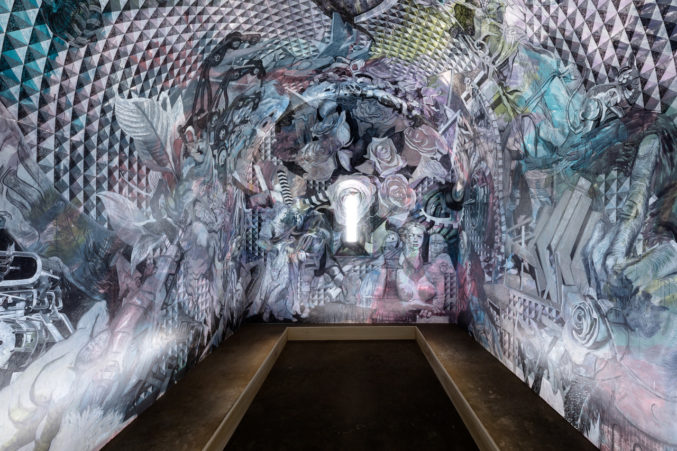 Dallas Museum of Art Acquires Dallas Artist Francisco Moreno's Chapel
The artist's large scale work, which debuted at Erin Cluley Gallery last year, has a permanent home in the DMA's collection.
This morning, Erin Cluley Gallery announced the Dallas Museum of Art's recent acquisition of Chapel, a large painting installation by Dallas artist Francisco Moreno. The piece, an arched structure built from wood and filled with murals, was first shown at Erin Cluley Gallery in the artist's solo exhibition, The Chapel and Accompanying Works, in April and May 2018. This is the first of Moreno's works to be acquired in a major museum collection. 
Viewers walk into the Chapel's bare wood facade and are surrounded by collage-like paintings of people, roses, trucks, machinery, and geometric shapes in a cool rainbow of blues, purples, and black. Traveling in Spain, he found inspiration in a Byzantine chapel. 
"There was something so beautiful to be in this space," he says. "It's a painting, but it's also an experience."
When he worked as a gallery teacher at The Warehouse, he remembers visitors falling in love with the back of paintings. So, he left the plywood exterior blank to mimic that experience–you see the back of the paintings before you see the paintings themselves.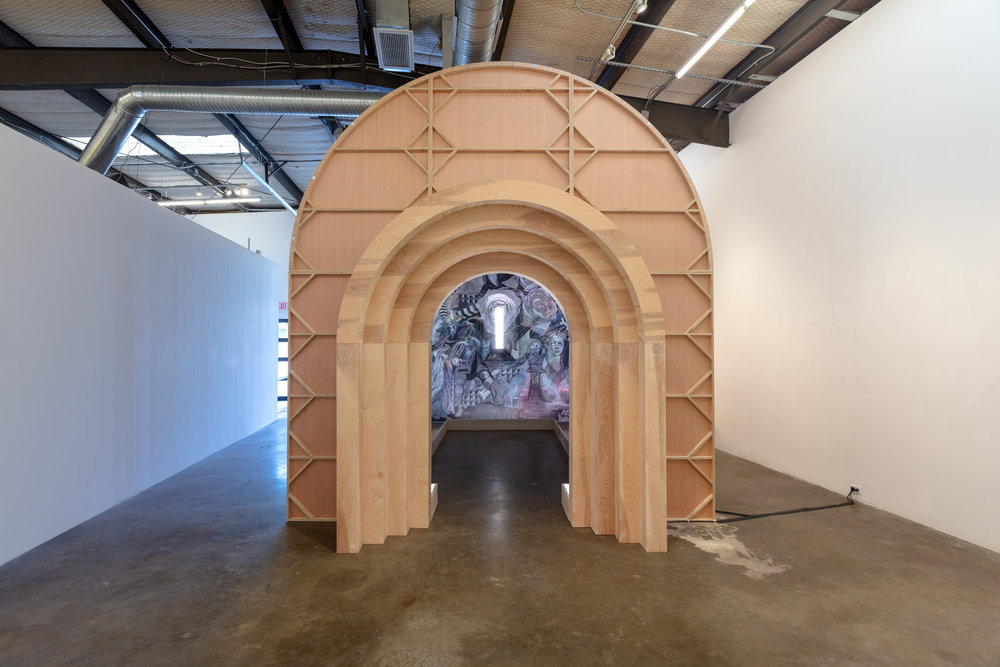 The classic style of Moreno's Chapel, inspired by baroque aesthetics, is subverted by strange images of robots, rats, and a giant hand giving the bird. The artist says there's no specific narrative, but that the imagery was composed from what he calls a collapsed archive from his own work, art history books, and other various inspirations. 
Moreno was born in Mexico in 1986 and moved to Arlington in 1992. His work often employs processes that reflect his transnational heritage and cultural background. 
"I think for me, being born in Mexico City and growing up in the states, I always felt like things had to had this feeling of belonging to multiple places to be authentic," says Moreno.
He's interested in images that speak to that duality, and, evidently, the DMA is too. 
"Moreno's Chapel is indicative of the goals of the DMA's collection and programming plans: to promote innovative contemporary art that engages with the past, where it can be seen in the context of our rich encyclopedic collection," said Anna Katherine Brodbeck, the Hoffman Family Senior Curator of Contemporary Art, in a press release. "Indeed, many touchstones for Moreno's immersive and singular vision—Baroque, Meso-American and modern art—can be seen throughout the Museum. We are so proud to include this ambitious installation by a Dallas-based artist in our collection and look forward to putting it on view to be enjoyed by our audiences in the near future."