A new gallery space is opening in Oak Cliff this weekend. That might be run-of-the-mill news in any other city, but in Dallas, City Hall has a history of running off emerging gallery spaces with bureaucratic red tape regarding zoning, certificates of occupancy, and fire marshals who are all too eager to shut down spaces for not having the right paperwork.
Footnote version: it's difficult for a gallery to get the "right" certificate of occupancy, as there is no "art gallery" designation in the certificate of occupancy handbook. Galleries don't fit neatly into the "retail" category, because they hold monthly gatherings at the start of each new exhibition. They also don't fit the bill for an event space because, guess what, they also sell artwork, making them a retail operation. Essentially, galleries fall through the cracks of the labyrinthine citywide system. The result is that gallery owners are often required to make astronomically costly upgrades to their buildings to operate legally, like installing a sprinkler system or a second bathroom.
After months of setbacks, mostly involving sawing through those layers of red tape, Sean Horton has prevailed. "I don't want to say it's been a nightmare," Horton pauses as he reflects over the last six months. "It's been a complete shitshow." We both cackle with laughter.
A rural Texas boy turned New York and Berlin gallerist, Horton has returned to show Dallas what he's picked up over the last fifteen years running galleries both stateside and abroad. Between his travels around the world to various art fairs, and the 150 or so exhibitions he mounted between all of his endeavors, there could be a lot he has up his sleeve.
The first exhibition at the new Jefferson Avenue space, Sean Horton Presents, features the work of Leo Gabin, a trio of Belgium-based artists who are obsessed with American culture and artifacts. White plastic lawn chairs, suburban clapboard houses, and pickup trucks are rendered in cheerful pop-art colors. It's less a critique of American life and more a reflection of it.
"I look out the window and see a truck that looks similar to this truck in the painting. It's uncanny how much these paintings look like Oak Cliff," Horton says. "They have a relationship and a tie-in to the neighborhood in an unexpected way."
Horton is as concerned with context as he is with content. While many local arts spaces exhibit regional artists, Horton is distinctly focused on bringing in outsiders who have a different perspective to offer.
"There are a lot of galleries here doing a really great job of showing artists from within Texas. My mission is to show artists from outside of Texas," Horton explains. "An important part of the arts community here is to have that dialogue with artists from the outside."
Horton might be subconsciously rebellious given his restrictive fundamentalist Christian upbringing. He set his sights on the relatively arts-deserted Oak Cliff despite City Hall's best efforts to steer him to the gallery-saturated Design District with its zoning for art galleries.
"Opening up next to another gallery or an Oriental rug store is the last thing I wanted to do," Horton says. "I wanted to be in a diverse neighborhood and to give people a distinctly different experience than where they're coming from… It's a rejection of the Design District."
Oak Cliff reminds Horton of the Lower East Side, where he was something of a trailblazer in the mid-2000s, opening one of the first galleries there before it was cool. Then there's the nostalgia. His stepdad's father owned the diner where Nova is currently, raising his stepdad in a house behind the restaurant. Horton visited a lot as a kid, and later lived in Oak Cliff for a year while working at the Dallas Museum of Art.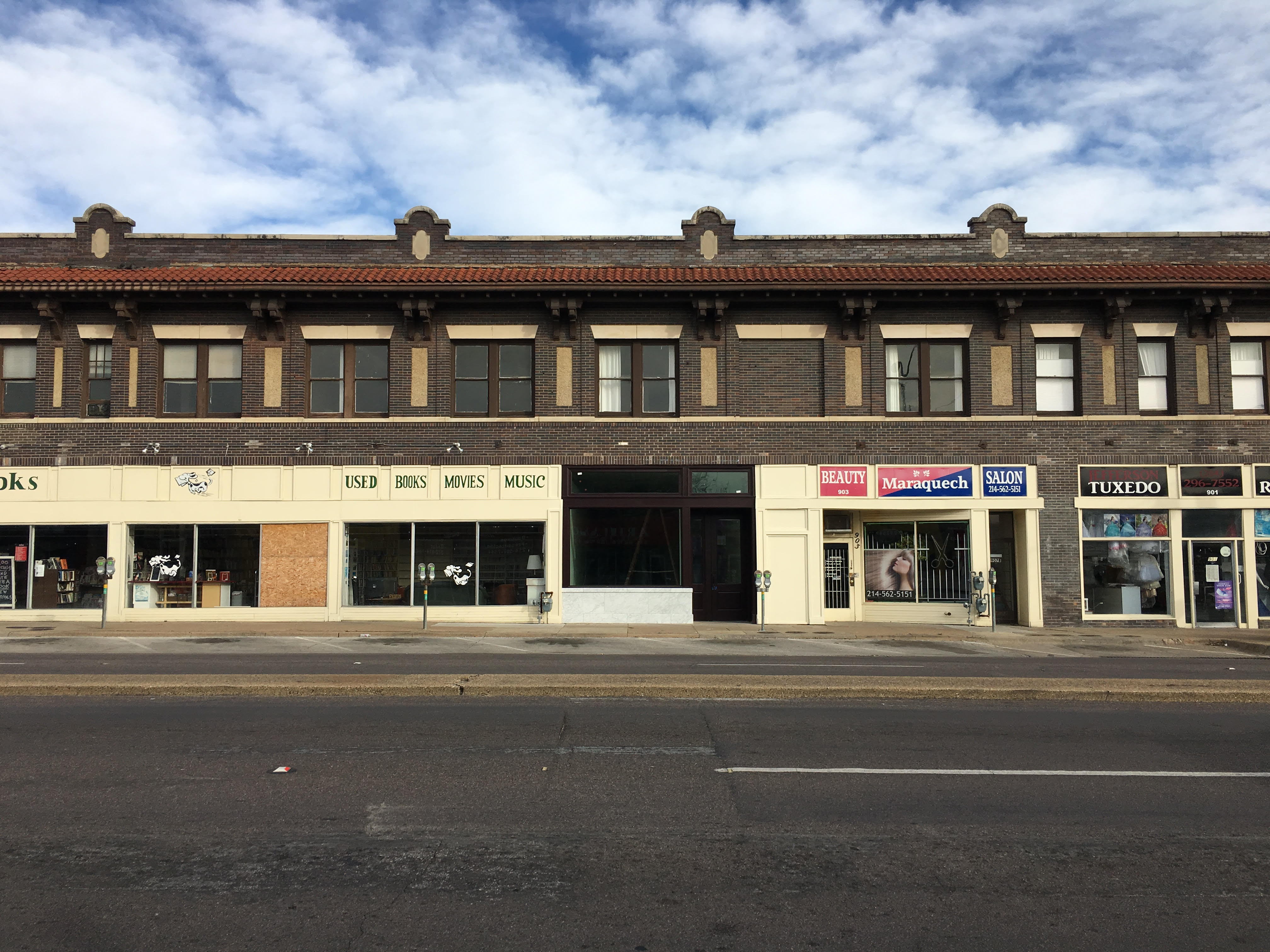 Before he got that far though, he had to find a way out of the country. Horton grew up about 20 minutes from the Oklahoma border in strict Christian households. His dad's place was set within a farming community of 300 people, and his mom and stepdad lived in a nearby town of 7,000 people.
Horton descends from generations of railroad workers, people who'd never stepped foot in an art museum. So, opening his own art gallery after years of college art courses, and earning a master's degree in studio art from Tufts University in Boston, was his quiet act of defiance.
"I had to prove that this was something worth pursuing," he explains. Horton organized shows and wrote about art, building up his portfolio, connections, and art world cache. He eventually landed in Vermont and then NYC for curatorial roles. From there, Horton opened his own gallery in the Lower East Side in 2006, when the neighborhood was still something of an arts desert.
On a whim, Horton leased a gallery space in Berlin when he was there on vacation years later. "I gave them first and last month's rent and a copy of my passport. I don't know how it was that easy," he says of the typically intense German bureaucratic system.
Things seem to fall in place for Horton, whether that's without much effort or after months of battling the city of Dallas. "Compared to this, opening a gallery in New York was not difficult," Horton says as a footnote.
Hopefully, his hard work proves to be worth it. Dallas needs people like Horton, who want to bring more art to the city, especially underserved arts areas like Oak Cliff – and who aren't scared off by the seemingly endless setbacks.  
Stay tuned for what else he has in store. It won't be from here, but it will reflect something about Dallas ethos. Maybe we'll learn something about ourselves.
Get the FrontRow Newsletter
Get a front row seat to the best shows, arts, and things to do across North Texas. Never miss a beat.