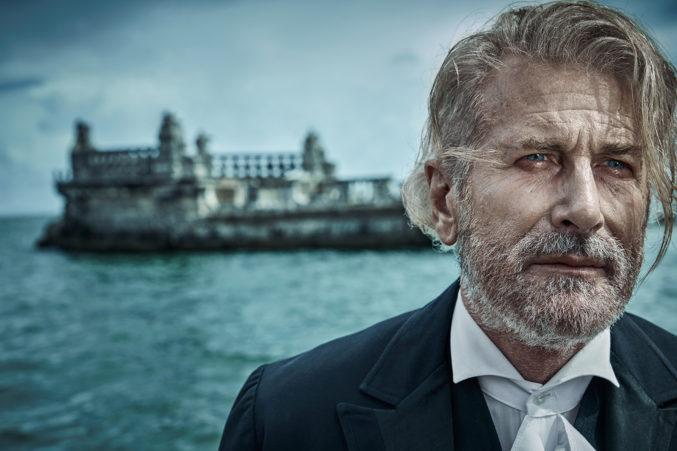 Go See The Dallas Opera's The Flying Dutchman
Whether you're a Wagner aficionado or an opera first-timer, the Dallas Opera's latest production is easy to love.
Greer Grimsley has never been undead. This makes his ghostly role in the Dallas Opera's upcoming production of The Flying Dutchman all the more challenging.
The tragedy, composed by Wagner, follows a man who's been doomed to roam the seas for invoking the name of the devil. For centuries, he has sailed the oceans with his crew, looking for a woman who will be true to him – his only way of finding salvation. Finally, he meets Senta, the daughter of a ship captain, who begins to fall in love with him, much to the dismay of her former paramour, Erik. As Senta and the Dutchman's connection intensifies, Erik despairs that his once-true love would prefer being with a ghost to him.
The Dallas Opera brings The Flying Dutchman to the Winspear Opera house October 12, 14, 17, and 20. Grimsley, an incredibly talented bass-baritone from New Orleans, sings the titular role. Alongside him are Anja Kampe, soprano, in the role of Senta, and Jay Hunter Morris, a tenor from "right down the road" in Paris, Texas, in the role of Erik.
The cast rehearses in a space near Fair Park. Inside, powerful notes echo through the studios. Costumes for their next production, Carmen, line the walls, with rack after rack of brocade and gorgeous embroidery. The costume and prop department holds relics from past performances, stored in a labyrinth of opera history.
Out of costume, Greer Grimsley doesn't really resemble his wild-haired character. But even speaking, his voice is impossibly deep and bass-heavy – quite a contrast to Jay Hunter Morris' Texas twang. Meanwhile, Anja Kampe rehearses in another room, her delicate voice reverberating through the walls as the two men discuss their roles.
Opera is a difficult art form to master. Performers sing to thousand-seat houses without a microphone, usually in another language.
"This technique is born of necessity, you know, we have to learn to scream beautifully," says Morris. "That's what we do."
"I like to call it a singing athletic event, because in many ways it is," Grimsley adds. "Because this is the shortest of Wagner's opera, and the ones that are just regular length are four and a half, five hours long. And so, everything athletic that you would apply to an athletic event, endurance, you know, coordination, strength, stamina, is in there."
The singers and the conductor of the orchestra must work together to create a compelling story, both musically and theatrically. Wagner's style is tricky, influenced by many of the artists of the nineteenth century and embellished with his own technique. For The Flying Dutchman, Wagner borrowed from Meyerbeer, Berlioz, and the Italian opera. Maestro Emmanuel Villaume, originally from Strasbourg, France, conducts the production.
"Flying Dutchman is, let's say, the first opera where Wagner really finds his voice," Villaume says. "When we are in the world of the Dutchman, and the ocean, and eternity, and ghosts, and fog, in general the orchestral texture is much more tense…things disappear in a big ocean of sound."
Villaume finds that the orchestra's role is to help carry the opera singers through the vocal challenges of the show. Director Christopher Alden describes the opera as "emotionally fraught."
Both Morris and Grimsley have performed in these roles before, each citing it as one of their most visited roles in their repertoire. Even though the characters' journeys are familiar, each new production presents a challenge in interpreting the director's vision.
"That's the hard part about doing the guys that you've done so many times, is that, you know, over my twenty productions, I've had a handful [of directors] that I felt I really liked and agree with," Morris says. "I'm not the director. This isn't my concept, and my job is to fulfill what Christopher wants. That's not always easy. Because we learned, we learned things about the people we're playing, too.
To keep the director's vision, it is important that the orchestra and the singers work together. This opera requires a large orchestra, and the music carries much of the action.
"The orchestra is often painting an image of nature around, the wind, the ocean, eternity, in general, additionally these concepts that can be also more abstract, like longing, love, sadness," Villaume says. "You need to be able to visualize this, internalize this, and project it, project it on stage and project it to the audience. That's my role."
For the singers, the job is not only to produce a beautiful sound, but to convey the deep emotions that this story requires. While Grimsley jokingly cited that he's never been undead as one of the challenges of this role, he takes his inspiration from real life.
"For the inner monologue of this character, it's about relationships. And for me, I'm looking for a woman to be my salvation by being true to me. And so far it hasn't worked out, for a few hundred years," Grimsley says. "And so that sense of, and I think you tap into your own experiences and extrapolate, and the weariness of trying to do something that eludes you. The short answer is that you use some things in your own life, and then also you expand and use your imagination as well."
It's these powerfully human stories that keep opera-goers coming back. As a director, Alden tries to focus on keeping opera as an art form relevant.
"Opera has a lot of stereotypes," Alden says. "We need to show that opera is not like an old relic."
And opera is not an old relic; it is alive and well, especially in Dallas. We have an excited opera-loving community here, but even those who aren't Wagner aficionados will love a show like Dutchman. Grimsley calls it a perfect "first opera" for newcomers. For the performers, part of keeping opera relevant is putting on a really good show.
"I say it often, 'this is show biz!'" Morris says. "Baby, if we don't put on a good show, they're not coming back. This is supposed to be entertaining. It's easy to lose sight of that."
With good show and a captivating story, The Flying Dutchman is sure to be an incredible experience. Even though it tells the love story of a woman and a ghost, it has such raw emotion at the center. That, plus the grand music, is what Grimsley finds most relevant about the opera.
"I mean, it's such a human experience in every way. There's nothing electronic about it," says Grimsley. "It's our connection to humanity. And I think it's important to hold onto that."