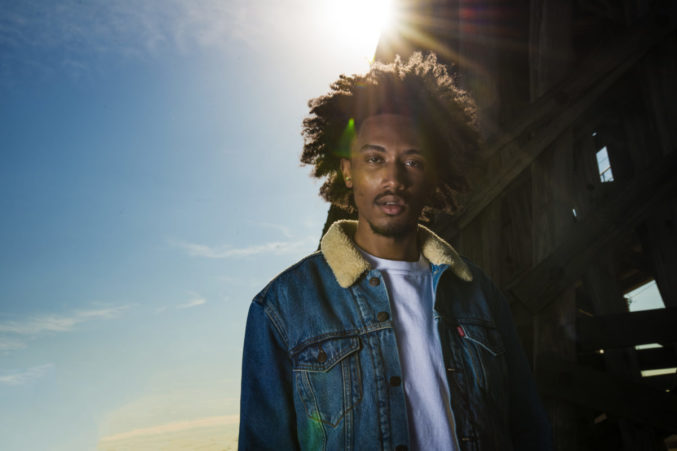 Dallas Rapper Bobby Sessions Headlines Soundtrack for The Hate U Give
The local artist turned his Hollywood moment into "a complete Dallas affair."
The Law of Attraction still seems to be working for Bobby Sessions. The Dallas rapper, who signed with Def Jam Recordings in February, is about to make his silver screen debut. Sessions created the title track for the highly-anticipated upcoming film The Hate U Give, headlining a soundtrack which includes music by Kendrick Lamar, Pusha T, Logic, Tupac, and others.
It's a career-defining moment for any young musician, but, for Bobby, it's a deeply personal project.
"Def Jam is servicing the soundtrack for the film, and they thought with my story I would feel a connection with the film," he says. "I had the opportunity to watch the film in New York and it moved me to tears." 
The Hate U Give centers around a 16-year-old black girl, Starr Carter, as she switches between her life in a poor, mostly black neighborhood, and her life at an affluent, mostly white prep school. This delicate balancing act is shattered when Starr witnesses her childhood friend be fatally shot by a police officer. In the aftermath of the tragedy is the story of a heroine bravely finding her voice and standing up against injustice.
Sadly, it's all too familiar a tale for Sessions. The rapper's cousin, James Harper, was killed by Dallas Police in July of 2012. Just like the film's victim, Harper was unarmed when he was shot reaching into his pocket to retrieve an object. And, much like the film's protagonist, Sessions made the decision to channel his pain into power to make a positive change.
"It's important to use your voice. If you give love instead of hate, everyone will benefit," says Sessions.
The musician has long spoken out about systemic racism in his work, from his 2015 breakout track "Black America," to his debut single on Def Jam, "Like Me." Talking about social justice isn't always easy, but Sessions knows it's important, especially in a city that can feel as divisive as the one portrayed in The Hate U Give.
"I definitely feel Dallas is that way. I think the best way to put our first foot forward is to sit at the table and have those difficult conversations," says Sessions. "I think that's really difficult for a lot of us, so I think that the arts are a good way to start."
Bobby kept his hometown in mind while creating "The Hate U Give." The rapper says he wanted this to be "a complete Dallas affair." The song was produced by the in-house producer at local label High Standardz, features bass by Nigel Rivers, and the hook was written by singer-songwriter Zyah and sung by Keite Young of Medicine Man Revival.
"I'm really proud of all the contributions we received from Dallas creatives," he says.
The song and accompanying music video, which was also created in Dallas, will be released on October 5. The movie also comes to select theaters that day, and will be out everywhere on October 19. This is one you'll want to see – if only to hear your favorite Dallas rapper playing through the theater.
"I want to spark the flame inside of everybody, I want people to be motivated to find their voice," says Sessions. "You don't have to look externally for strength, it's already within you … A megaphone and your voice is more powerful than a gun will ever be."