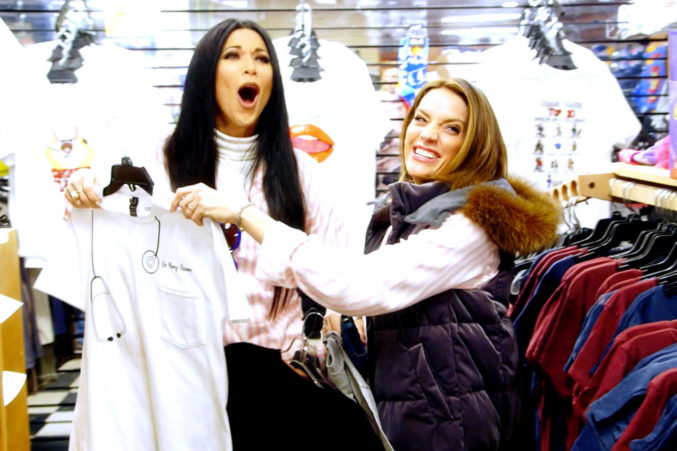 The Real Housewives of Dallas Recap: The One Where LeeAnne Raps
She should not have.
I'm not sure what this episode of RHOD will be remembered for. I hope it's not LeeAnne's freestyling (I'd like to forget), or the origin of an unearthly Fireball and tequila cocktail. It might be Cary's new testimonial look, which is way too much, and will now be exactly what I picture any time I hear Kacey Musgraves sing the word "chrysalis" in that song.
Nothing truly earth shattering happened this episode, but it did drive home the fact that, even in a relatively mundane week where all potential fights are quickly diffused, RHOD is still fun, and—dare I say it—necessary. Hear me out. If you're watching RHOD, it probably means you just suffered through an hour of the RHONY reunion, which was the exact opposite of fun. You probably just saw Carole Radziwell, an Emmy award-winning journalist who once spent six weeks in Khandahar reporting during the war in Afghanistan, read a chain of texts as evidence in a petty fight, and yell the phrase "get off my jock." Such a bummer. After witnessing a real adult friendship crumble, the possible denial of a serious alcohol problem, and Ramona's cramps, RHOD was an antidote to the darkness. It's like the palate cleanser in The Princess Diaries that I, too, have never been able to stop thinking about. It almost erases the memory of Bethenny screaming "shmoron." Almost.
Let's get into it.
According to our chryon, it's "Vacation Day 2" in Beaver Creek. Stephanie has brushed her teeth twice and still feels disgusting. Cary is doing yoga alone in a kitchen. LeeAnne clips in her extensions as D'Andra catches her up on all the nonexistent "baby bashing" from the night before.
Kameron joins Cary in the kitchen and still wants to know why someone wouldn't tell her they had adopted a baby.
*THIS CONVERSATION HAS BEEN CONDENSED FOR CLARITY.
Kameron: I don't understand a situation where you can't tell your friends that you have a baby.
Cary: Because that was her choice.
K: But I want to know why.
C: BECAUSE THAT WAS HER CHOICE. DONE. UNDERSTOOD.
K: And I accept that, Cary.
C: BUT THEN ACCEPT IT.
K: But then just keep that inside?
C: No. Come back around later and be like, "You know what, I don't think I got clarity on this."
K: But what's the time limit? Like one minute?
In her testimonial, Cary says "badger" nine times in rapid succession and normally I'd be like, "Cool it, Cary," but I get it. Bravo reminds us of Kameron's season two issue of being offended that Brandi gave other people gifts in front of her. The Westcott's Colorado home should have its own weed dispensary. It can go next to the bowling alley!
The women put on their best Aspen in the 80s ensembles and snowmobile up to the top of a mountain, make snow angels, and then snowmobile right back down. Kam says, "Everyone thinks I'm this delicate snowflake, but what they don't know is that I'm an avalanche of fun." Who wrote this? Was this a potential tagline for Kam that got nixed because the Westcotts are Republicans?
Also atop the mountain, another potential blowout quickly gets diffused. D'Andra tells Brandi that she also has ADHD, so that absolves her of the whole Adderall-shaming thing we've been dealing with for the entire season. Cool. Whatever.
You would think all this lack of fighting might make for an unbearably boring episode, but the women make it work. Brandi and D'Andra, fresh off of bonding over ADHD, mix tequila and Fireball together. LeeAnne rewards herself for not throwing any stemware thus far by having a cocktail. Drinking continues out the house, where there's a pretty amazing moment where Brandi is dancing and just yells, "D'ANDRA IS 50!" To which D'Andra, from the top of a chair, says, "I AM NOT 50, I'M 49," then points to LeeAnne and says, "She's 50!" Don't get it twisted.
Apparently the Bravo camera crew slept through the only actual argument of the entire episode (you have one job!) because Brandi has to recount LeeAnne and D'Andra's screaming match to Stephanie the next morning. The women were fighting over who was the queen of the group, to which Brandi asks, "How old are we?" Um, we are 49 and 50, Brandi, don't forget it!
Stephanie and her tinsel-covered coat go to Italy.
On "Vacation Day 3," Kam tears up the itinerary and declares a free day. Fun! Cary goes skiing by herself, LeeAnne and Kameron have a full on conversation with each other where they speak STRAIGHT into massage chairs, while Brandi and D'Andra go shopping and seem to genuinely have a good time together. D'Andra only spends about $5,000 in some store because she's trying to save money.
At the buffet dinner that night, I believe Kameron reveals that she doesn't know how to use the word "buffet" in a sentence. She says she "loves buffet" and "I'm crazy in buffet." I have a nit to pick with that. That nit also extends to LeeAnne, who, upon hearing that she and D'Andra will be competing in a "pageant" to decide who's "queen," says, "It's not fair because I have one million percent pageant." Sorry? To be fair, LeeAnne has done seven pageants (all televised!), and was seen and not heard in the movie Miss Congeniality, so if anyone has "one million percent pageant," I guess it would be LeeAnne.
The "pageant" is definitely silly, but Brandi does ask LeeAnne to tell them something she likes to do with her hands, giving Bravo yet another reason to flash back to that infamous scene.
Then, it's finally time for the Why Haven't You Set a Date Yet, LeeAnne!? Blowout that's been teased all season, and it's… honestly pretty cordial and supportive. D'Andra does yell, "You need to get together, bitch, right now!" but it's clear she's saying it out of love and concern that LeeAnne is skirting around the issue, which nobody believes is Rich's eyepatch. The women talk about the inevitably of divorce at times, and how it's okay be scared of failure when it comes to marriage. I live alone with a cat so I have nothing to contribute here. Just when things start feeling really tense, LeeAnne cries an eyelash strip right off and the women all band together to bond it back on. You better believe Cary keeps that glue on her person!
The "pageant" continues in the morning where, I kid you not, D'Andra does butt darts (it's more fun if you don't know what it is), and LeeAnne freestyle raps. If I didn't know LeeAnne was 50-years-old before, I certainly do now. D'Andra "wins."
Until next week. See y'all at the rodeo!