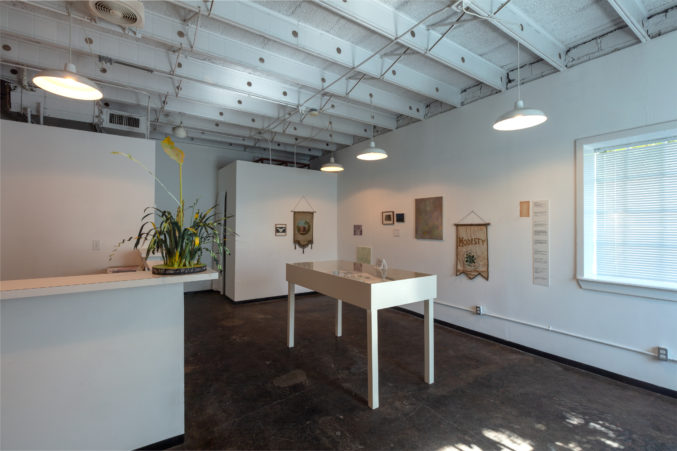 New Art to Know This Week: Testifying to Further Seasons
Curator Lucia Simek leaves a trail of bees and fractured language at The Reading Room.
This month, that low door which belongs to Karen Weiner's word-and-image artspace The Reading Room opens on an enchanted garden in the very heart of Dallas.
Neither a garden of earthly delights nor the garden of sinners, the miniature gallery holds a microcosm of nature where all is connected: order and chaos, life and death, the imminent and the forgotten. The show borrows its title from a line in Emily Dickinson's eerily fatalistic short poem, written in 1862, which concludes:
Fainter Leaves — to Further Seasons —
Dumbly testify —
We — who have the Souls —
Die oftener — Not so vitally —
To unravel the non-linear, tangled narrative of the show to Further Seasons, the thread to pull can be found in curator Lucia Simek, the writer, artist, and, current Communications Manager at the Nasher Sculpture Center. She completed a bee house sculpture in marble and wood last year. The work also referenced the legs of designer Eileen Gray's "Transat" chair from 1929 and an adjacent clash with the architect Le Corbusier, who vandalized the beach house Gray built with unsightly paintings he claims were meant to "liven things up." Simek's title— A House is Not a Machine for Living, Honey— was Le Corbusier's quip back at the designer, who was mortified upon seeing the wall.
Simek now reprises the theme by displaying a vintage banner with a painted beehive on it. This banner had once decorated the 1898-built Odd Fellows Lodge in Corsicana, Texas and is on loan to Simek from 100W Corsicana, a residency for artists and writers that nowadays occupies the site. Considering the mission of the Independent Order of Odd Fellows founded an ocean away and two centuries ago, which was to unite those interested in secret societies and charitable deeds, their faded banner could've symbolised the natural order and the rewards of collective work.
Another name sometimes remembered in relation to an eccentric secret society: Ian Hamilton Finlay. Frequently styled an "avant-gardener", this celebrated Scottish artist had in his time represented beehives both as thrumming enemy strongholds or, conversely, a metaphorical shrine to the fishermen's perilous voyages as they leave familiar shores the way bees fly off to gather nectar far afield. Just such deferential beehives feature in Little Sparta, the artist's famous five-acre "garden poem" near Edinburgh, Scotland. A print reproduction of a tribute more organic still is displayed under The Reading Room's glass vitrine: Proposal for a Monument of Jean-Jacques Rousseau, conceived entirely as a landscape, evokes both the philosopher's theory of the inherent goodness in the State of Nature and the artist's partiality to French Revolutionaries, many of whom had been inspired by Rousseau. Indeed, Hamilton Finlay had named the "odd fellowship" of his own supporters and admirers  "The Saint-Just Vigilantes" after his particular favourite, Louis-Antoine de Saint-Just.
Aside from gardening and tragic French revolutionaries, Ian Hamilton Finlay was keenly invested in concrete poetry and sail ships. In to Further Seasons, a black and white photographic postcard depicts a yacht sail blending with a grassy hill into an impression of a shark's dorsal fin. It echoes the artist's likening of a boat's foamy trail upon the water to a seamstress's stitch over smooth fabric. As if in response to this allusion, right by the gallery's entrance is a bright needlepoint of flowers and faces, a work that ties a mother's unfinished embroidery to the daughter's completion of the project many years later. The daughter and artist, Cassandra Emswiler Burd, just last year exhibited work alongside the curator Lucia Simek's beehive in a show called Cleaver in the now shut-down Dallas art space Beefhaus.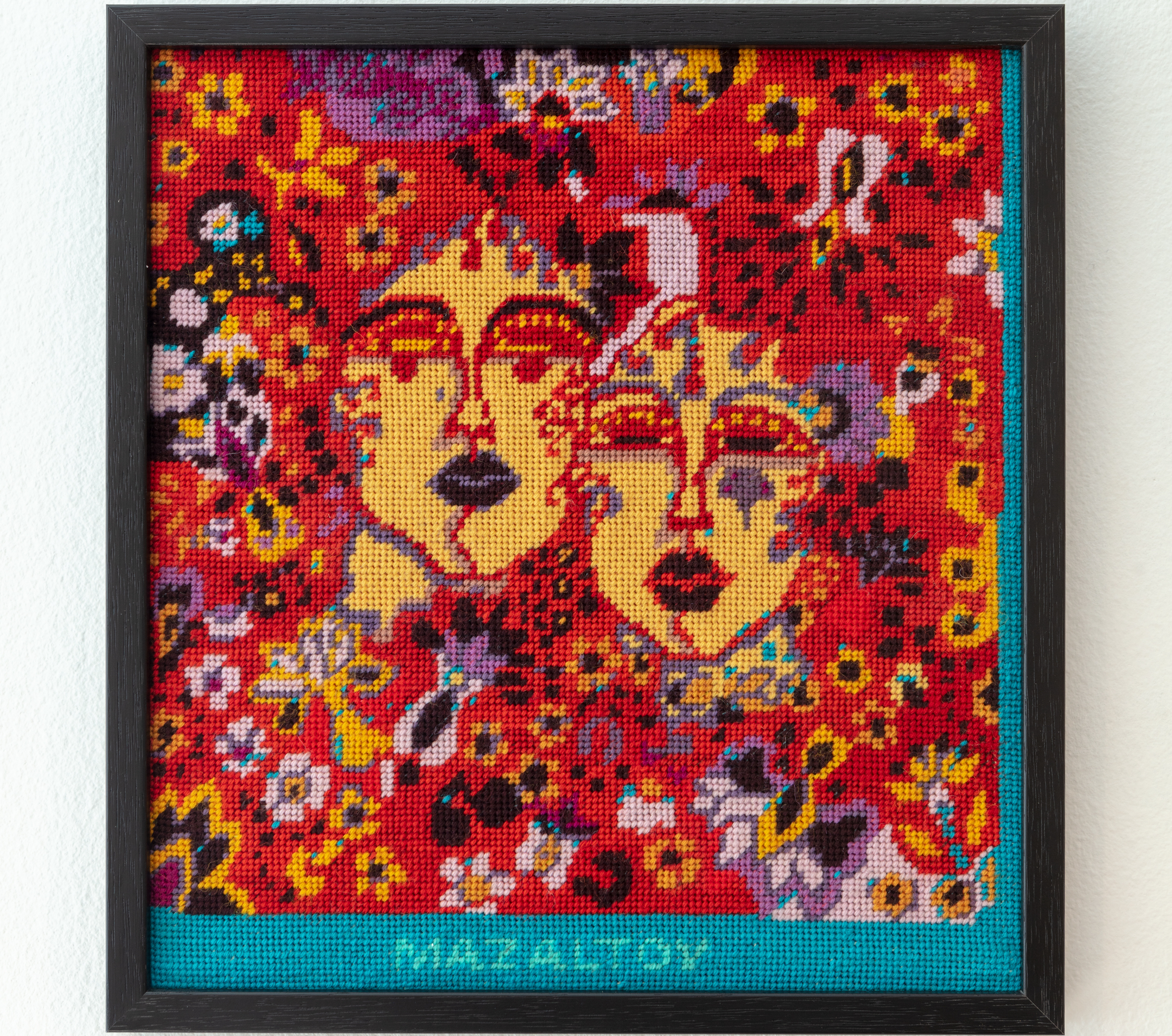 The sailing postcard apprehensively shares The Reading Room's vitrine with several dried plant specimens, collected by Dallas nature enthusiast Karen Gempel. Here, like in a dark doppelgänger legend, two weeds look deceptively identical, yet where one is harmless, another carries a poison deadly enough to remain potent even dry. A different plant bears traces of the virus that had killed it. The fruit of the descriptively nicknamed "devil's claw" rests nearby. Despite the name, this desert weed is cherished as a pain reliever in herbal medicine. Several of Ian Hamilton Finlay's micro-books of concrete poetry, nonsensical yet instinctively clear, are spread among these broken flowers — and a few inches up, on top of the glass case forlornly lies a crumpled copy of Michael Dean's Acts of Grass, a 2011 stage play that subverts form and meaning to explore the sense of self within the world as a garden.
"Say It With Flowers", urges a so-titled out-of-view work by the contemporary artist Trevor Davis. The methodical disarray of a symbolic garden behind The Reading Room's foliage-covered facade addresses verse and sculpture, text and image, artifact and paint to Further Seasons as Nature unveils its mercurial temperament within the chamber artspace that, in the eye of a tenacious explorer, may contain multitudes.
The group exhibition also features pieces by Jesse Morgan Barnett, Erika Duque, Mark and Jen Porembski, Marjorie Schwarz, Myron Stout, and Travis LaMothe, and is on view at The Reading Room until June 9, open from 2 to 5 every Saturday and by appointment.