Well-known Dallas DJ and producer John Stewart was accused of sexual assault Sunday. After the public allegations, others within the music scene began sharing their stories of intrusive and sexually abusive behavior they say Stewart — and others in his circles — were known for. Separate allegations of physical and emotional abuse were made against Richard "PicnicTyme" Escobedo, a member of Erykah Badu's band The Cannabinoids.
A woman who calls herself Tina posted under the handle @canipeturdogx about the night of February 4, when she says two men forced her to perform oral sex on them when she was too drunk to drive. One of the guys — a friend, she'd thought — was Stewart, aka Mixgod, who runs All // Everything, one of the most frequented DJ weeklies in Dallas. The other was scene regular Tony Curtis, whose real name is Tony Martinez. (Update at 8:55 a.m. on Tuesday: After arrest records were shared by members of the Dallas music scene on Instagram, we've confirmed that Martinez was arrested Monday on charges in the realm of physical assault.)
Tina often hung out at the Sunday night party, which played an evening's worth of music from single artists or their subgenres and regions. It began in 2016 at Crown & Harp, before moving to RBC in Deep Ellum. A representative who asked not to be named in this story said the weekly has been canceled. Later that evening, the club posted a statement to Facebook:
Stewart, also an engineer, has worked with some of the most respected rappers in the city, like Blue, the Misfit, and recent Def Jam Records signee Bobby Sessions.
On Sunday night, rapper Brandon "Blue, the Misfit" ran All Beyoncé Everything, without Stewart, after the threads unspooled on social media. Blue did not respond to request for comment, but did address the situation on Twitter. 
A woman named Ali backed up Tina's story with her own. On Twitter this weekend, she pointed to a post she made in October about a guy who refused to leave her home, and wouldn't stop touching her when she refused his advances. Then, she named Stewart. CentralTrack reported her story. Another woman, who asked not to be named, told D Magazine that Stewart sent her unsolicited photos of his penis. In response to a call asking for comment, Stewart sent this text message: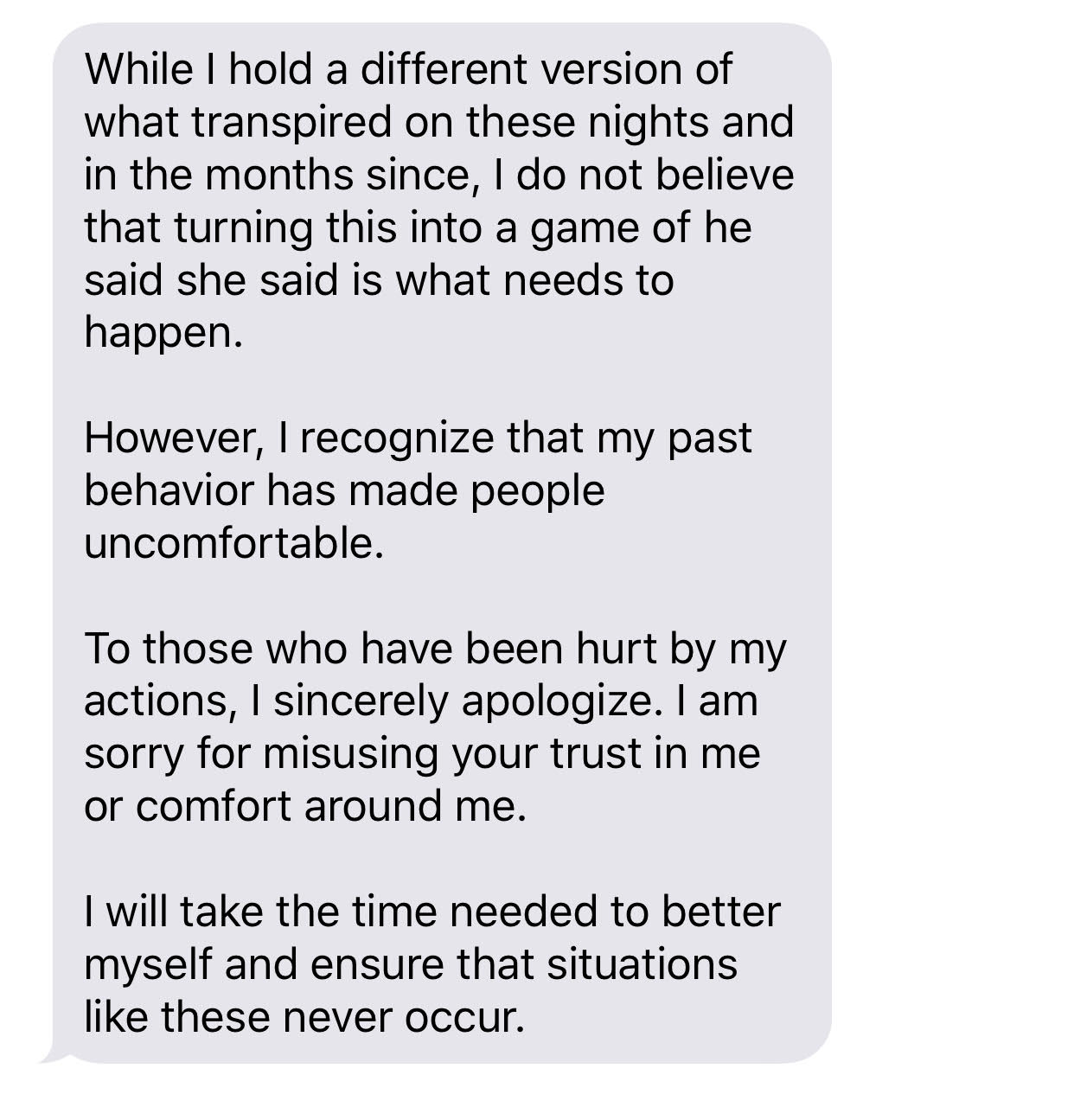 —
Allegations against Stewart brought other stories to the surface. Felicia "Librada" Cruz was relaxing at her Los Angeles home Sunday, scanning Twitter. In her timeline was a story from a woman in Dallas whom she didn't know, who called herself Tina. Cruz felt her stomach drop. The note began with a familiar line that carries an oddly confessional tone. "I've debated coming out with this."
Tina said she'd been sexually assaulted by John Stewart, a name Cruz recognized. As a musician and a contributor to COSIGN magazine, Cruz was active in the same scene when she lived in Dallas until a threatening, controlling ex made her feel unsafe at shows. This guy in Tina's story — the one who, Tina wrote, forced her to have oral sex with him and his buddy — was in the same hip-hop circle as Richard "PicnicTyme" Escobedo, Cruz's alleged abuser. She knew what it was like to keep the pain to herself. Reading Tina's post broke her heart anyway, Cruz says. But when she spotted a reply from Escobedo expressing support for speaking out against men who hurt women, she broke down in tears.
"When I came to L.A., I felt the biggest sigh of relief in my adult life," she says of her move in September. "I should have called the police, many times."
Cruz is quick to say her experiences with Escobedo, her boyfriend on and off for three years, rarely fell into the range of physical assault. (Multiple sources also say they witnessed him stalking and threatening her. Another former girlfriend shared similar stories with D, but asked to not be named.) Sometimes he shook or pushed her, Cruz says. And sometimes Escobedo would not allow her to sleep in their bedroom when they lived together.
In a phone call Monday, Escobedo was adamant that his behavior not be equated with the kind Stewart is accused of. Especially because, he claims, he didn't do anything Cruz—who he described as a "sour ex"— says he did. When pressed to explain others on social media coming forward about his patterns of emotional and physical abuse, he dismissed the consensus. "It's not fair," he says. "I work so hard. It's like, really? You're calling me? I have a job to do, and so do you."
Escobedo said the conversation started by Tina incited a "witch hunt." He's getting a lawyer, he says. Attributing the timing of the allegations to a "new job" at WFAA and wishes against his success, Escobedo referred to a forthcoming feature including Bobby Sessions and John Stewart, who he said had been cut from the feature. On Monday afternoon, WFAA Channel 8 confirmed that Escobedo had worked there as a contractor. "He's no longer affiliated with the station," a statement read.
Cruz posted an image of her lacerated back from a night a few years ago. She says she and Escobedo were in an argument—probably about another woman, she guesses. "I was yelling, trying to get him to look at me," she says. Then, according to Cruz, Escobedo kicked her into a dresser. He denies this.
———
The stories compelled some producers and DJs to demand accountability from their colleagues. Brain Gang member Donovan "88 Killa" Payne has known Cruz for 10 years, he says. Payne described evenings out when Escobedo cornered her and warned her that her friends would not always be there to protect her. "Picnic is really charming," he says, pinpointing the need for young MCs and music-makers to stop depending on people like Stewart to connect them with the industry. "It's hard because, [in the scene], we're all hungry. These are the guys who've gotten behind the curtain, where we want to be … but we don't need them. I have sisters. I don't think these women got together at Starbucks Sunday morning and decided to take these guys out."
Screen grabs of text exchanges provided to D support the stories. Three well-regarded music industry professionals who asked not to be named said Stewart was known for sending unsolicited photos of his penis to women. Another woman, who asked to remain anonymous, told D he sent such a photo to her, after grooming her for his advances when she was pregnant and unable to go out or drink. The woman had refused his offers of food and foot rubs, and then stopped responding altogether when he asked to rub her belly and hold her.
Payne urges booking agents and clubs to believe women, ban performers and DJs known to put women in danger, and to be direct about speaking out.
"The women can't do it on their own," Payne says.
Get the FrontRow Newsletter
Get a front row seat to the best shows, arts, and things to do across North Texas. Never miss a beat.