See Dahlia Knowles at What It Is Is: The Drunk Talk Show at Dan's Silverleaf Thursday, Dec. 21. 
Either the daring ones gravitate toward Dahlia Knowles, or something about her makes them braver. It is the second time this week that she has given a brand-new client a drastic makeover at the small Aveda salon in Denton where she works. One guy parted with 18 inches of cool brunette silk — good hair, memorably good, in fact — for donation. A child who needs a wig will inherit some luxury.
"It was so scary. I love big transformations," Knowles says, on a Saturday morning in December, standing over another sizable pile of hair on the floor, this batch loosed from a preschool teacher named Megan. The Tragic Kingdom-era Gwen Stefani lookalike wants to go blonder, too. She rests her white Air Jordans on the swivel chair's metal bar. Knowles steps carefully around her in black overalls and well-worn Doc Martens to paint and foil what's left.
Knowles has a certain reverence for foundational glamour. This morning she presents like the striking part-time psychic neighbor who'd turn heads down a lush street in West Hollywood: black headwrap, deep purple matte lipstick (Aveda, she'll tell you); a wellspring of measured expertise. She's known for her interpretations of shag cuts, where contemporary shapes have room to get wild.
"You can learn from trends," she says, tossing mermaid waves over one shoulder.
The artist has a long-term dream that's not so incongruent to her life now. If Knowles could own anything, it'd be a beauty salon that functioned as such by day, but became a showroom for artists and musicians after hours. A few of her clients know that many evenings, Knowles goes straight from the salon to venues where she performs her music. Most have no clue their stylist released one of the most significant local debuts of the year. 
Be The Doll, a 10-song collection of extreme pop, announced a beguiling talent upon its release in November. To hear the songs live is to experience a liberating merging of fantasy and intense vulnerability; raw emotion, dressed well. Knowles gives as much of both to 15 people at a private house party as she does to a packed house at Dan's Silverleaf.
She plays under the name Lorelei K. It's a nod to the myth of a German siren who sits atop a rock on the treacherous bank of the River Rhine, brushing her hair and distracting sailors who wrecked to their deaths. The setting is not just imaginary. She went there, to the Rhine, on a school trip when she was young, and saw the water break against the slate.
—
Knowles' mom loved Concrete Blonde. "She used to overhear me singing 'Ghost of a Texas Ladies' Man' in the bathtub," she laughs, remembering how Johnette Napolitano's powerful voice caught her as a kid. Though she sang often and was met with encouragement, it wasn't until Knowles started regularly escaping the suburban confines of Flower Mound to explore college parties in Denton — yes, she laughs, she lied often about her age — that performing seemed a way of life. Ever a magnet, she quickly met fellow artists, and older peers in the scene with whom she could relate; as a transgender person who began her transition at age 16, Knowles says, she grew up fast.
One friend in particular would become a devoted creative partner. Knowles found a hardworking equal in Michael Briggs, the bespectacled recording engineer, organizer and musician who's been engaging and sustaining darker, experimental sounds in Denton for more than a decade. They met in 2015 at Slam & Jam. It was during an intimate performance series at the house venue Briggs ran then called Macaroni Island.
"It was a really, really cute moment for,  like, queers in Denton at the time," Knowles says. "At the very first one, I had a poetry set – it was the very first performance I ever did."
She was the final artist in the lineup that night. One of the poems she performed appears on Be The Doll as the penultimate track, "21." It's a stark and mournful document of the claustrophobic pain enacted by threats of violence against the transgender body and psyche; the end falls like this: "blow me off when I'm rotting / six feet under in a suit and tie / maybe I'll pray I'll at least get a hashtag."
Knowles later brought Briggs that poem and other songs, written mostly when she was a teenager, set to basic piano. Multi-instrumentalist Parker Lawson signed on to help.
"It was a lot of sessions. I thought that Briggs was getting sick of me (laughs). I was in his studio every week, trying to do this thing – it was a lot of firsts," Knowles says.
"I am not a beatmaker. It's kinda funny," Briggs insists, but for the first time ever, he made one for Be The Doll's title track, a banger with a dark sparkle. He climbed deep into the project as songs like "Samson" offered too much possibility, at first, to handle.
"I was like, 'I want Portishead! I want to hear a beat! I want to hear drama! I want goth," Knowles laughs, remembering her initial designs on "Samson." Briggs put "literal explosion sounds" in the early version, he adds. It eventually resolved into the simplest and most mature track on the record, a resonant layering of vocal harmonies and little else.
"This is pretty much the only album I've ever done where I would actually take a producer role," Briggs says. "I haven't really done any pop albums before or since. [Knowles' songs] are just really good songs, and she's a cool person, and just the whole vibe … something about it strikes me. I want to expand as much as possible and work on every genre I can. And this was just the perfect intro into that world."
—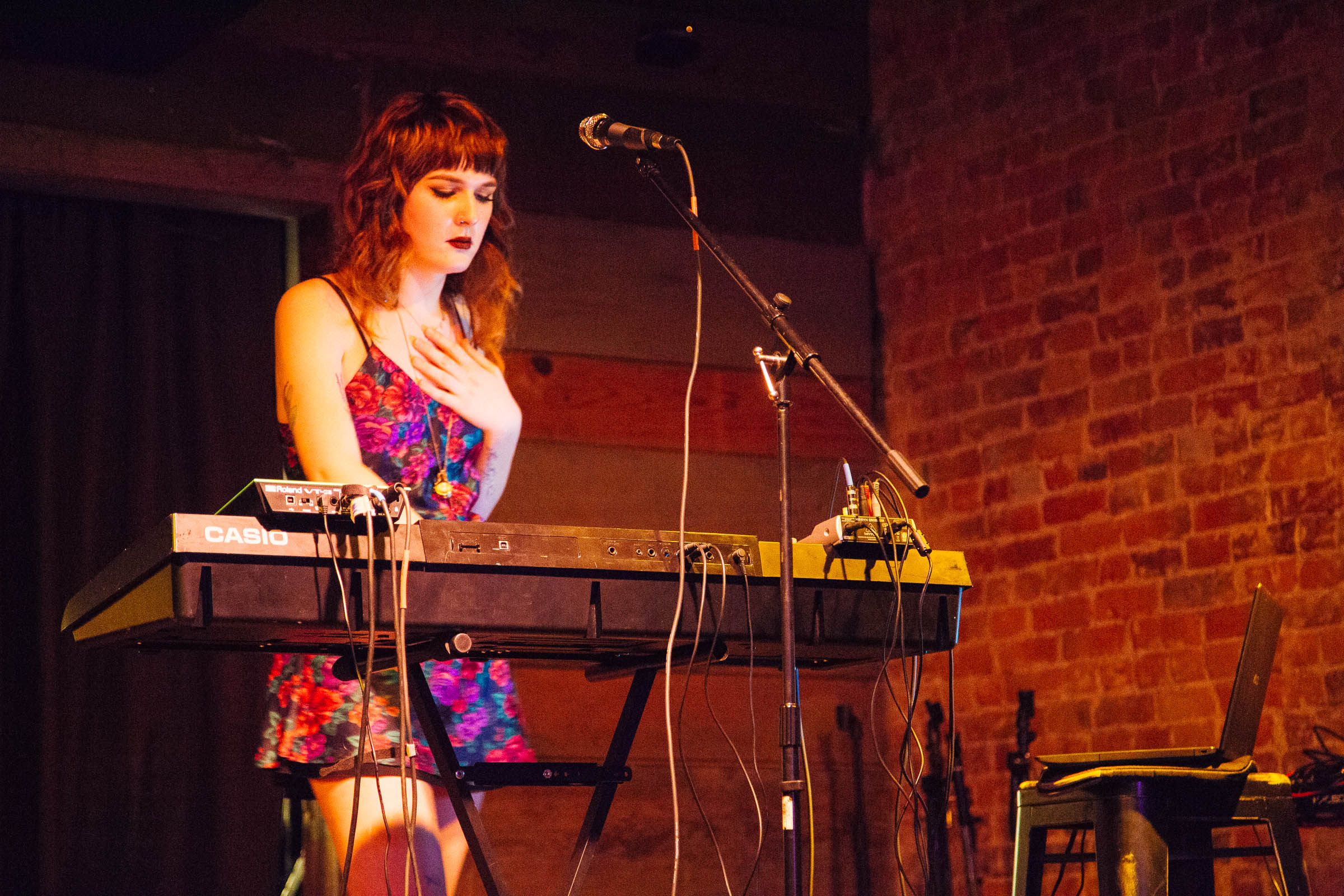 The pauses between songs are essential to notice when taking in Lorelei K's world onstage. As each anthem for suppressed loveliness ends, something is palpably freed. At times, Knowles deflects: "Tonight is so cute," she might say, thanking again the acts who opened amid such high-octane deliveries, noticeably reeling from her own expansive voice. Other times she'll wipe her eyes and thank everyone who came.
Knowles has already sent Briggs some new demos for the next record, one she says will be significantly pared down in favor of more gentle references to the siren song. She's drawing inspiration from Joanna Newsom's subtle concepts and long players.
"I feel like Be The Doll sounded really young," she says. "It felt very teenager-y – even the lyrics for the next one are a lot less confessional. You know – who said this? – 'Whenever you leave the house you should take one thing off?' I want to build a really big thing and deconstruct it, something that sounds minimalist, but it's not."
Coco Chanel's advice, there, is about decisions. Knowles is making more and more of them for herself. A recent Monday night at Andy's on Denton's town square featured a rare bill full of solo artists Knowles handpicked for the night, including Lorelei K. Which did she plan the show around?  Was it Harley Deville, the performer from Dallas whose chic but calm presentation evened the energy? Llora, the experimental artist with the hardest focus on composition?
She laughed. "Well, I'm headlining, so …" she teases, disappearing to help the next act onstage.
Get the FrontRow Newsletter
Get a front row seat to the best shows, arts, and things to do across North Texas. Never miss a beat.