Hip new
indie bookstores
, a seeming proliferation of wordy arts groups and authors, and the willful online hashtagging of so-called "
Literary Dallas
" have all gone a ways toward making the city feel more bookish in recent years. But the Wild Detectives and Deep Vellum lack the physical space to truly pack their shelves with titles, and a hashtag's potency evaporates the second you power down Twitter to, say, read a book. What has maybe kept Dallas from turning the page to a new and remarkably well-read era, however, has been the long absence of a full-service independent bookstore, one that can stock close to 20,000 books with enough room for #LiteraryDallas to turn up #IRL.
That could change Saturday with the opening of Interabang Books at the corner of Preston Road and Royal Lane. The 5,000-square-foot store will, for the first time in years, give Dallas something akin to BookPeople in Austin, or to Houston's Brazos Bookstore.
Jeremy Ellis, Interabang's general manager, has worked at both of those stores, as a general manager (Brazos) and marketing director (BookPeople). He's quick to say Interabang will have its own identity, shaped by its small staff of eight to nine people, and eventually, by its customers. Ellis, who got his start in this line of work at the now-departed Taylor's Books in Dallas, had kept his eye on the literary scene here. He saw the hashtag, among other things. And when he met Lori Feathers, now Interabang's co-owner and book buyer, and then Nancy Perot, H. Ross's daughter and someone with
a long interest in independent bookstores
, he saw an opportunity.
"The city is hungry for a shop that has some chops to it," he says. "The priority for our store is service and knowledge and curation."
By the time of its grand opening
—this weekend's opening is what they call soft—on Sept. 11, Ellis says the store will stock about 19,000 books. On Tuesday morning, employees were lining the shelves and finishing up decorative art. Ellis himself is the hand behind the cowboy, getting some light reading done on a bucking bronco, painted on the wall of the sizable children's books section. Judging from the title cards laid out, those shelves will on Saturday be largely filled with volumes from a diverse sampling of categories and genres. (It's all about the writing, Ellis says, high-brow, low-brow, or otherwise.) Interabang will post a big tent, heavy on new literary fiction and nonfiction, and with something for almost everyone, from sci-fi purists to paperback hobbyists. There will be commercial bestsellers, as well as those books you didn't yet know you needed.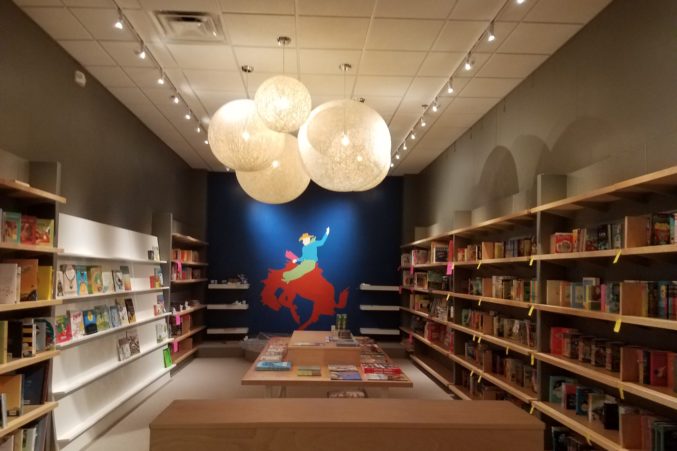 "Discovery is really the thing at a bookstore like this. You need to go without necessarily knowing fully what you want," Ellis says.
In an age where we can download entire libraries to our phones, while the ink-stained and old-fashioned may have
drones
simply zoom the latest Jonathan Franzen or Zadie Smith joint directly to their door, Interabang's owners are counting partly on that sense of discovery to keep the shop's doors open. Interabang is planning
a full slate
of author events, book discussions, and readings. What may also prove critical is how, after opening, the store is able to evolve to keep happy the readers flipping through the books on its shelves.
"I was at BookPeople the year that Amazon became Amazon," Ellis says. "There was a huge dying off of little stores, and it was shocking. The landscape shifted. The stores that lasted were the stores that were able to pivot."
There's also something to be said for chatting with a friendly bookseller about books
—Ellis notes, not incorrectly, that he is much more personable than a computer algorithm. The store, in its Preston Hollow shopping center across the street from a Barnes & Noble outpost, is also in a neighborhood with plenty of disposable income in circulation, on a corner with what Ellis calls "a certain bookselling mojo." But Interabang, he says, has more in common with newer independent Dallas stores like the Wild Detectives and Deep Vellum, both of which have found success in cooler, trendier neighborhoods by becoming spots for book lovers to meet kindred spirits.
"We're a reflection of the community in the store, not in the neighborhood," he says.
That, of course, depends on the broader community deciding to buy its books at independent bookstores. It depends on "literary Dallas" being more than a hashtag.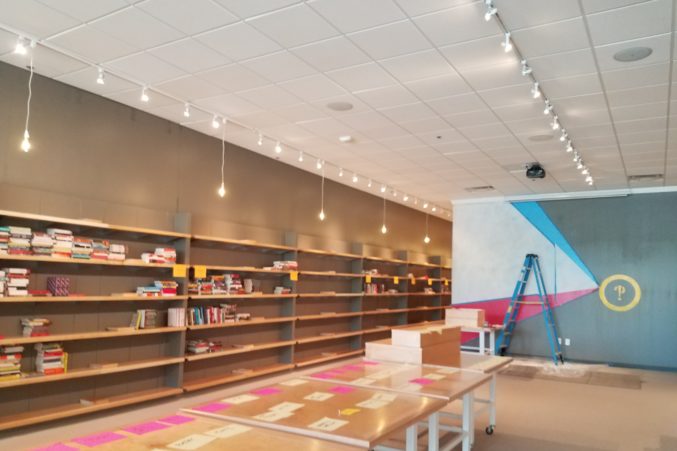 Get the FrontRow Newsletter
Get a front row seat to the best shows, arts, and things to do across North Texas. Never miss a beat.