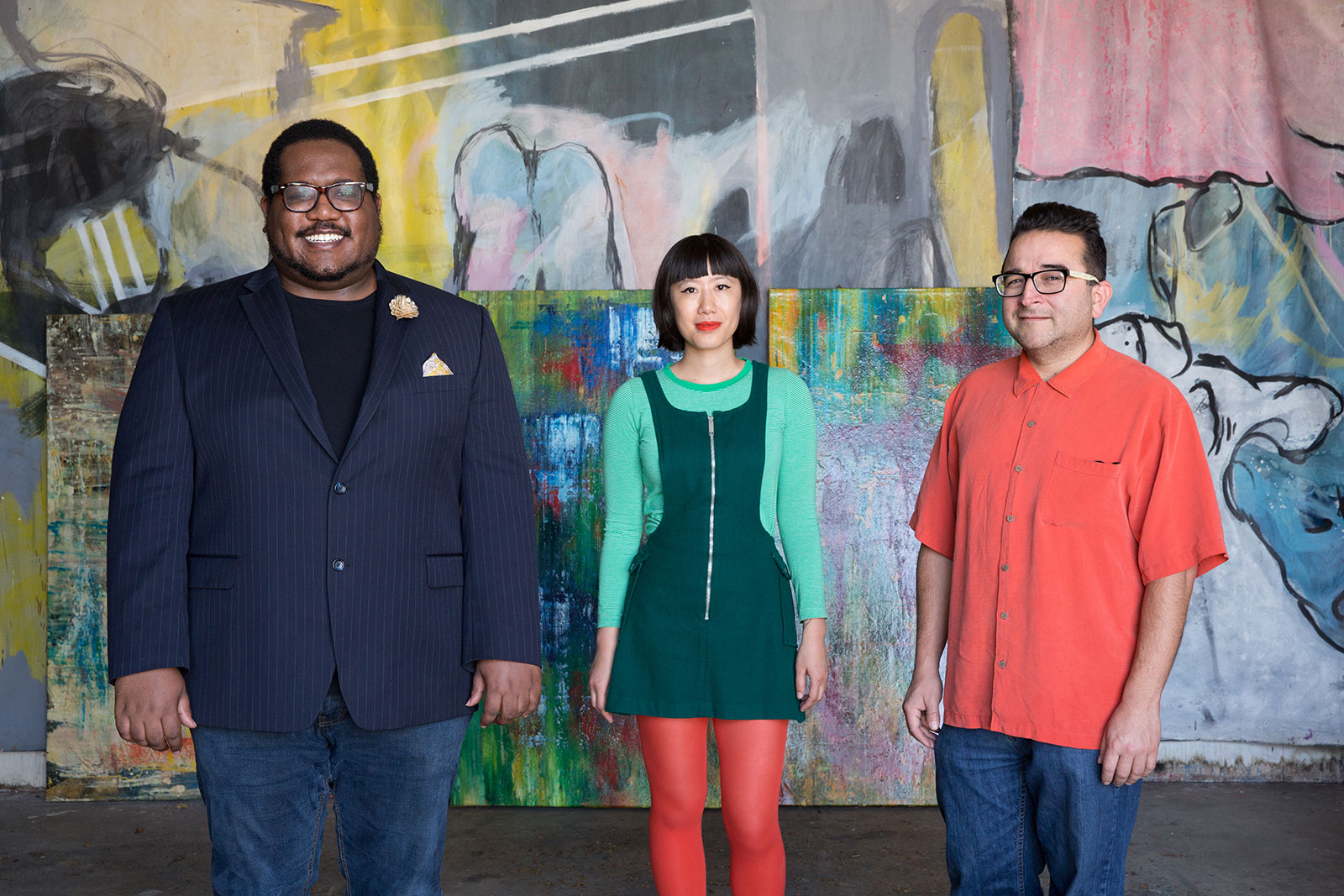 How Dallas Is Addressing Cultural Equity in the Arts
Dallas has a new grant program designed to address cultural equity. But first the city has to figure out exactly what that means.
It was an impressive gathering of cultural bigwigs: administrators and curators from the Dallas Museum of Art and Nasher Sculpture Center, executive directors from cultural nonprofits large and small, the acting head of the city's Office of Cultural Affairs, and members of the media. On a gray Tuesday morning in early March, they were all seated around tables set up in the lobby outside the auditorium of the Latino Cultural Center. Typically, it takes a fundraising gala, award ceremony, retirement party, or something along those lines to get all of these people in one room. But on this day, we discovered there was another way to bring everyone together: the complicated mix of feelings—goodwill, along with shame and guilt—stirred up by the phrase "cultural equity."
Our hosts were an art collective called the Michelada Think Tank, which consists of artists from Dallas, Los Angeles, San Diego, and New York. Unlike your traditional band of artists, the Michelada Think Tank crew does not make things. They stage conversations, often paired with the beer-based Mexican cocktail from which they derive their name. The drinks help loosen tongues and calm nerves, which is useful when talking about difficult and often uncomfortable issues like the ones facing artists of color who are working in a predominantly white art world.
There were no micheladas at the morning meeting, only coffee, and barely enough of it to go around. After some brief introductions, the artists distributed strips of paper with various words and their matching definitions. We then had to mingle about the room, looking for whomever held our corresponding word or definition.
"Are you 'microaggression'?" I asked a middle-aged woman whom I later found out runs a nonprofit with a large budget.
"No," she responded. "I'm 'institutional racism.' "
It was something of an awkward icebreaker, but the exercise set a tone. If we are going to talk about cultural equity, it is important to speak in a common language.
Dallas has been talking a lot about cultural equity of late. From flare-ups on Facebook over racially insensitive marketing (Art Conspiracy's "Art Convicts" campaign) to public blowups over how nonprofits handle racially charged content (Lauren Woods and Cynthia Mulcahy's segregated parks project), the city's cultural sector has engaged in a conversation that is rooted in a broader national re-evaluation of the legacy and lingering impact of the country's racial history. In March, the Office of Cultural Affairs also announced a new $225,000 grant program designed to fund projects that address cultural equity.
Which brings us back to the question of definitions. With all this sudden attention to and funding for cultural equity, what, exactly, is meant by the phrase?
I put this question to Darryl Ratcliff, writer, artist, and Michelada Think Tank co-founder. Since showing up on the Dallas art scene with his Green Bandana Group promotion company in 2009, Ratcliff has become known for throwing parties, organizing concerts, and curating art exhibitions that feature inclusive programming and draw large and diverse crowds. Now based out of Ash Studios near Fair Park, Ratcliff was once an artist in residence on artist Rick Lowe's community-based social artwork Trans.lation: Vickery Meadow (a position now held by another Michelada co-founder, Carol Zou) and spent much of 2014 organizing margarita parties that doubled as think tanks for the Dallas creative community. (Full disclosure: Ratcliff and I have been known to fraternize from time to time, and in 2014 D Magazine partnered with him on an event called A City Under the Influence, which raised money to fund artist projects.)
So how does Dallas' banner carrier for cultural equity define the term?
"Is there a definition for cultural equity?" Ratcliff says with a chuckle. He tells a story of showing up at a Design District gallery while still a college student and immediately recognizing that he was the only African-American in the room.
"Since [the issue of cultural equity] reflects a lot of what people experience and feel, it has never been a hard argument to make," Ratcliff says. "It is a very in-your-face thing."
Put most generally, cultural equity seeks to address a situation that anyone who frequents Dallas galleries or the institutions in the Arts District—or any other cultural activity, for that matter—can easily recognize. Audiences, participants, administrators, and proprietors of much of Dallas' cultural scene still self-segregate.
"When we talk about cultural equity, we mean that we want to have the voices, the stories, the perspectives of people of color who live in this city represented with real power and proportionately," Ratcliff says. "Communities of color make up the majority of the populations of this city, and that isn't reflected in our cultural output."
Ratcliff drove home this point most provocatively in an article he wrote in 2014 on the Texas arts website Glasstire. He listed 13 of the most prominent galleries in Dallas and tallied up how the artists in their stables broke down according to gender and race. Unsurprisingly, half were white male and only 2 percent were black. The pushback the article received was almost as telling as Ratcliff's findings. When faced with the broader reality that invisible barriers of entry and racial borderlines run all through Dallas' cultural scene, commenters looked for easy explanations or excuses like blaming the art market, Ratcliff's methodology, or arguing that Dallas merely reflected national trends.
The issue isn't unique to Dallas. In January, the United States Urban Arts Federation, which consists of the heads of the arts agencies of the nation's 60 largest cities, met to discuss the issue of cultural equity at a conference in Los Angeles. David Fisher, interim director of the Office of Cultural Affairs, attended that conference and said that much of what was discussed dovetailed with conversations he had been having with people like Ratcliff, as well as City Council members and other arts leaders.
"If you look at all of the barriers to participation in the arts, they link and they overlap," Fisher says. "There is no one thing that we could go fix, but they are all sort of interrelated: language, economic, transportation. I may have transport and time, but I may not feel welcome."
Dallas' new cultural equity fund is one of two artist grant programs Fisher's office has rolled out, growing direct public funding for artists from zero to nearly $500,000 in just two years. Typically, public funding for the arts in Dallas goes toward maintaining cultural venues as well as providing funds for dozens of cultural organizations. But this new (for Dallas) way of funding for art has the potential to greatly increase the diversity of programs and artists the city can support, while, in turn, expanding the diversity of audiences interested in the cultural programming the city is funding.
"The notion of equity, is that everyone has access to quality art experiences in their life," says David Fisher.
"This notion of equity, it is not that everyone can go to the symphony," Fisher says. "It is that everyone has access to quality art experiences in their life."
By the end of the Michelada Think Tank's morning session in March, the feel of the event started to shift from corporate retreat to public performance. We were all invited to write down what we could do within our own organizations to promote greater cultural equity. Then attendees stood and read their responses. There they were, some of the most powerful cultural players in the city, standing in front of their peers and admitting there was work to do. They spoke of diversifying curatorial staffs, broadening their outreach to new audiences, and being more deliberate about making programming inclusive. It felt like an achievement of sorts, a confessional catharsis along the lines of an AA meeting.
The multiethnic, ragtag cohort of artists at the front of the room sat back and took it in. They had succeeded in what may be the first and most important step in achieving cultural equity: getting Dallas' cultural leaders to admit they really do have a problem.
A version of this column appears in the May issue of D Magazine.