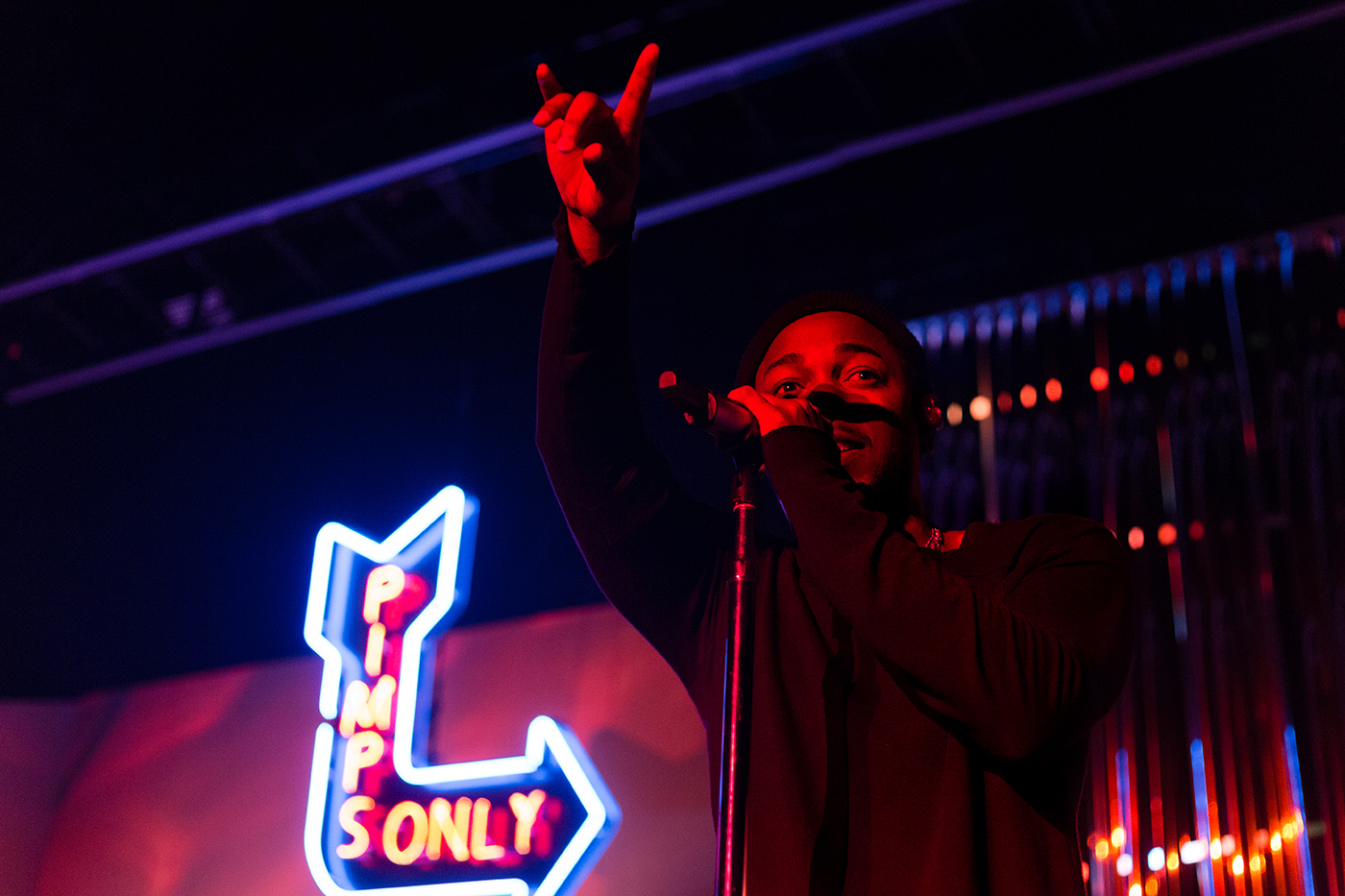 Kendrick Lamar Makes It Personal at Charged Dallas Show
Everything's 'alright' with the Kunta's Groove Sessions tour.
Kendrick Lamar unveiled himself to a rabid audience Thursday night, stepping out from behind shimmering curtains onto a stage drowned in red neon light with an accompanying sign that read "Pimps Only." The Compton-born artist moved past a gaudy stage setup complete with a white leather sofa, a black panther sculpture and a zebra skin rug to plant his microphone stand at the front of the stage. The crowd sounded as if it could hardly contain itself, but before Lamar acknowledged them or rapped a single lyric, he took a few seconds to coyly take his position behind the microphone, weaving back and forth like a boxer hesitant to set up a haymaker. At the time, the gesture didn't seem to be more than a playful touch from a charming entertainer, but as the show progressed, the magnitude of the moment played out to be much greater.
Lamar's show in Dallas at the South Side Ballroom was one of the first of his Kunta's Groove Sessions tour, which is only seeing an eight-city run. While the tour was initially billed as a series of intimate shows in support of his seminal album To Pimp A Butterfly, in an odd turn of events, the show ended up in one of Dallas' larger venues instead of the originally planned setting of the 1,500-person capacity South Side Music Hall. Although the Ballroom has the potential to hold up to 3,800 people, the room was about three-quarters full, maintaining some semblance of intimacy. To Lamar, though, this was no doubt an intimate affair. He mentioned early on that he's grown used to playing in front of 80,000 or 100,000 people, just part of the whirlwind of change his life has undergone recently.
The 28-year-old Lamar's performance was fantastic, as sharp and well-timed as any seasoned stage veteran. Lamar's ability to perform his raps live with intensity and enthusiasm is admirable when so many rappers are resigned to letting a backing track do the work. The natural rasp to his voice is enthralling, and delivers home the thought that every Kendrick Lamar song is important. His backing band, dubbed the Wesley Theory, added depth to the rich, soul and jazz-inspired sonics of To Pimp A Butterfly, something a backing track could not have done. With all that said, it was Lamar's brutally honest soliloquies between songs that generated a personal connection with the audience and propelled the high energy of the show to its epic finale. It's both endearing and jarring to listen to an artist as celebrated as Lamar unveil his insecurities.
He spoke of the toll on his psyche over the last six months, as his life's done a complete 180. While he's been told continuously of his own greatness, Lamar said he's tried to convince himself that he is who the world says he is. He spoke about the weight he feels on his shoulders to be the new head of his household — not just his home, but how he represents his entire family through all of history.
"This shit is personal, man," Lamar said. "This shit is personal."
And with that, Lamar's initial hesitation to step to the microphone at the beginning of the show made sense. To Pimp A Butterfly is immensely personal and important to Lamar—it's much more than a follow-up to his album Good Kid, M.A.A.D City, it's his soul and mental health on record. The only way for him to properly perform the album's tracks would be with absolute transparency, and so it's no wonder Lamar limited this tour to an eight-city run in smallish venues. Because if he's going to bare himself like this, it should only be for fans who are willing to snatch tickets to a show that sold out in 30 seconds. This may have been the only opportunity for his fans to hear tracks from the landmark 2015 album performed live, too.
"This might be the first and last time I perform To Pimp A Butterfly," Lamar told the audience.
It's possible this could be hyperbole to bring a greater fervor to his set, but last night's finale felt like it'd be hard to top. Iy might be worth calling it a wrap on this material. After his powerful soliloquy and a run of tracks including "King Kunta," "i," "The Blacker The Berry" and "Mortal Man," King Kendrick left the stage. Before he could make his triumphant return, the crowd began a chant of "We gon' be alright!" the hook from his latest hit song "Alright" and the predicted encore. Walking back onto the stage, Lamar had a genuinely astonished look on his face. The crowd refused to slow the chant ,and as he'd done throughout the night with the Wesley Theory, he began to compose the chant, calling for it to grow louder, and then slowly bringing the chant down to a slight whisper. This played out for several minutes. Before long, Lamar asked his band to start the track and the show hit its ultimate climax.
"Alright" may be the most important rap song of 2015 for a lot of tragic reasons, and if this is the last time Lamar will perform it or any material from To Pimp A Butterfly in Dallas, the Kunta's Groove Sessions tour was given a proper sendoff.