The scene at Trees on this Saturday afternoon plays like Back to the Future in reverse, the 1950s being re-introduced to a modern audience. Leon Bridges, the 25-year-old musician from Fort Worth, is onstage in a mustard-colored cardigan, singing about cake and ice cream. His band, the Chandeliers, includes a trio of backup singers and a saxophone player who employs the same shy tone found in the doo-wop hit "Angel Baby." There is a journalist in the crowd wearing a fedora and scribbling in a notebook. He seems like part of the retro-leaning act.
The afternoon gig may not actually be from a movie—it's part of a benefit concert—but it still has the whiff of fiction. Bridges is the closest thing to a fairy tale the North Texas music scene has had in years. Capping his meteoric rise, the young soul singer signed with Columbia Records on Christmas Day, a neatly wrapped present to a community starving for validation. And Bridges is, perhaps, the perfect hero of this tale. The music establishment here loves a period piece.
As soon as Bridges ends his performance at Trees, Gavin Mulloy, the club's marketing director, insists that I golf-cart with him to a half-finished building on Canton Street. The structure was a Ford assembly plant before it became an explosives manufacturer during the Second World War. It later become a music venue, its name a play on its wartime use: the Bomb Factory.
The venue has been closed for almost two decades, but it is now being resurrected by Mulloy's boss, Trees owner Clint Barlow. It's familiar terrain for Barlow. He and his wife, Whitney, similarly brought Trees back from the dead almost six years ago. Donning a hard hat, Mulloy paces the venue excitedly, pointing out the proposed amenities, including tinted windows and luxury suites. It's safe to say the old Bomb Factory, which didn't even have air conditioning, lacked such comforts.
Indeed, Deep Ellum has not seen a venue of this stature in a long time. Deep Ellum Live, which closed in 2004, was the last venue here able to host bands like The Cure and Weezer. (People tend to mix up the Bomb Factory and Deep Ellum Live in the collective haze of concert memories, at least in part because they share the same block. "It's driving me crazy," Mulloy says.) When its rebuild is complete, the Bomb Factory will accommodate up to 4,300 people. "This is the largest independent room in Texas," Mulloy says.
The announcement in November 2013 that the Bomb Factory was coming back set off a wave of nostalgia regarding the venue's first go-round. But Mulloy is less than romantic. He never visited the original. "I've heard a lot of bad things about the old Bomb Factory," Mulloy says. "Everyone needs to know this is a completely different thing."
If that's the case, one wonders why there is any need to retread old ground at all. I explain to Mulloy that I'm 35 and still not quite old enough to have frequented the Bomb Factory as part of my teenage Deep Ellum experience, in the late 1990s.
"I think us saying, 'Hey, we're opening the Bomb Factory,' to people your age and above already resonated with people, so you don't have to tell that story as much," Mulloy says. "Because it's really hard to get people to understand things, especially when they're, like, new or different.  You start over and call this Santa's Fun Palace or whatever you want to call it, then, you know…" He trails off.
Touring the Bomb Factory, I'm reminded of something. A hip term for the state of visual art is "zombie formalism"—referring to a mishmash of acceptable and safe techniques that has been adopted in painting's closed-case movements. Dallas, it could be said, applies the zombie approach to its music scene, cannibalizing its own history in the process. Consider the following: Trees, Club Dada, and the Bomb Factory have all been closed at one point during the past decade and change. In April, all three venues will be open at the same time for the first time since the 1990s. We keep revisiting the past, re-creating old venues as though the problem was the venues, not the people playing in them.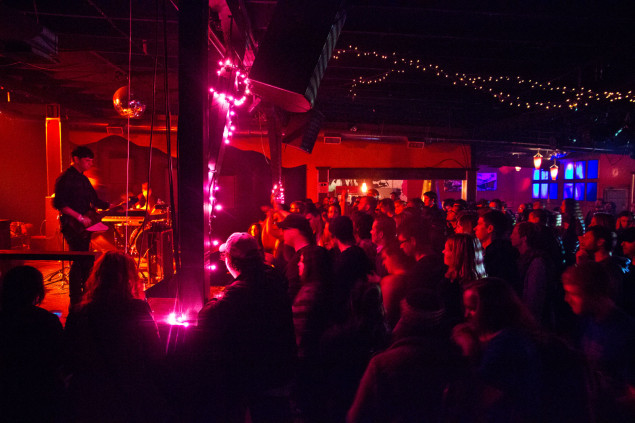 It's not just in Dallas. This month, 35 Denton returns after a one-year hiatus. That the back-from-the-dead festival has secured the Zombies as its headliner is almost too perfect. In addition to Spillover Fest and South by So What—both remarkably in their eighth year—35 Denton exists as part of North Texas' annual lineup of events that siphon off of the improbable riches of Austin's South by Southwest each March. It makes some sense, then, that Austin booking powerhouse Transmission Entertainment decided to expand north. In October, the company merged operations with Tactics Productions (founded by longtime local booking agent Kris Youmans) and partnered with former Granada Theater talent buyer Ryan Henry. The new operation is called Transmission Dallas.
On the day Transmission Dallas announced its existence, I spoke with Transmission general manager Bobby Garza. In addition to being a capable promoter, Garza is the former chief of staff to Austin City Councilman Mike Martinez. During our conversation, he spoke about the importance of a relationship between the music scene and the city. I asked if his background in politics has helped strengthen that connection in Austin. "I think it's made us a lot more in touch with the idea that we have to partner with the city on some level," Garza told me. His comments made me realize that Dallas' music scene lacks this kind of professionalism.
To some, Transmission's expansion into North Texas meant that it was likely a festival was on its way, too, given that Transmission built its reputation on the popular Fun Fun Fun Fest. "In the future, I don't think that's something we would rule out," Garza said. "We want to be involved in the coolest, smartest stuff with respect to music that's around in every city that we're in."
That should be everyone's goal, though it will say a lot about this city if, to achieve it, we needed help from a group of Austinites. But not everyone considered a destination festival—a la Fun Fun Fun, SXSW, or California's Coachella—part of that mission. Mulloy doesn't.
"I don't want to do a festival at the Bomb Factory at all right now, in any capacity," he says. "Dallas has got this 'We don't know who we are' thing going on, and it's like, if we get a festival, that will define us."
It would be ironic if Leon Bridges' old soul helped the North Texas music community figure out its future, if he helped define us. But it's possible. Perhaps someday Bridges will play a homecoming show following a world tour, coming back just in time to take the top slot at a brand-new venue or a festival that's entirely our own—not borrowed from our past or another city's present. In that case, a doo-wop singer in a cardigan seems downright futuristic.
Get the FrontRow Newsletter
Get a front row seat to the best shows, arts, and things to do across North Texas. Never miss a beat.