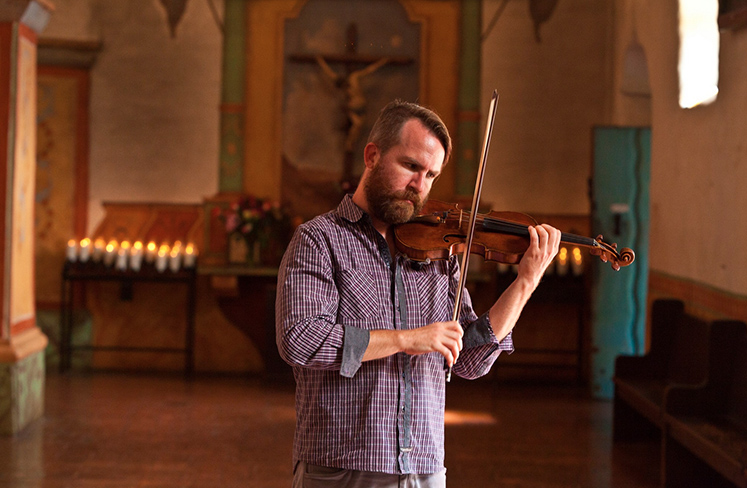 SMU Artist-in-Residence Matt Albert Brings Touch of Absurdity to Music Program
Live performances of modern, avant-garde, and newly composed art music are relatively scarce in Dallas.
Live performances of modern, avant-garde, and newly composed art music are relatively scarce in Dallas. Among those doing something about this deficit is SMU's Artist-in-Residence and Director of Chamber Music, violinist Matt Albert. As a founding member of eighth blackbird, a Grammy Award winning new-music ensemble, Albert is an accomplished violinist and chamber musician with an expansive knowledge of contemporary classical music.
At SMU, Albert directs SYZYGY, the Meadows school's somewhat awkwardly titled new-music ensemble. Last week, with the help of some impressive guest artists, Albert and SYZYGY presented a free, hour-long concert of 20th and 21st century classical music. The program included famous works by pillars of the avant-garde tradition alongside a smattering of more contemporary pieces (composed in 1995, 2002, and 2014 respectively). As a whole, the program exemplified the quirkier, more absurdist edges of modernism.
Thursday's concert opened and closed with vocally driven works by Philip Glass and György Ligeti. Members of the vocal ensemble Roomful of Teeth contributed superbly executed vocals to both Glass's "Knee Play No. 2" (from Einstein on the Beach) and Ligeti's Aventures & Nouvelle Aventures.
Albert has great stage presence both as a presenter and performer. He opened the concert by framing all of the music on the program as connected by the common thread of absurdity, and by giving the audience permission to react to what they heard in any way they wanted. He then picked up his violin nonchalantly and launched into the familiarly repetitive tune of Glass's "Knee Play No. 2."
Albert appeared to be alone in this performance as he projected the hypnotizing violin solo into the auditorium, but he was soon joined by a group of vocalists who were scattered inconspicuously throughout the audience. Like a busy hive of bees, the speakers stood and erupted into a buzz of partially coherent jabber, moving, as they spoke, from their places in the audience down towards the stage. All the while, Albert played on, watching his collaborators carefully as they joined him on stage and as their voices dropped off one by one until, once again, the lone melody of his violin was left unaccompanied.
Much like an anatomical joint connecting the femur and tibia bones, Glass's "Knee Play No. 2" was originally composed as a brief musical interlude linking Act I to II in the opera Einstein on the Beach. During the SYZYGY concert, "Knee Play No. 2" acted more as an overture, welcoming the audience into the startling sound world of the avant-garde and reminding them to be on alert, always prepared for aural surprises.
Having sufficiently whet the audience's appetite for the unexpected, the group then presented a series of new, unfamiliar works by contemporary composers – Quiet Rooms by Igor Santos (2014), Hoquetus Petrus by Harrison Birtwistle (1995), and DiGiT #2 by Mayke Nas (2002).
In Quiet Rooms, a piano and string quartet were augmented by flute, clarinet, and percussion. Gentle, shimmering chords floated from the piano as bows on strings and wind through pipes worked together to create the kind of ephemeral, ambient sounds that are ever-present, even in the quietest of spaces. A different take on minimalism than the classic repetitive motives of Glass and Riley, the focus here was on brief, seemingly scattered and disjointed sound-motives. The piece effectively drew the audience into an atmosphere of its own that was reflective and peaceful. If there was absurdity here, it was in the tongue-and-cheek reminder that "quiet" – in physical or mental spaces – is rarely as truly silent as we perceive it to be.
Harrison Birtwistle's Hoquetus Petrus provided more of a traditionally composed trio of melodies. The performers (two flutists and a trumpeter) stood in a semi-circle, facing one another. Their sound met in the middle of the space, blending into a unique, brassy timbre of shimmering, bright melody. Nas' DiGiT #2 was performed in between the two "movements" of Ligeti's Aventures & Nouvelle Aventures, acting almost like a humorous interlude or "knee play" of its own. The piece requires just two performers seated at the piano, performing a meticulously choreographed rhythmic dance of cluster chords and knee and hand slaps and claps, like a sophisticated version of patty-cake at the piano. It was impossible not to smile as the complexities and humor of this piece unfolded.
Ligeti's "musical-dramatic play" provided the evening's healthiest serving of absurdism. The drama of this "play" unfolds between three vocalists who use utterances – groans, hisses, squeals, and nonsensical chatter – to portray emotion and communication sans words. Three members of Roomful of Teeth, Esteli Gomez (soprano), Virginia Warnken (mezzo-soprano) and Cameron Beauchamp (bass), provided completely engrossing and fully theatrical performances. Virginia Warnken in particular was mesmerizing as her voice and face contorted, portraying a seemingly endless number of emotions and expressions.
The all-student ensemble, who performed on instruments both traditional and nontraditional, followed conductor Patrick Dupré Quigley's lead with precision and attention. Percussionist Chris Hadley had perhaps the most fun, augmenting traditional drums with hammers, balloons and a plate of china dropped into a metal trashcan. The entire piece came off cohesively, theatrically, and somehow also quite musically.
Look for SYZYGY's next concerts during the spring semester and, in the meantime, get your avant-garde fix by watching this clip of the ensemble rehearsing Ligeti's absurdist drama with the three members of Roomful of Teeth. It serves as a reminder that the ridiculous and the sublime often coincide, and, thanks to Matt Albert and SYZYGY, can frequently be found on the campus of SMU.