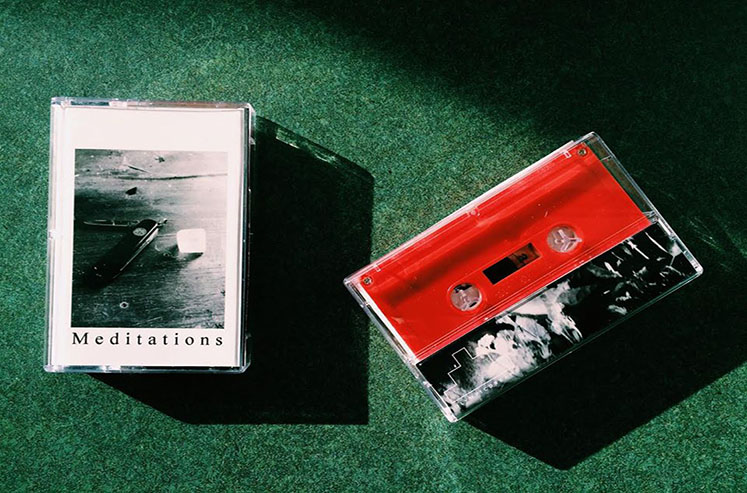 A Spooky Local Halloween Compilation; Plus: Your Weekend Concert Picks
An All Hallow's Eve compilation becomes a yearly tradition for one local band.
For the third consecutive year, the guys in Denton's Blessin' have curated a special Halloween-inspired compilation featuring several of their friends from other North Texas bands. The tape which is pictured up above, is released in limited quantities on Denton label, Olympic Dreams Records. The third edition of the compilation series, Meditations in Fear Vol. 3, includes new and original songs from Mink Coats, Dripping Wet, Delia Haunt, Hat Hair, Nite and many more rarities that will provide the perfect level of seasonal atmosphere to your evening. If lounging around the house while spinning Cleaners From Venus or Psychic TV on Halloween night appeals to you, then maybe give this a listen.
The compilation and Halloween are timely in their arrival because Mink Coats, Dripping Wet and Blessin' all play shows in the coming days. Mink Coats and Dripping Wet will be performing alongside Austin's Tele Novella on Sunday night at Rubber Gloves. Blessin' will be at City Tavern on Monday night opening for Wampire and Tops, a couple of national acts who have released two of the season's more worthwhile albums. You can give the free download of Meditations in Fear Vol. 3 a listen and even purchase a copy of the tape via Olympic Dreams Records. — Eric Martinez 
Friday
Octopus Project | K. Flay | Datahowler (Club Dada): Octopus Project is a pretty big band to be performing at Club Dada, but that may be just the first sign of Transmission Entertainment's impact on subtle details such as crowd and venue ratios. Just a guess. — Christopher Mosley
Vulgar Fashion | Street Sects | Track Meet | Tracey Yemen (Vice Palace @ OFG.XXX): If I had to pick a Halloween show, it would probably be this one. I want to be at any party where the dance collective Track Meet is, and Vulgar Fashion loves Halloween. They sing about loving vampires and all that nonsense, you know?
Tracey Yemen is a band that has an artist (Art Peña) and a curator (Kevin Rubén Jacobs, of Goss Michael Foundation). I'm interested to hear this, but I'm a little concerned. First of all, my favorite EP of all time was made by a New York art scene No Wave band called Rosa Yemen. The names are too similar for my taste without being an outright tribute. Surely someone in this crowd is aware of the extremely essential work of French singer, Lizzy Mercier Descloux, oui?  I wonder how many art panels the New York art scene had in 1979. I have an idea; let's call it "The Halloween Non-compete Pact of 2014." How about the artists let the musicians make music, and you musicians promise not to make art. Is that a deal? Oh, and writers, please keep being entirely useless altogether. I'll start. — Christopher Mosley
Larry G(ee) | Quaker City Night Hawks (Granada Theater): Halloween is supposed to be a little crazy and scary, but if you want to have a safe holiday, this is probably your best bet. — Christopher Mosley
Saturday
BLuDDeD HEAD's "Reign in Bludd" Album Release (Rubber Gloves): BLuDDeD HEAD are celebrating the release of their new album, Reign in Bludd, at Rubber Gloves in Denton. According to the band, the new album is a "testament to the sickness of life and the boredom of hospitals." They will be celebrating with Fungi Girls, Dim Locator and geistheistler. Each paid admission comes with a digital download code to access the new release. — Eric Martinez 
Untapped Festival Dallas (Gilley's Dallas): Considering the size of this single-day festival, it has quite the variety on its bill. Never thought I'd see Cake headline a mini-fest in which Deltron 3030 and Metz where both playing, but it's happening. The latter two artists have piqued my interest in this fest, along with the dozens of breweries that will be on tap. — Eric Martinez 
Other Saturday shows—
Rachel Yamagata | The Dove and the Wolf (Sons of Hermann Hall)
Son of Stan | Catamaran | -topic (Club Dada)
Sunday
Tennis | Pure Bathing Culture | Bethan (The Loft): You can read about Tennis in our concert preview in the new November issue of D Magazine, so I'll shift focus to perhaps one of the more charming and overlooked records of last year. Moon Tides, the debut full-length from Pure Bathing Culture, captured the flourishing dream pop of the 80s amid disarming soaring synths and sun-showered shimmering electric guitars. They were a somewhat cathartic opener for La Luz earlier this year and will no doubt soothe the attention of those attending Tennis on Sunday night. — Eric Martinez