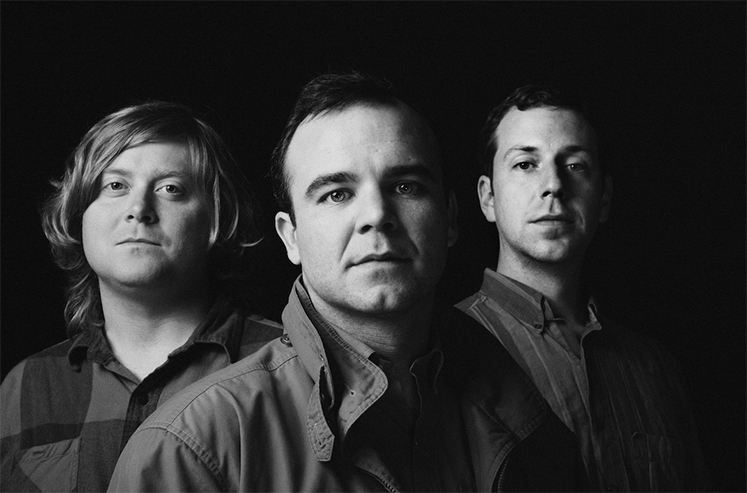 SXSW Preview Part II: Future Islands, Teen Flirt, and Joel Ford
A gentle nudge in the right direction.
As you may be aware, South By Southwest has already started. How do I know? MTV has already produced copy rife with Texas cliche regarding Justin Bieber's unannounced performance last night, so it must already be happening. Lady Gaga will be the keynote speaker, and as Michelle Ofiwe pointed out yesterday, will also be playing at Stubbs. Skrillex will be there. These are the universally known acts that either fill people with uncontainable excitement regarding the festival, or they're an easy go-to list of why the event has supposedly gone completely downhill.
South By Southwest is so complex that the more you research it, the more rewarding the experience becomes. Most people don't have the time for that, and while I understand, a friend of mine did ask, "Hey, Chris, are you going to write your yearly piece where you basically call everyone a dumb piece of s*** who doesn't like South by Southwest?" Well, no, that's just rude. I'm not going to do that. But I am going to tell you why you should think twice for dismissing it. Here we go:
Wednesday, March 12
Teen Flirt (Avenue on Congress, located at 408 Congress Ave): There is a sensitivity to Teen Flirt's approach to bass music that's not exactly common in the genre. The Monterrey, Mexico DJ's appropriation of dusty RnB records imbues a haunted quality to an otherwise thudding party. The artist also runs a label called Finesse, which is a truth-in-advertising collection of like-minded aesthetes. Set time is 10:20 pm.
Also: Make sure to catch Teen Flirt with Dallas DJ collective, Track Meet. They'll be playing a day party together on Thursday from 12 pm-7pm at YETspace, which is located at 912 Congress Ave. Details are available here.
Trust (Swandive): I had pretty high hopes for dramatic synth-pop act, Trust, last year, since they dominated the last part of 2012. However, they seemed to have spent most of 2013 touring and recording. We finally have the evidence of all that work as they released their newest record, Joyland, just last week. The singles are already getting plenty of acclaim and the band seems to be warming up to its larger audience with an expected amount of catchiness. The group doesn't exactly try to go searching for approval however; they mostly mope in the corner until you notice. And with a singer as over-the-top as Robert Alfons, how could you not? The band headlines with a 1 a.m. slot.
Twin Peaks (Half Step): Again, the joy of covering new bands year-round instead of just at industry conferences, is that you get the occasional midweek heads-up about some struggling, young act who you know will (hopefully) be eating a little better by the time South By rolls around. Twin Peaks is one good example. After catching the Chicago band at Three Links last fall, the result was a gushing review by which I still stand. The group's combination of melody, silliness, and enthusiasm is the kind of thing that label executives used to scour the world for. As much as has changed in music, some of those elements remain timeless.
Thursday, March 13
Future Islands (Cheer Up Charlie's): The Ed Sullivan-esque effect that Future Islands' performance on The Late Show with David Letterman has had on their career has been remarkable. I watched the number of views jump from about 300 to nearly 200,000 in only the past week, and I feel like half of those were from clicking the replay button. It's simply one of the most fascinating live performances I've seen from a band on network television. Though I remember enjoying the band at the Fort Worth Modern a few years ago, but they didn't have as much immediate grab as they do now. They have truly gelled to incorporate the quirkier growling portions of their material with the inherent beauty it often possesses. It's still awkward when Samuel T. Herring lets out a painful sounding howl, but the overall passion of the effort is winning people over in droves of late. This might be one of the least forgiving lines at the festival if those video hits are any indication. The band performs at 1 a.m.
Friday, March 14
Joel Ford (The Iron Bear): This is a DJ set by the mysterious producer behind everyone from Oneohtrix Point Never, Autre Ne Veut, to Ejecta. Sets like this are useful for determining which DNA strand leads where, and for a man whose touch is on such a diverse array of records, that should prove fascinating. Ford's set starts at 11:40 pm. Juan Maclean plays at 1 am at the same show, so stick around for that.
Annie Mac (The Majestic): The BBC's famously relaxed DJ has a special guest that really raised my eyebrows: Kelis. You are likely familiar with her near-perfect trio of hits going all the way back to 1998: "Bossy," "Milkshake," and "Caught Out There" (aka "I Hate You So Much Right Now"). In one of the odder stories this year, the enterprising singer also has a food truck, which will also be making an appearance at the festival. I would be lying if I said I wasn't interested.
Saturday, March 15
Prince Paul (The North Door): Prince Paul's legacy is an exercise in contrasts. He is somehow responsible for both De La Soul's peace-and-love early era, as well as the dawn of horrorcore, a lyrically gruesome style that still occasionally pops up today. He is as talented as he is versatile, and you should take an opportunity to hear an actual hip hop legend, as it's not often that he is in Texas.
Low Pros (Empire Garage): Low Pros is the highly successful collaboration between Fool's Gold records founder and Kanye associate, A-Trak, & radio rap producer, Lex Luger. This is getting a special highlight however, because Migos is supposed to make a guest appearance, and it might be easier to catch the polarizing act here than their showcase, or say, a strip club in Dallas.
Image: Future Islands. Credit: Tim Saccenti.