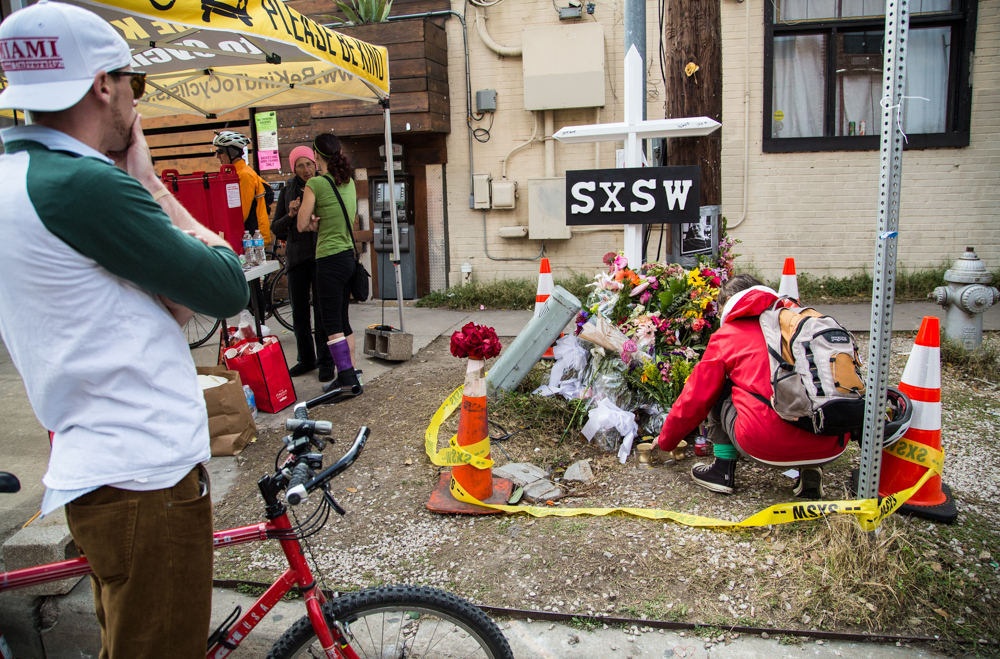 A Hard Look Back at South by Southwest 2014
The moment when everything changed.
On the eve of the annual trip, I am sitting at the Single Wide and joking to a well-known musician in Dallas that what I love most about South by Southwest is "the chaos." That no matter how out of hand it gets, I always look forward to the arrival of cops on horseback as they line up on Sixth Street that last climactic Saturday night when the bars close, like a thousand horsemen of the apocalypse instead of just four. People are shoulder to shoulder, laughing, screaming, and generally being outwardly rowdy. It's my Running of the Bulls, my Mardi Gras.
To me, that moment always physically represents the culmination of a truly untamable combination of people from all over the world who are away from their laptops and out in the streets, unabashedly gushing with one another about their passion for art. After 10 straight years, it is a romance I am always willing to temper with some concessions. But to what extent? At SXSW 2014, I would find out.
I only thought I was weary when I arrived in Austin, rushing to find parking on the East Side and securing credentials at the Convention Center. Every day the walk is longer, until it approaches a half hour or more. I sneak away to Burger Tex on Airport Boulevard just before it closes, since I assume it will probably be fairly empty. I am right.
A decade ago I would eat here while struggling as a musician and an employee at a CD store; two Austin cliches if there ever were any. The Portland Trail Blazers are battling the San Antonio Spurs on a pre-HD big screen, one that reeks of the luxuries of 1997 or so. The effect is calming, and I still contend that this particular location could smoke any of the unnecessary finesse of most of the pretty sandwiches in Dallas. But I don't need this rest yet. I just think I do. I make my way downtown to finally take in a show or two. It's about midnight before I actually see anything.
The Incident
A friend wants to see Kurt Vile, and I'm too tired to argue. It isn't that I outright dislike the singer/songwriter's music, it just seemed an odd choice to start really getting into the thick of the party. This is music you cry to on your way to work, not kick off a music festival. Vile is playing at the new location of Cheer Up Charlie's on Red River, and there is a long line to get in, extending out into the street. The Mohawk next door has an equally daunting line, and it's only Wednesday.
I don't complain about this the way others do. It's healthy. What's so wrong with people willing to wait to support either their favorite or even better, unknown artists in such droves? People in line are told to move toward the sidewalk and away from the street by officials. I'm annoyed. "The street is blocked off," I think. What does it matter?
Inside, Kurt Vile vacantly performs his cultivated yet frayed acoustic act. He mumbles his way through a familiar selection of songs while sitting onstage. He sounds like J Mascis sleep-talking over the John Fahey Christmas record. All of us wish he would stand up, especially D Magazine photographer Andi Harman. She salvages what she can and heads next door to the Mohawk, where anomalous and essential Los Angeles punk band X is performing.
People are talking loudly and there is so much background noise that it's a wonder that Vile doesn't get lost in it. All of that noise is shielding us from something, whether we know it or not. I agree to meet Harman before Tyler, the Creator performs. I need something harsh and offensive to knock the traveling dust off and to forget about this mournful folk music for a moment. Just a little after 12:35 am on the morning of Thursday, March 13, I go outside to Red River, between 9th and 10th Street.
I walk out to an eerie scene. People everywhere are crying, loudly. My friends recoil behind me as they see bodies on the street, and I feel myself walking forward almost against my will. No ambulances have arrived, just a stray officer or two and plenty of South by Southwest officials. I see what looks like a very hopeless CPR attempt. I start taking audio, which is horrifying upon additional listens. The first thing I'm told by a SXSW official is that "Someone barrelled through here. That's what I'm guessing, by the way it looks."  A woman is on her back and her head is bleeding. The following text message conversation occurs between me and photographer, Andi Harman:
CM (12:39 am): There has been some sort of accident. Bodies everywhere.

AH (12:45 am): What?????? What the hell are you talking about????

CM (12:46 am): Come outside. I think we should leave.

AH (12:47 am): What the f*ck tell me what is happening!?!?!??!?!

CM (12:47 am): A car plowed through a line of people.

AH (12:48 am): Oh my god.
In this moment, the very nature of this event changes for the duration of the week, and quite possibly forever. I've never seen so many terrified people and such carnage.
As awful as it is to admit, it's a reality that the festival can not be simply stopped, the way other large scale events are under tragic circumstances. To shut down South by Southwest in midstream would be to shut down Austin itself, and probably lead to increased problems, logistically. There is no centralized spot where it all happens and the result would be the pandemonium of thousands suddenly making an unplanned early exit. It would border on irresponsible.
Coping

When the sun came up on Thursday, its proudness rose in stark contrast to a city that was now rife with dread. People were sorely thumbing phones for the latest update and I was most certainly one of them. The aftermath of the event started to let nihilist absurdity seep steadily in to all of my actions in the following days. We needed to hop from South Congress to Downtown (followed by a walk to the East Side) in order to catch a show at the French Legation Museum, an old favorite for daytime events. So to make up for the understandably late start, we did the only thing that made sense—hopped on a Tito's Vodka Bus.
The scene on the bus made the average American beer commercial seem subtle. "Is it free?," I sheepishly asked the promotions bro, and a bro he was. "Totally, man. You just hop on, and hop off at 7th and Lavaca." Once on the bus they offered a generous portion of ginger beer and vodka, which served as breakfast. A trio of improbably attractive women ask me to take their photo. Then they ask again. Another gentleman with a backwards baseball cap takes one of their phones after becoming frustrated that they aren't following the "right people" on Twitter, per his instructions. "You just type in 'South by South—WHOA.' Got it?" The ladies giggle in agreement.
Once at the Legation there is another line and cars parked so tightly down the street that it creates a very narrow path for oncoming vehicles. But today the crowds were having none of it. On multiple occasions, I saw festival attendees dancing in the side street as cars approached, almost as if in defiance of the dark reality hanging in the air all around us. Drivers did not honk; they sat patiently. I was moved by this display each time.
The common criticism of the Austin way of life might make out-of-towners say that these are just random jerks abusing their rights as pedestrians. But it felt more like a gentle acknowledgment of each other's existence. People seemed to be very kind, but of course, that always comes at such a cost.
We never made it into the main garden to see Future Islands perform. Instead, I walked across the street and watched perched from atop a wall. I could barely see singer Samuel Herring  reenacting his moves from the now-famous Letterman performance, and he had complete control of two types of crowds: Those inside, who were reacting to the familiarity of his every gesture; and those outside, who were clapping with abandon over a band they couldn't even see. Their major-key synthesizer music seems like its been written before, but it's as if everyone is glad that it's being written again. It spoke to the group's power that they could draw such enthusiasm from a blind audience. Heaven forbid I ever get married, but if I do, I would strongly consider the French Legation's rich veranda. I will never forget the glint of hope it provided on this day, and that was just while waiting around outside.
Descent
Later in the evening, I find myself in line at the Hype Hotel for the Gorilla vs Bear Party. While waiting, a man walking by falls forward and into the line. He lands on his face. There's an immediate commotion and I'm jostled back to the panic of the previous night's events. When he is turned over, a trickle of blood slowly drips down his forehead. A woman starts taking his pulse while others flag down a police officer. He is transported by stretcher and this is the fourth person I've seen taken away in this manner in less than 24 hours. It's probably the eighth person I've seen laying on the ground with injury, not to mention the many I saw wobbling in a daze down the street. I start feeling as if this is the new norm here. I start to wonder about the relentless draw that music has, to the point that we'll flock at our own peril. That's something I've always found to be noble and worthy. But this felt extreme.
As many have complained, the oppressiveness of sponsorship and commerce is all over South by Southwest. It didn't bother me much this year, mostly because my mind is elsewhere, and also it doesn't really bother me most years, because I've long contended that it doesn't have to impact your experience if you know how to avoid it. There are plenty of off-brand events, enough so that you'll never have to stare directly into the eternal fire made of pure cash.
The Hype Hotel is a special case, however. It's dark and lit like a neon haunted house. The sponsors are Taco Bell and once again, Tito's Vodka. So it basically smells like that one high school friend's vehicle that you knew you shouldn't be hanging out with. I feel like such a sleazeball every time I fork over another drink ticket, forever compromised in the moment. There are signs letting you know that once you run out of drink tickets, go ahead and see someone about it, because they have got you covered. The sensory deprivation between the lights and noise and endless force-feeding of food and drink sounds like something out of an MK Ultra conspiracy theorist's fan fiction.
 The Positives 
As strange as the environment is inside of the Hype Hotel, the music is actually the best thing about it, and what better compliment can I give to one of the many shards that chip away from the mosaic presented by this feverish week? Pure Bathing Culture brought the room a sense of dignity with carefully plucked guitar melodies that chased singer Sarah Versprille's vocals as they echoed off the claustrophobic walls. It reminded me of the upright despair of 80s band Felt at times, and surely both acts have and had aspirations of reaching some of the emotional depths of Buckingham and Nicks at their most inconsolable. I realized that the tense energy of the many bands I've seen in previous years has been replaced by more and more obvious attempts at beauty, but perhaps it's the aesthetic company I keep now days.
That wasn't entirely true, however. Some bands played to better backdrops and scenes than their music was capable of elevating. I've long loved the pedestrian bridge shows, and it's incredible that they are still going. I saw a reunited Coachwhips play there at three in the morning this year, and though it was lively, everything still felt a little subdued, even with small fireworks going off and other ill-advised forms of mischief just off in the shadows.
Beerland continued its tradition of unofficial participation, which seems like trying to pick a fight with the ocean, but I suppose I respect the consistency. The Reigning Sound again proved their ability to wrap sophisticated and ornate verses around standard garage rock chord progressions in a way that few other bands of their ilk can, and I had no idea they were even playing until mere hours before their performance.
As is increasingly the case, I felt safest at dance events. The grip on the absurdly penetrative effects of commercialism seems to be the most sober, and there is an openness to international sounds not as common in other music culture. The day party organized by ambitious Houston collective Crvnes was one such example, and I hope to visit their newly opened warehouse in that city soon. A similar bill played in a loft for the official #Feelings showcase, and it is strange to me that Austin dance music still gets pushed to the fringes of its rock-friendly environment.
Out on the sidewalk in front of the loft space on Congress, a young couple walks up to a sign listing the acts playing above: Supraman, Ynfynyt Scroll, Ben Aqua, and Rabit. They do their best to make sense of the lineup with the door person. "What is playing here—dubstep?," the man asks. "House?" his girlfriend chimes in. "House, sure. House," he says. If he's unsure of the genre of music being played by the aggressive futurists above, one thing he is sure about? My age. After asking for my ID, he then quips, "Yeah, I really wasn't sure if you were 21." I tell him he should work for the TSA.
When I finally see Future Islands playing in front of me, rather than just beyond a wall, I don't know if I've been so excited to see a show since my teens. The singer comes out in a red ball cap and matching jacket, already exhibiting signs that he must hide his onstage costume, which now consists of a Brando-esque black t-shirt. He is so obviously thrilled to be there, and talks about the "privilege" of joining the "4AD family." There is endless crowd surfing and dancing and both parties obviously want to be there, like a third date that you just know will dissipate into the murkiness of a long-term relationship. "We're all in this together," singer Sam Herring says from the stage. I want so badly to believe him.
On my last night in town, I see an unexpected Autre ne Veut set just off the UT campus. Later in the evening, Christeene plays to a packed Cheer Up Charlie's. The lines are never quite the same as they were the first night, but spirits seem generally high. That is until we walk outside to Red River again. "Is it always going to feel this weird when we are right here?" Andi Harman asks. "Yes. Always."
Losing It, and the Unrecollected
There are so many moments that trail off and fizzle when I try to grasp them regarding this year's event. It was like a week-long collective hangover and you saw self medication in every direction. I avoided friends and hid in a registrant's tent where I knew they couldn't go. I watched bags of chips being handed out to passersby while I clutched one more paper cup of free Deep Eddy and forgot why I was even here. I felt like I was going to be kicked out of the Driskill Hotel for knocking over my own ten dollar glasses of bourbon while I heckled a folk singer. This was the one place where I thought I could escape the din and I felt embarrassed that I led my friends there. I didn't want to hear "This Land is Your Land," even if it was reverently tackled in the shadow of Pete Seeger's recent death. I didn't want to hear any sound at all.
Rather than become more peaceful, I even became confrontational at one point. Hotel Vegas in East Austin was selling food outside. I order, and while I'm waiting, one of the cooks starts spouting nonsense at the festival attendees. "WELCOME TO COACHELLA!," he shouts to a crowded patio at nobody in particular. "WE GOT LADY GAGA AND SNOOP DOGG AND OTHER CELEBS TEN YEARS OUT OF DATE!" This deeply offends me for some reason. These are my people and nobody is going to talk down to them like that. I walk over to him and I say, "Yeah, well, garage rock is 40 or 50 years out of date." He tells me he hates garage rock. I ask him what he does like. "Otis Redding, Hawkwind. You know, Lemmy's first band? You can't talk jive to a jive-talker," he says. I feel like I have this argument won and I could really make a point, but I let it go. "CHRIS!," he shouts. "I GOT A VEGGIE BURGER FOR CHRIS!" I quietly pick up my food and walk away.
Conclusion 
Allow me to reiterate how much this festival means to me: It means more to me than my birthday, or Christmas, or Thanksgiving with the family, and that's even if I spend the entire week with strangers. But maybe that's not really fair, since I'm not a holidays kind of guy. I like New Year's Eve, but I always spend that in Austin. Why? Because it reminds me of South By Southwest. I have always longed for the possibilities it offers, and as I said, even the chaos.
On the last night of the festival, I never see the police on horseback. The crowds seem more polite and even smaller, either in number or disposition. Sitting here on what is usually my favorite week of the year, I no longer think that chaos is something to celebrate. Instead, I am heartbroken for those who suffered simply because they love music. Those fans standing in the street are the people in the world I relate to the most, and we have all been as they were. They just happened to be in harm's way and it's too ugly and painful to dress up.