As I watched episode 5 of Style Network's Big Rich Texas, I felt compelled to reevaluate the life choices that led me to the recapping of this show. But I found inspiration in Tyler, a guy who discovered inner-peace while wearing a pink t-shirt, working for his mother in the beauty pageant biz.
He's receiving praise for his first big assignment, a brochure. Leslie can't get over her son's ability to use a Word template and tells him, "You're a genius."
Kalyn enters wearing glasses and no make-up with a beaten down look usually reserved for new, sleep-deprived mothers. But she won't be feeling sad for very long, Leslie has a surprise for her. Diet pills.
Cut to DeAynni's house in Colleyville where Shaye and Grace are talking about their shared passion for cheerleading. Shaye seems confident about her abilities and DeAynni can't help but brag, "She lands with her legs apart."
DeAynni quizzes Grace about her skill level and becomes convinced that Shaye needs to switch gyms. She sounds like a psycho mom living through her daughter until the we compare her to Leslie.
Les has Kalyn at Park Cities Dance getting ready for the Miss Dallas competition. Kalyn seems distracted so Leslie offers a shortcut. Liposuction. Because that's the obvious choice for an already thin 18 year old looking for a beauty pageant boost.
Kalyn doesn't like the idea but strikes a deal, "If I agree to do this, will you shut up and leave me alone about it?" Leslie accepts.
Meanwhile, Whitney is having lunch with a coworker who has been burned by a man and has wisdom to share, "If you work hard yourself, then you want someone that works hard too." Yeah, that's not the issue with Tyler, Sweetheart. He makes pageant brochures. Sounds like you had a whole set of problems that don't apply here.
Even still, she has a solution to the dilemmas Whit doesn't have: Date rich guys. And don't worry, the wise coworker has a bunch of wealthy men in her hip pocket who presumably have no issue dating tat covered 23 year old chicks still living at mom's house.
Next, Bonnie is at Leslie's apartment to discuss the events that ended their friendship. First they cover the thing about Tyler saying Leslie made him date Whitney for social status at the club.
Leslie compromises the outcome of the meeting with an explanation as to why the allegation is absurd, "You're an outcast. I wouldn't pick you if I was doing some serious social climbing." But Bonnie seems to think it's a valid point and they move on to the next issue, Leslie's finances.
Bon tells Leslie that she knows she sold a property in 2005 but still claims to own it. Leslie finally gets the opportunity to respond, "I actually carry the loan on the house so essentially I'm the bank and it's still part of the estate."
So now that things are on the mend with Bonnie, Leslie must regain balance by destroying her relationship with Kalyn.  To that end, Les drags her goddaughter to Skintastic where she grimaces over the sight of Kalyn's body in the exam room. Safer, less invasive options don't fit Leslie's timeframe but Kalyn won't endanger her life for the Miss Dallas pageant by undergoing more drastic procedures.
Let's see if DeAynni is still only one notch below Leslie in the push-your-daughter-to-be-perfect-because-you-aren't competition. Connie sees Shaye and her mom enter the gym and she isn't happy, "She's annoying."
Connie, I agree. What do you think it is: Her ginormous teeth, obnoxious laugh, her kitchen decor, or the thing about how she slaps her daughter and calls her an idiot? Yeah, you're right, it's totally the teeth.
DeAynni sits down with the other moms who have been encouraging their daughters with some low-key shout-outs. She joins in with a raspy bellow, "What the heck, Shaye?"
Shaye does some impressive flips across the gym and lands on her knees. That's what practice is for, right mom? DeAynni jumps to her feet screaming like a Yankee, "[BLEEP] That's why you're not moving up."
Shaye tries it again. SCORE. A Mary Lou landing. DeAynni praises her daughter's success, "Yeah, finally. Damn it." And that's when viewers started a non-profit organization to raise money for Shaye's future therapy bills.
Across town, Leslie brings home an inspirational cardboard cutout of Kalyn's face on the bikini-clad body of someone else. Kalyn doesn't appreciate Leslie's Photoshop skills, "Pam and Melissa were right about you. You're using me for your pageant business.
Child Protective Services must have dropped by DeAynni's house during the commercial break because at the next cheer practice, she's on her best behavior, "Yeah, Shaye, kick some 'A' out there. Kick it, baby, kick it." So while abuse investigators may be off her back, the classy enforcement officers are sure to be knocking on her door tonight.
But DeAynni is still at it, "Come on, Shaye, I thought this was your college hope." And with that, educated, goal-driven mothers across the country woke their daughters to make sure they understand cheerleading is not a major course of study.
Bonnie and Leslie are besties again, hanging out at Bon's house discussing Pam and Melissa's role in Kalyn feeling used by Leslie. Leslie tells us, "I just can't believe that they think it's OK to ruin an 18 year olds' life just to get back at me."
Rewind that, Les. So you're saying Kalyn's life will be ruined if she doesn't win Miss Dallas? Every. Single. Time. Just when you're climbing out of your last stupid statement, you open your mouth and screw it all up again.
Whit's life coach coworker takes her to a bar where she keeps a stash of high quality men. She grabs two of them and makes the intro, "Whitney usually goes to different places. We're trying to find her some more classier guys."
Whit does a prelim interview of these "more classier" guys.
Whitney: What do ya'll do?

Guy 1: I'm gonna branch out into…[But we stopped listening because anyone who starts the answer to that question with "I'm gonna" isn't what we're looking for.]

Guy 2: I'm in I.T. I do a lot of tech support for people who catch viruses and stuff like that.
But Whitney clearly doesn't know a wealthy, more classier guy when she sees one. The obvious lack of tattoos, body piercings and f-bombs has left Whit bored.
Over at Uptown Consignment, Connie is pulling clothes to style some Fashionistas who are, "The who's who of the Dallas fashion world." So, Conn, the "who's who" of fashion wears used clothes? Call me crazy but I was thinking the who's who of fashion are the ones putting last season's couture up for consignment in your shop?
Leslie comes in to bring some gently worn shoes for Connie to sell to other women who don't mind that a stranger's sweaty feet were in them previously. Connie tells Les that Pam is on the board of the Fashionistas and will be at the grand opening party of a new boutique in West Village. Leslie salivates, sharpening her knife on the shoes she plans to consign, "Now it's time for a little payback."
Over at Leslie's apartment, Kalyn is in bed with an obvious case of script-induced depression. Tyler brings her a bowl of ice cream.  He sits down next to her and offers comfort. Kalyn reveals her worst fear, Leslie sending her back to California.
Kalyn, if you ask me, you should be packing your bags, not eating Leslie's food. Oh wait, Tyler has a get-out-of-jail-free card and he's giving it to you, "I'll make sure you stay."
Kalyn, don't get all mushy. I think it's because he doesn't want to redo the brochure with your face all over it.
Meanwhile, Leslie arrives at the Kendra Scott boutique opening with plans to give Pam a social waterboarding.
Leslie makes it a point to introduce herself to Heidi Dillon who is visiting with Pamela. Leslie engages in small talk with Heidi and Pam can't take it, "I'm leavin' now."
And she meant it. She bolts, leaving Heidi and Leslie mid-conversation.
Heidi: Did Pam just leave?

Leslie: Yeah, I believe so.

Heidi: That was pretty abrupt wasn't it?
I think that's when Leslie moved out of camera range, licked her finger and touched her own butt making a sizzle sound to celebrate completion of Destroy Pam phase one. You go girl.
Now, on to crush Melissa into tiny little pieces.
Leslie spots Mel having dinner at Woodhaven Country Club with Maddie, Connie, DeAynni and others. Les approaches with enough pageant ammo to blow Mel clear back to Dallas.
Melissa: Hi, how are you?

Leslie: Not really too well, I have to tell you that Kalyn is now not doing the pageant because you and Pam told her that I'm just using her for my pageant business.

Melissa: Kalyn doesn't want to do the pageant so why are you making her do it?

Leslie: I know that you don't like pageants and we all know why. Just because you were de-crowned from Miss Texas because you were pregnant.

Melissa: The fact that you're bringing up stuff like that in front of my daughter, seriously, do you think that has a lot of class?
Cut to the couch where Melissa fades in and out of reality, "It is true. I was pregnant. I lost my crown."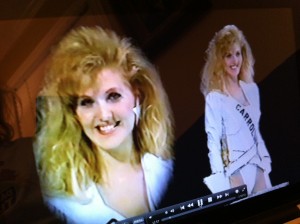 Last week, Mel was super cryptic and wouldn't tell us anything other than, "I was Miss Carrollton and Miss Dallas." After confirming that she was indeed Miss Carrollton in the 1990 Miss Texas USA pageant, I asked her when she was the reigning Miss Dallas. Melissa tried to save me from myself.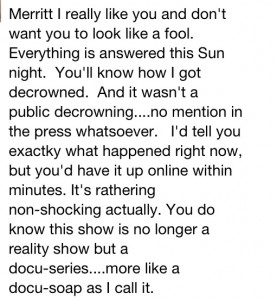 Thank you so much, Mel. I mean I'd have totally looked like a raging fool. I owe you one.
So, when were you Miss Dallas? And more importantly, when were you crowned and then de-crowned as Miss Texas?
I'm assuming the pregnancy that led to this pageant downfall was with your son because when you had Maddie you wouldn't have qualified, being married and all.
And if you tied the knot in May of 1990 and your son was born in October of the same year, it seems fools who think the show is based on some version of reality are being led to believe you were crowned Miss Texas in 1990.
But in the first 25 minutes of that pageant, Bob Eubanks announced the 13 semi-finalists.
Miss Beverly Hills
Miss Fort Worth
Miss Nederland
Miss Corpus Christie
Miss Coastal Bend
Miss Capitol City
Miss Houston
Miss Dallas
Miss Southeast Texas
Miss Waco
Miss Harris County
Miss Addison
Miss Tomball
So I fast-forwarded to the end to make sure there wasn't some mid-pageant twist that landed Miss Carrollton a wild-card spot in the finals. But the first runner-up was Miss Addison. And the winner of a Subaru and the title of Miss Texas USA 1990 was Miss Houston.
So at the risk of looking like a fool, when you said you "lost your crown" did you mean you misplaced it? If so, I found it. On Miss Houston's head.
We're all concerned about Maddie too. I mean, it was sad when she ran off so disappointed. But for the sake of clarity, was she upset that you were letting people think you were crowned Miss Texas when you weren't OR because by age 16 she hadn't done the simple math necessary to conclude her big brother was conceived by the reigning Miss Carrollton?
Get the FrontRow Newsletter
Get a front row seat to the best shows, arts, and things to do across North Texas. Never miss a beat.