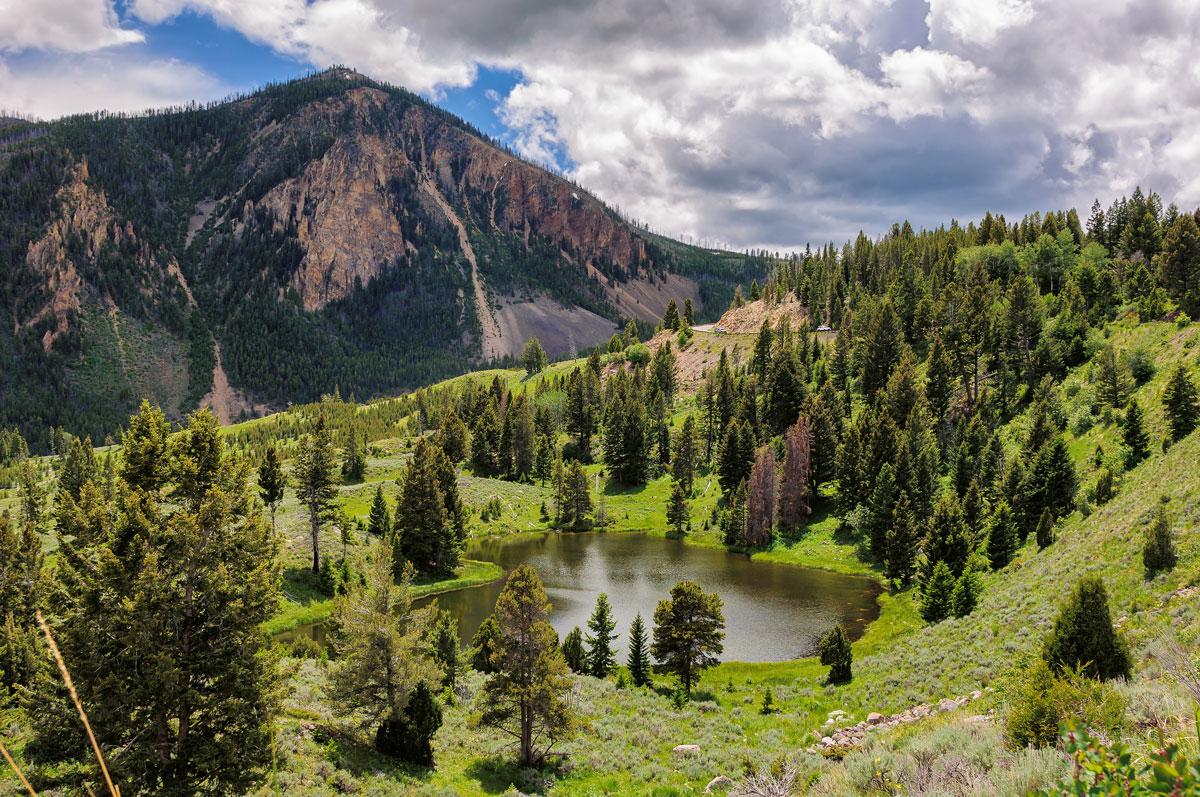 West Yellowstone, Montana
Get lost in the woods, while keeping a safe distance from the wildlife.
Stressed and overworked? Sometimes the best remedy is to unplug and go off the grid. Flee the big city for a natural destination; trade the smog for crisp spring air. Take it from me: That's why I booked a trip to West Yellowstone, Montana, late last year. After flying through the Twin Cities to reach Bozeman, Montana, my destination was a scenic two-hour drive south. On the way, I stopped to take in the scenery at Big Sky Resort overlooking the Gallatin River. Then it was back in the car to finish the 89-mile drive south along U.S. 191, with only 105.7 The Eagle, "Montana's Super Station," to keep me company. Don't expect cell service.
My destination was the Yellowstone Park Hotel and one of its so-called explorer cabins, a freestanding and rustic abode. As most of the restaurants in West Yellowstone close for the winter season by mid-November, the kitchenette, fridge, and stove in my cabin proved to be quite useful, after a trip to the nearby Food Roundup Supermarket. (It's one of only a small handful of grocers in town.) The Branch Restaurant, which stays open year-round for breakfast, lunch, dinner, and happy hour, has a winter menu full of wild game sausage, hearty burgers, and bison stroganof. Its bar and casino stay open until 9 p.m.
Another lively spot in town is the Wild West Pizzeria & Saloon, whose pizza is made with locally sourced wheat Montana flour. The popular restaurant opened in 1999.
But let's be honest: You didn't come here for the food. Home to the world's greatest concentration of geysers, Yellowstone National Park covers nearly 3,500 square miles in Idaho, Montana, and Wyoming. It was the country's first national park, established by President Ulysses S. Grant in 1872. Congress had withdrawn the land from public auction, following its review of the comprehensive Hayden Geological Survey of 1871. Led by American geologist Ferdinand V. Hayden, the 32-man team including photographers, painters, mineralogists, and botanists surveyed the park between June and October of 1871.
I got my first taste of Yellowstone on a chilly Tuesday morning, when I embarked with a Yellowstone Vacations tour guide named Jay Thrift for an all-day motor coach tour of the park's "lower loop." After we circled around town to pick up passengers from West Yellowstone's other inns and hotels, we ventured into the park, where I could almost immediately see plumes of steam rising out of the ground—a telltale sign of geothermal activity.
Yellowstone's Lower Loop sits in the heart of one of the world's largest volcanic calderas, which was formed more than 600,000 years ago after a major eruption caused the mouth of the Yellowstone Supervolcano to collapse. Its last eruption was 70,000 years ago, so there's no immediate cause for concern.
Throughout the day, Jay led a group of enthusiastic visitors through the park, stopping along the way to observe hot springs, fumaroles, mud pots, and geysers, including an eruption of Old Faithful.
Later, we crossed the Continental Divide to see the largest alpine lake in the contiguous United States and watched bison meander through Hayden Valley (named for Ferdinand V. Hayden) before our last stop at The Grand Canyon of Yellowstone. Its yellow, red, white, and pink rocks got their colors from thousands of years of percolating liquids that altered their chemistry, and its breathtaking lower and upper waterfalls plunge 308 and 109 feet, respectively.    
It's impossible to see Yellowstone National Park in its entirety in just one day, so I returned to the park the next day to hike the Upper Loop, which proved to be an entirely different experience. We saw countless herds of bison, hundreds of elk, several bighorn sheep, a few mountain goats, and two black bears. Our group also visited historic Fort Yellowstone at Mammoth Hot Springs, where the aforementioned elk wander around town freely and often nap between the Fort's Colonial Revival-style buildings.
After two adventure-filled days in the park, my Explorer Cabin and its communal outdoor fire pit provided a great basecamp. There was no better place to enjoy the complimentary en suite s'mores kit, which paired perfectly with the crisp mountain air.