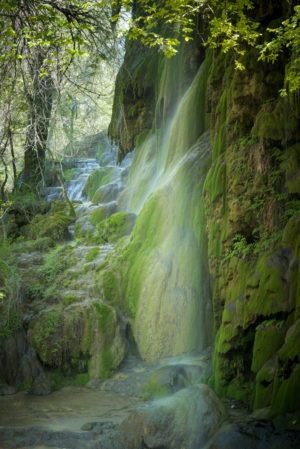 Just a bit slower, friendlier, and more relaxed than the rest of the state, San Saba is sort of the Belize of Texas. There's even a beach. Okay, so it's a man-made one at Mill Pond Park, but that doesn't mean it's any less fun than the kind in the Caribbean. Certainly way more fun than a beach in Central Texas has any right to be.
Settle in to one of six rooms at the boutique Dofflemyer Hotel, located on the second floor of a historic downtown building and recently renovated with rustic-chic furnishings. The bottom floor houses Oliver and Co., where you'll be tempted to stop by for lattes and pecan-cinnamon rolls for breakfast, as well as soup and panini for lunch.
Next door you can enjoy early evening wine samplings to try drier red and white varietals at the town's two tasting rooms: Wedding Oak Winery and Old Man Scary Cellars. If you're lucky, the latter may also have live music.
Tucked elsewhere along East Wallace Street—the road that makes up the core of downtown San Saba—are shops stocked with local goodies. There's Harry's for cowboy boots and other Western wear; J.C. Campbell & Co. Mercantile for antique trinkets, decor, and women's clothes; and San Saba Olive Oil Company for exotic flavors of balsamic vinegars (such as white peach and brown fig) and olive oils (including habanero and roasted garlic).
If you're less interested in shopping, the town's golf course is close by, and a local compared the course, artfully lined with pecan trees, to Fort Worth's Colonial Country Club. A 30-minute drive from San Saba, through verdant and sprawling hill country, is Colorado Bend State Park. Take a morning to embrace the outdoors and make the 3-mile round-trip hike to the moss-draped Gorman Falls.
Get the TravelClub Newsletter
Explore the best deals, inspiration, and opportunities for your next travel destination to escape in style.