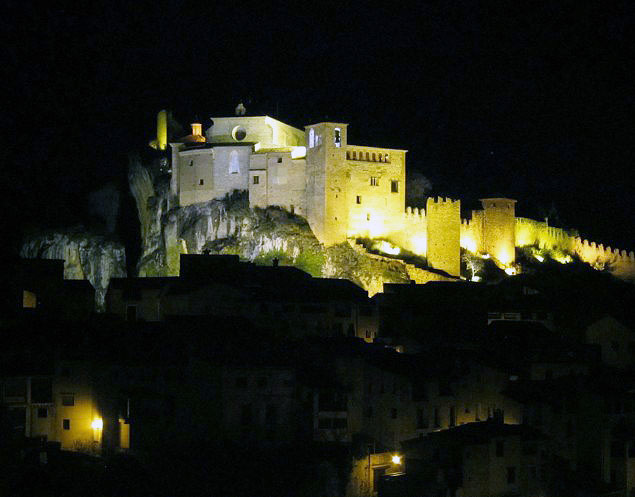 Earlier this week in Part 1, we went on a black winter truffle hunt with wine company Gonzalez Byass in the northern part of Spain—specifically, the Somontano region—where I was traveling as their guest.  After the hunt and a very hot shower in the medieval village of Alquezar, we set off for our truffle feast prepared by chef Carmelo Bosque of the Michelin-starred Lillas Pastia.
Just a short drive from Alquezar is Bodega Blecua, one of the prized properties of Gonzalez Byass, with an underground barrel room filled with similar limestone caves as those dotted throughout the countryside. Considered one of the very best wines of the region, made only in special years, Blecua is a blend of only the highest quality clusters of fruit from the best of their estate vineyards. Hand-picked, fermented in large French oak vats, and then aged in four different types of highly prized new French oak barrels for one year, these wines are blended and then aged for another 8 to 12 months before bottling.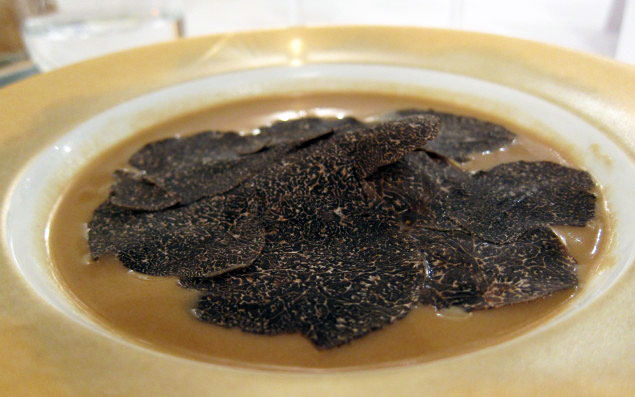 The question when having incredible food and incredible wine is often which comes first in the pairing order. Is the meal created around the wine, or wine paired with the meal? For this wine-influenced meal, the grape may have come first, but the truffle was the star. A selection of playful appetizers paired with a well-aged yet fresh and bright 2001 Vinas del Vero Gewurztraminer. These northern Spanish soils do well by the grape, creating a lychee, stone fruit, and white flower-filled wine. The bottle-aging softens the floral notes and creates layers of honey that meld with the dominant truffle notes in a simple broth of a fatted hen with black truffle shavings. It also works with a truffle bonbon (a blend of truffle foam, truffle salt, and freshly shaved black truffle) eaten out of your hand, grilled scallop with Romanesco broccoli and truffle, and a rich truffle-topped poached egg on potato. And these were just the starters.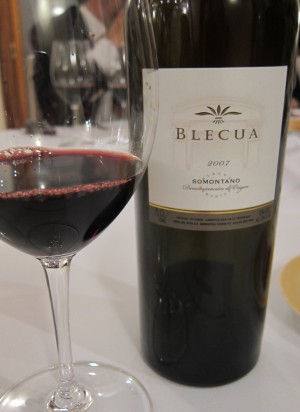 Fresh, citrus, and white flower-filled 2008 Vinas del Vero Clarion, the winery's blend of Chardonnay, Chenin Blanc and Gewurztraminer, cut through the richness of what Carmelo called a "truffle pleasure" of foie gras with a creamy sweet onion sauce with black truffle.
Roasted wild turbot bathed in black truffle, followed by roasted lamb with a truffle béarnaise sauce. Both paired well with a vertical of Blecua 2004, 2005 and 2007, each year yielding the way to luscious, subtle dried fruit, leather, and tobacco flavors. The 2004 shining brightest of the night.
Throughout the course of the trip, I tried several 2004 vintage wines from the company, including this Blecua, Vinas del Vero Seacastilla, and Vinas del Vero Gran Vos Reserva Cabernet Sauvignon/Tempranillo blend. I also had their sister winery in Rioja's Beronia 2004 Reserva. Each outstanding wine showed balance, structure, and elegance, with a refined approach and ability to age. These are all signs of expertise winemaking, and it indicates a very good year for Spain.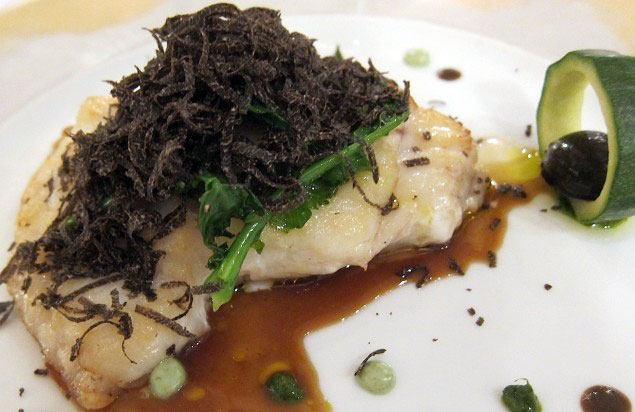 As delightful as each course was, the highpoint may have been the ending. It showed the playful approach that resonates through Spanish cuisine. A dessert of vanilla ice cream, mango sorbet, and truffle cotton candy with black truffle paired with the current year vintage of the Vinas del Vero 2013 Gewurztraminer. This wine was slightly more floral and fruity, balancing the creaminess of the whimsical dessert and sending us off to dreamland on our own truffle-filled clouds.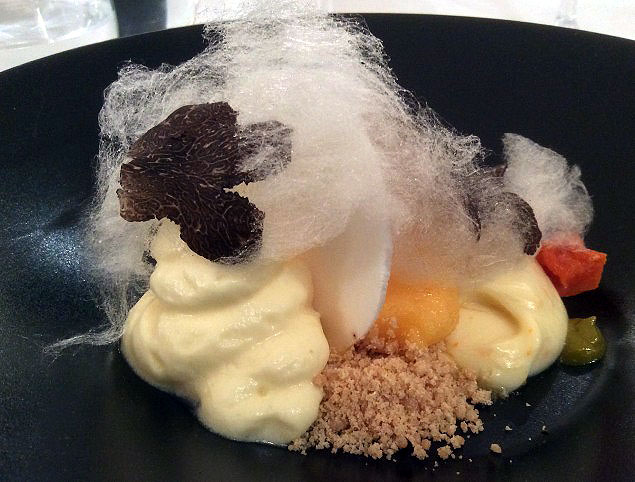 Unfortunately, right now, the Vinas del Vero and Blecua wines aren't available in Dallas, but they can be ordered here, here or here. Other Gonzalez Byass wines, including their incredible Beronia from Rioja, are available at Pogo's and Spec's locations.
Get the SideDish Newsletter
Dallas' hottest dining news, recipes, and reviews served up fresh to your inbox each week.