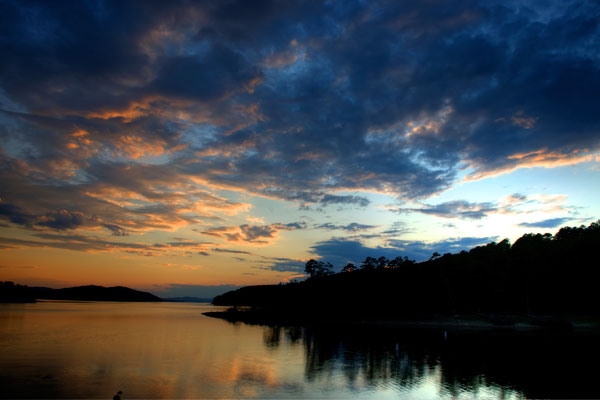 Mountain Harbor Resort & Spa, Arkansas
This sprawling resort on Lake Ouachita is surrounded by Ouachita National Forest. You can choose to stay in one of the property's pet-friendly cabins, lodge guest rooms, or condominiums. My family chose to rent one of the cabins, a three-bedroom, three-bath home with a full kitchen and outdoor deck with a hot tub. The hallway from one end of the house to the other was so long that, on a rainy day, we set up an indoor bowling alley, a ploy that kept the kids busy while the adults sipped wine and watched movies rented from the lodge's office.
The list of summer activities is long. You can hire a professional fishing guide from Mountain Harbor Resort's marina. There, you can also sign up for skiing or rent a pontoon boat, houseboat, or Jet Skis. You can even take scuba diving lessons. Once you're out of the water, ask the front desk to set you up on a horseback ride through the Ouachita National Forest or grab a bike or a backpack and head out on the miles of paths that originate near the resort.
I skipped all that and checked into the property's Turtle Cove Spa. The focus of the spa is healing your soul with nature. This area of western Arkansas is famous for its crystal mines, and the spa uses the natural crystals in many of its treatments and holistic therapies. I can't think of one person I know who couldn't use The Balance of Life program. It's designed to rebalance your body and soul through a series of crystal therapies, massages, a facial, and a mani-pedi. The Wellness Program hosts yoga classes in perhaps the perfect setting: an outdoor platform surrounded by trees. The whole thing is all very Zen, especially on a rainy day when you need to escape the noise of indoor bowling.
Distance From Dallas: 310 Miles  // 4 Hours 53 Minutes