Gruene and nearby New Braunfels are synonymous with the Guadalupe River and Schlitterbahn water park. But there's more to these teensy towns than tubing. They are a peaceful, easy weekend getaway brimming with good food, live music, and plenty of nature, amid a throwback setting that will play on your nostalgia.
Unpack your bags at the Gruene Mansion Inn, a historic, 30-room bed-and-breakfast in the heart of Old Gruene, run by the amiable Cecil and Judi Eager. It's right next door to Gruene Hall, home to Texas-style tunes and boot scootin' for 135 years. Greats Hal Ketchum and Lyle Lovett played here in earlier days. After a night of two-stepping, rest your tired feet and feed your appetite at Gristmill River Restaurant & Bar, where there is often a wait for the icy margaritas and onion rings as big around as grapefruits. The one-time cotton gin sits right on the river bluff.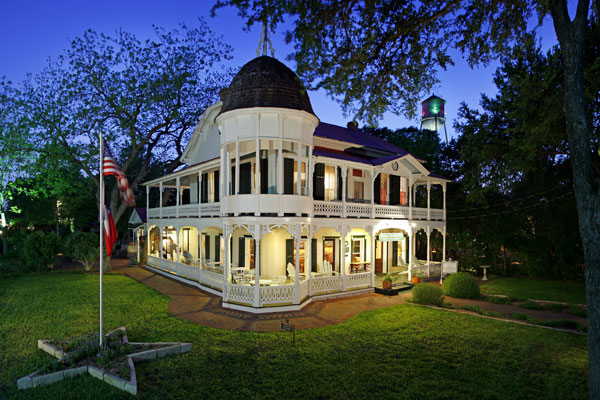 Shed your city cares even further with an afternoon at Landa Park. Have the nice people at the River House Tea Room pack you a picnic and become one with lazy squirrels and sun-drenched turtles at the 51-acre city park, a mere 3 miles away in New Braunfels. Start with a paddle boat tour of Comal Springs and Landa Lake, a walk along paths through the ancient oak trees, or a dip in the spring-fed pool (it stays at a crisp 72 degrees, even in the deep heat of summer) and end with 18 holes of miniature golf.
Gruene's motto is "gently resisting change since 1857." In a lot of ways it has—original buildings, laid-back charm. But it has not managed to hold back the modern-day hordes of people packing in on most weekends. In other words, it's crowded. The cute little bed-and-breakfasts and even the hotels and motels along Interstate 35 all sell out. Plan early and prepare to squeeze in with your new friends.
Distance From Dallas:  241 Miles  // 3 Hours 40 Minutes
Get our weekly recap
Brings new meaning to the phrase Sunday Funday. No spam, ever.