These online-only and cult-favorite brands are popping up for a limited time. Plan your holiday shopping accordingly.
Res Ipsa
Location: 3130 Knox Street, Suite 100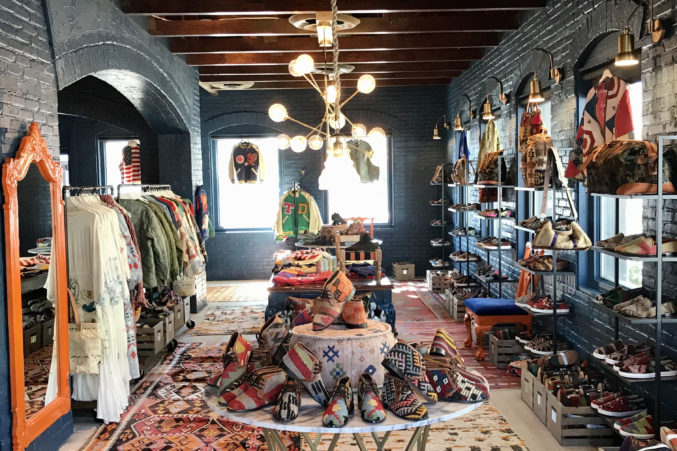 Given Dallas' love of Aspen, it's not surprising that Res Ipsa (which has flagships in the Colorado city and Nantucket) would find its way here. Occupying a beautifully transformed, Moroccan rug-filled space in the former On the Border on Knox Street, the lifestyle brand's second-ever pop-up store features an array of slippers and chukka boots made from vintage Turkish kilim rugs, candles and giftable items, as well as upcycled vintage varsity jackets, puffer vests, and Japanese sukajan jackets made with Vietnam-era military liners.
La Vie Style House
Location: 9A Highland Park Village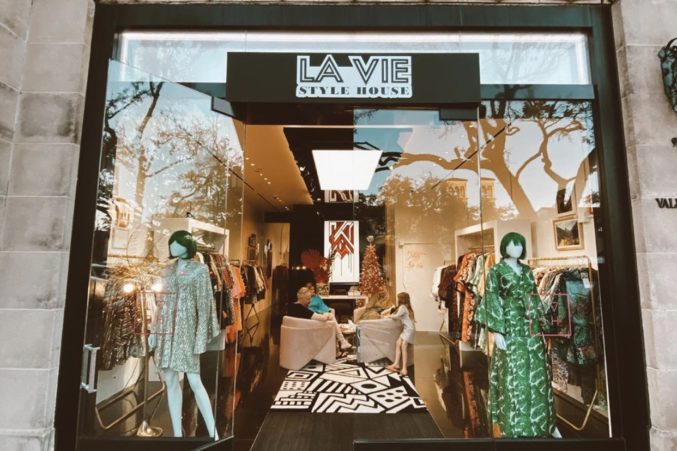 Creative friends Jamie Coulter and Lindsey McClain dreamed up La Vie Style House after meeting at a BodyBar Pilates class in 2013. What initially launched as a styling studio in 2015 has evolved into a full-fledged design house for their colorful, vintage-inspired kimonos and caftans, which count January Jones and Chrissy Teigen as fans.
La Vie Style House can be purchased IRL at Barneys, but for Dallas buyers, Coulter and McClain have set up shop in Highland Park Village for the month of December.
Glossier You
Location: Nordstrom in NorthPark Center
You know Glossier, the billion-dollar, millennial-focused brand. Emily Weiss' company first paid Dallas a visit in 2017, when they hosted an immersive, buzzy pop-up on Henderson Avenue. Today, Glossier makes its brick-and-mortar return in the name of Glossier You, a perfume and their first foray beyond skincare and makeup. In keeping with the brand's "skin first" philosophy, Glossier You adapts to each wearer's skin chemistry. So although it's described by most as "musky," there should be a touch of bespoke to every bottle.
Glossier You will host experiential pop-ups at seven Nordstrom locations through February 16, including Nordstrom NorthPark.
Cades Cakes
Location: University Park Pick-Up  
The Dallas-native and Momofuku Milk Bar graduate whipped up everything from Mambo Taxis to Post Malone in cake form during her stint in Texas. And though the Instagram-famous baker recently moved her operations to New York City (where she's crafted cakes for SoulCycle, Shopbop, and SNL's season finale), she's heading back home for a holiday pie pop-up from December 20 to 24. Click here to get your order in.
Away
The innovative and photogenic luggage brand has a cult following fueled by Instagram, but the brand only has a handful of stores across the U.S. In 2020, Dallas will add its name to that edited list, but until then, Away is hosting a temporary pop-up in their upcoming location until January 5.
The space was designed by Sasha Bikoff, and is well worth catching before the spot is once again reimagined. "We've created a technicolor dream cloud that evokes a feeling of escapism, drenched in bold colors—quite literally—from the floor to the ceiling," Away co-founder and chief brand officer Jen Rubio says. "The look and feel of the permanent store, however, will be completely different from the pop-up, but elements will remain unique to Dallas."
Get the Living Newsletter
Get the insider's guide to the best in Dallas style, beauty, and wellness delivered right to your inbox each month.