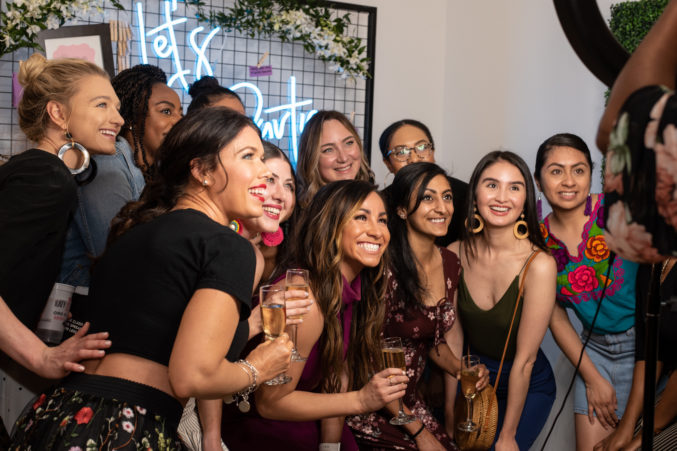 The 'Dallas Girl Gang' is Here For All
It went from a 10-person Facebook group to one of the most inclusive local communities for women.
By Cassidy Najarian
Published in Living
August 1, 2019
1:33 pm
Two years ago, Amanda Smith started a Facebook group that included herself and 10 newfound friends. She named it "Dallas Girl Gang." Today, that group has organically snowballed into a community of more than 24,000 across multiple platforms. With an ever-growing lineup of events, a podcast, the occasional conference, and a perfectly curated Instagram page, Dallas Girl Gang is a haven for like-minded women.
Smith, a McKinney, Texas native, got the idea to start the group after she moved back to Dallas from Arkansas three years ago. Something about it clearly spoke to local women. "Unless you are really plugged into your work or your gym, or involved in a church, it is really difficult to make meaningful connections. Once we hit about 1,000 group members, I thought 'Wait a second, who are all these people?'" she said with a laugh. "I thought we would dive in and learn."
She wanted to create a community that she herself would want to be a part of, but most importantly, she wanted it to be inclusive of all women. "Whether she is a stay-at-home mom or owns her own business, anyone can come and connect," she says. "At the root of it all, we are all just women who want to know people, have a good time, and build relationships."
With the Dallas Girl Gang continuing to gain traction online, Smith turned her attention toward event planning. "I think even now as adults, we go online to seek relationships and community, but it's almost like we are dating for friends," she said. "One of my goals was always to do events and bring people together in person."
The activities are relatively broad. You can interact with Dallas Girl Gang IRL at happy hours, brunches, Pilates classes, pool parties, and beyond. In July of this summer, Smith put her event planning skills to the test with the Fearless Conference, a two-day event tailored for female entrepreneurs (there were 200 in attendance) and featuring a panel of business experts. "I loved giving our audience tangible life and business tips," Smith says.
View this post on Instagram
To keep the conversation going, The Fearless Woman Podcast was launched in the fall of 2018. Once a week, Smith sits down to interview men and women in business and discuss tips and advice (guests have included Flea Style's Britany Cobb and the CEO of Miniluxe). "It has been so exciting to get behind the microphone and truly get to know some amazing people," she says.
At the root of it all, Smith hopes Dallas Girl Gang (aka "DGG") can empower women and inspire self-love. "It sounds so cliché, but everyone needs to feel like they are valued just as much as the next person," she said. "There is such a stigma around women and being catty, and though it can be true, it's not like that for us. We are a tribe and you can sit with us."
Dallas Girl Gang's next events are a Sessions Pilate's class on August 3 and a Together Pool Party on August 17. You can sign up for DGG's weekly newsletter on the website to get info on future events and happenings.