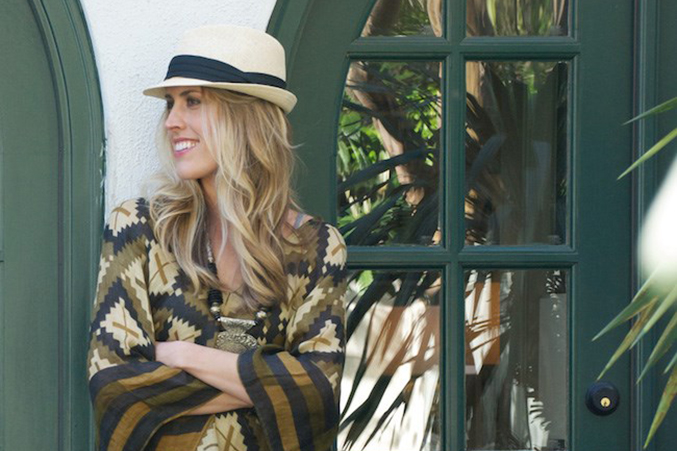 Resume: Brittany Cobb
The founder of the Dallas Flea got her start in journalism.
BIO
Journalist-turned-businesswoman Brittany Cobb has given the flea market a good dusting and a pretty new face with The Dallas Flea, the seasonal market she launched in 2009 (and which returns on Nov. 7). You won't find Podunk here. Only artisan finds of the hippest variety line the massive Trinity Groves space. We asked Brittany to take us through the major events dotting her timeline, from boyfriends to plum story assignments to building a business on the fly.
EXPERIENCE
Born in Orange, California, on Nov. 8, 1982.
"I'm a true Scorpio, except in the bedroom. My husband wishes."
Develops career crushes on Katie Couric and Ann Curry.
"I always wanted to be a journalist. Instead of playing with dolls and Barbies, I would stand in front of the mirror and pretend to be a news anchor."
Graduates high school and leaves California to attend SMU for its burgeoning journalism program.
"I got to test the waters on-air, writing, even doing some radio, and I found that I really loved the writing side. As l learned more about the [broadcast] industry—the hours, the random cities you may have to live in, and I already knew I didn't want to live anywhere cold—I realized it wasn't for me."
Starts writing and graduates early.
"At SMU, I always had internships. My first was at
D Magazine
. They really threw me into the water. I worked as an intern for the
Dallas SportsGuide
and
Fashion!Dallas
. My
Fashion!Dallas
internship never ended; in 2004, during my senior year, they were launching
FD!Luxe
and opening one position. [Editor] Tracy Hayes asked me if I wanted it. So I crammed two semesters into my fall semester and graduated in December."
Enjoys the perks that come with her new gig.
"I was in my twenties, and I was flying to Miami and staying in the Versace mansion before it even opened. I got to go to Paris Fashion Week and cover the couture collections. I got to shadow Giorgio Armani for a full week."
Leaves Dallas to follow her boyfriend to New York.
"He was going to Columbia Business School, and living in New York was another dream of mine. So I took the opportunity, and I'm so glad I did. I worked most heavily at ForbesLife Executive Woman doing styling, booking models, and some light writing. I freelanced for Lucky and Four Seasons Magazine. But 50 percent of my freelance work was in Dallas."
Moves back to Dallas after one year.
"I was offered the fulltime editor job at DailyCandy [Dallas edition], so I came back. After my move, the relationship didn't work out. I worked from home and had a freelance lifestyle. I got to write about home, food, and fashion, so it was always interesting. It was a dream gig for me."
Buys a one-bedroom condo and starts decorating.
"Friends would come over and say, 'I just love what you've done. Can you help me?' I had the time to do it, and it was a great source of income. I'd written fashion, but home was where my heart has always been. It's where I know my stuff. As a kid, I rearranged my room at least once a week."
Gets laid off from DailyCandy but continues with the company as a freelance writer.
Debuts The Dallas Flea two weeks later.
"I came up with the idea while at DailyCandy. I was meeting all of these cool people, and they would ask, 'Brittany, can you write a story on me?' I'd already written about them, so I thought, 'Maybe I could do something in a different way.' When I lived in New York, I shopped the Brooklyn Flea. And growing up, my mom had a booth in an antique mall, so I would go help her set it up. I was always around that business. I thought, 'If it gives these people I adore extra money and exposure, and if I could get a little something out of it, too, then what a great thing.' I signed the deal with South Side in September 2009. I threw it together. It was meant to be a one-time thing. We had more than 1,000 people show up. Shoppers loved it. Vendors did well. And those vendors have never missed a show since."
Realizes The Dallas Flea is her next step.
"I got the logo designed, bought the Austin and Houston rights. I was preparing to do this fulltime. It was really fulfilling because I was supporting the city, artisans, the businesses all around it, and I was obviously creating a job for myself."
Marries Michael Cobb, whom she'd been dating since 2008, in an intimate ceremony/reception at The Mansion on Turtle Creek on Oct. 9, 2010.
Launches Farrow & Cobb.
"My old neighbor, Morgan Farrow, was a fulltime interior designer at a big firm. I was dabbling: decorating houses for friends and friends of friends. We were both getting to the point where we couldn't handle the load on our own, so we decided to pair up. I ditched my freelance work, other than DailyCandy. We worked together for two years. By surprise, I got pregnant with my daughter, Landry. I thought I'd go back to work after a three-month maternity leave, but found I wasn't ready. So Morgan and I decided to part ways. But we're still dear friends."
Takes on her first major design project and launches Cobb Interiors.
"I got a call from my Realtor friend, 'Can you help my friend with her home—just some small stuff?' So I show up to a construction site, a new build—a full-blown project. I thought I'd gently tell this woman no, but after talking to her, I fell in love with her and said I'd do it. So I had to launch Cobb Interiors to get a resale license and all that."
Scores the job of a lifetime.
"I got to decorate the Jones family lodge in Missouri. I worked with Jerry Jones, Jr. on the year-and-a-half-long project. It was a crash course in how to do an out-of-town job. I got pregnant—again, unexpectedly—two months into the job. It was a wild ride. I installed at seven-and-a-half-months pregnant."
Slows down after son Barrett is born and focuses on The Dallas Flea.
"Now I take just a handful of clients and work on The Flea. We needed more space, so we moved The Flea to Trinity Groves. We doubled the amount of vendors. It was a smashing success. We went from 2,000 attendees to 5,500."
Wants to go big.
"I really want a bigger space, but my issue is parking. Being an elevated show, I struggle with where to take it. Do people at that kind of show really want to walk on grass? So, we're looking for retail space. The idea is to keep the show at least twice a year as an event, but to also have a fulltime location. It would be going back to my antique-mall roots."