The housing market in Dallas is hot right now (please refer to D Magazine's July issue for more on that), especially when it comes to the coveted M Streets. Young professionals are swooping in and shelling out for the neighborhood's collection of well-preserved Craftsman and Tudor-style homes. And for those mid-century charmers that haven't been quite as well maintained, Dallasites are (thankfully) looking to salvage the character of the architecture and design, while adding a bit of modern flare.
One of the first places these new homebuilders start: the kitchen. The old adage that kitchens and baths sell houses still rings true, especially when done well and completely. "Buyers really do appreciate that—and they appreciate it by writing strong offers," Aaron Carroll, a realtor with Allie Beth Allman & Associates, told the D Home team for their 2019 edition of the "100 Ways to Live a Beautiful Life in Dallas."
But a major kitchen remodel can be overwhelming, and it's hard to know where to begin. We've recruited a couple of local experts to guide us through the process and offer some pro tips.
What's the first step?
Courtney Warren, interior designer and owner of Courtney Warren Home, says it's imperative to take time to think about how you want your kitchen to function. Visualizing the layout, or even drawing it out on paper, can help you figure out the flow. Some ideas sound brilliant in theory, but may not be quite as appealing when brought to life—a lesson Warren learned by trial and error.
"When we renovated my personal home, we included a trash pull-out drawer close to the sink in the oversized island," she says. "Once it was built, however, we realized that that area in the island is the natural cook prep space, due to the very fact that it is close to the sink."
So be sure to take the time to walk through the scenarios and visualize using the space every day. It can help you foresee some of those oversights early on.
Jeff Calvery, owner and CEO of CRS Cabinets, believes it's important to pinpoint your style from the beginning to save time in the long run. He even has his clients take a kitchen style quiz prior to any project. Whether it's cabinets, countertops, floors, appliances or even hardware, learn what you like best before calling a contractor.
What's the easiest way to refresh your kitchen?
One of the first items to get repainted, refaced, or completely removed is the cabinets. Two classic colors you can count on, according to Warren, are white and gray. In fact, 95 percent of her clients request to have their kitchens splashed with this palette.
Calvery tends to see two-toned palettes, such as a gray or navy blue island paired with white cabinets. For hardware, it's all about the gold. He adds that many of his clients are seeking a flat and solid modern look with a high gloss finish, where the cabinets look like a solid wall. Some are even opting to remove upper wall cabinets altogether. It opens up the space visually, and helps make smaller kitchens appear bigger and brighter.
Sanding and painting are the least expensive options for a color shift in the kitchen. For an upgrade, refacing existing cabinet boxes involves applying a layer of laminate veneer on the face frames of the cabinets. Nothing has to be removed from the kitchen, which is an ideal option for those looking to keep the kitchen renovation jumble to a minimum.
"Resurfacing gives you the option to get your dream look at a fraction of the cost of new cabinets," says Calvery.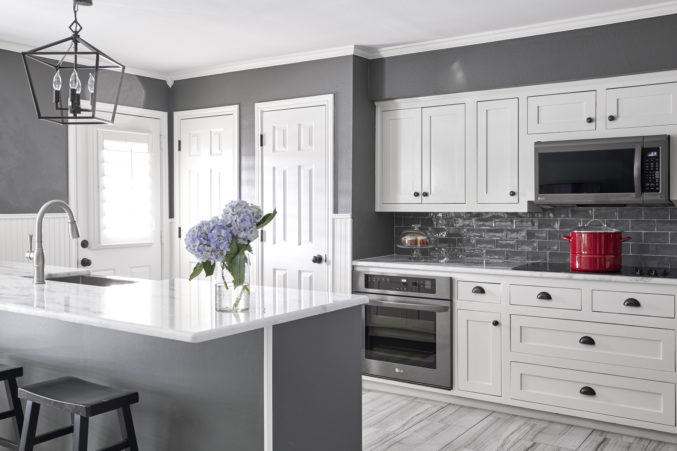 What's the best countertop and backsplash combo?
For a high-end kitchen, quartz is the optimal choice. It's a hardy material and easy to maintain. And quartz manufacturers have created a variety of finishes to spice up a traditional quartz countertop, including decorative swirls and sizeable veining to mirror other materials like natural stone. "Replacing a dated backsplash might sound daunting, but for a few hundred dollars, you can drastically change the look of the entire space," Warren says.
Where to splurge?
Warren encourages clients to focus on appliances if they're looking to splurge. "A built-in Miele coffee maker and integrated cabinet doors are also high end and lux," says Warren. "For a really custom experience, think about a modular refrigerator."
For Calvery, it's all about the accents and custom design. "Add decorative pillars and crown molding for a pop," he says. "Top them off with high-end appliances or a quartz countertop with a waterfall edge." He also credits accent lighting for its ability to totally transform a kitchen.
How long will the renovation take?
The intricacy of your project will impact the length of your kitchen remodel timeline. If it's just cabinets being painted and new hardware put on, it may take a week. But if it's anything custom and beyond a paint job, Warren cautions that often times it can take longer than expected. "It can vary depending on how quick the contractor works, but a realistic estimate for an effective designer and contractor is 6-8 weeks on average," she says.
Get the AtHome Newsletter
Enjoy Dallas' best trends, hot properties, and tips from local designers to help you nest in style delivered weekly.